WHAT TO DO IN SEATTLE IN 3 DAYS – A FUN AND EASY ITINERARY
Seattle is a fun, lively city with a thriving art scene. If you plan to spend to visit this dun city, this 3-day Seattle itinerary helps you plan your trip. Find out about the best things to do in 3 days – what to see, the best attractions and more travel tips for your trip for your trip.
This post was written by Cassandra
TRAVEL TIPS FOR YOUR 3 DAYS IN SEATTLE
If you love art, music and a general funky vibe Seattle is a great spot to go to. There are tons to do and see in the city but everything is quite close together so you can easily make Seattle a fun 3-day trip.
If you have more time, I'd say to combine your Seattle visit with exploring more of Washington state and west coast. Just outside the city lies some really gorgeous natural beauty worth exploring as well. It's unique place merging urban life and nature so you can have definitely the best of both worlds on your Seattle trip! 
DISCLAIMER: THIS POST CONTAINS AFFILIATE LINKS – THIS MEANS I MIGHT EARN A SMALL COMMISSION WHEN YOU BUY A PRODUCT/SERVICE (AT NO EXTRA COST TO YOU. MORE ABOUT IT HERE.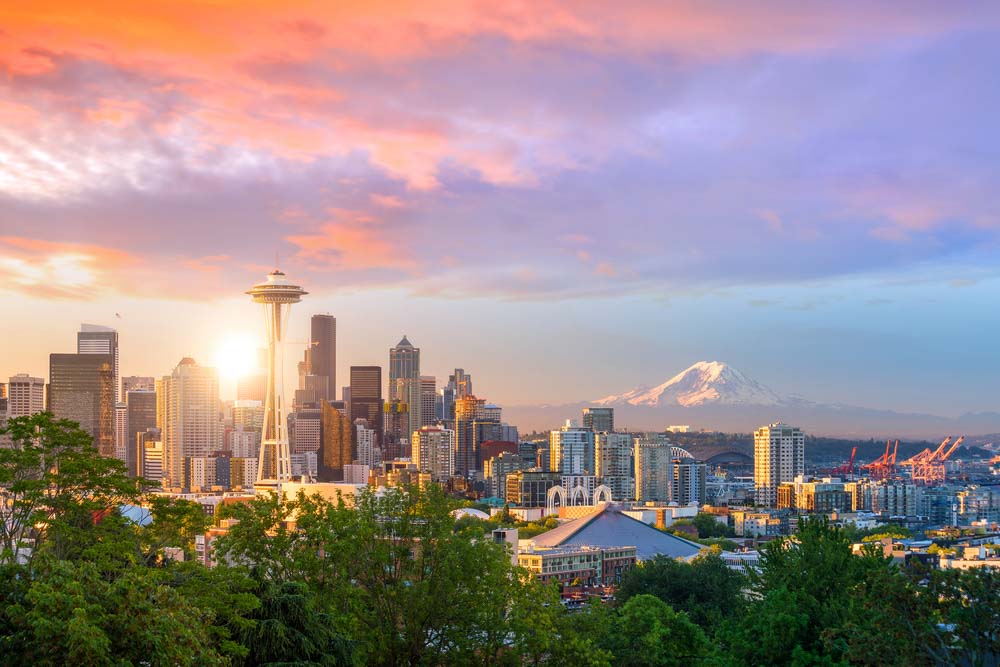 How to Get Around
The easiest way to get around was via taxis and Uber although there is plenty of public transportation as well. There is no need for a car in the city. 
Best Time to Visit
You can visit year-round but going in spring/summer months would be the best weather-wise. I went in late May and found it perfect. Bring layers as the weather can fluctuate. The city can get windy and rainy at times too. 
Where to Stay in Seattle
I would recommend staying in the downtown or Belltown areas are so you can easily walk and explore the area. Anywhere near the Pike Place Market is a great spot and also not too far of a walk from the Space Needle, Museum of Pop Culture and the Chihuly glass garden (all must-sees). 
Some of my favorite options are the Ace Hotel and the Fairmont Olympic
If you're on a budget The Best Western Pioneer Square Downtown has a good location.
Tips for Solo Female / Security
The city like any other has some rougher areas, there is also a huge population of homeless which is usual in a lot of US major cities but during my visit, most appeared to be drug users or mentally disturbed individuals that would shout at us.
Something to just be aware of, I recommend just continuing along your way and ignoring any such behavior. I personally recommend not walking around alone at night- I walked everywhere during the day with no problems but would suggest using taxi services or Uber after dark.
Costs
The city is pricey! Most cities have higher costs but I was surprised mainly at the high cost of entry for museums and art exhibits- I'm used to entry on a donation basis from many places in NYC and DC so was not expecting to drop $40 USD pp every time we went into a place so it added up quick!
Better to be prepared and bring some extra funds for sightseeing. Tap is drinkable though so you can save by bringing a reusable water bottle and some pre-packaged snacks on your trip.
Restaurants
One of my favorite stops was The Biscuit Bitch for breakfast. It was so good I had breakfast there twice. Plus, it was a lot of fun.
There's barely any seating so best to get it to go and it's a hot spot so you need to get there at opening time (and there will most likely still be a line) but they move very fast and you usually you don't wait too long. I got the "bitchwich" with egg and cheddar both times which was about $6 USD.
Their biscuits are delicious and are served in a variety of ways- with gravy, as breakfast sandwiches, or with various toppings. They offer vegetarian, vegan and gluten-free options too so something for everyone plus a coffee bar. 
Another recommendation would be Pike Place Market- it's an awesome spot to explore and filled with various dining options as well as fresh goods.
BEST THINGS TO DO IN SEATTLE
So, now let´s talk about the best things to do in 3 days in Seattle.
DAY 1 IN SEATTLE
Day 1 in Seattle starts with the Pike Place Market.
Pike Place Market
I recommend trying to get a flight that lands you there in the early morning or afternoon, so you can still have some time to explore on your first day. After arriving and getting settled I recommend heading to the Pike Place Market as it is one of the best places to visit in 3 days in Seattle. Pike Place Market is an iconic marketplace in Seattle that started in 1907.
Pike Place includes a farmer's market, a crafts market and an array of shops and restaurants well worth exploring.
Start off your Pike Place visit with a coffee from the first ever Starbucks before exploring everything Pike Place has to offer – beware it gets crowded! I recommend heading there earlier rather than later. If you are traveling to Seattle with kids, then you might want to visit the Seattle Aquarium which is located close by.
Gum Wall
Just near the Pike Place Market is also the iconic gum wall– it's an alleyway completely covered in chewing gum, yes maybe a little gross but also awesome and worth visiting for a few photos and thus is a must-see in Seattle in 3 days.
The gum wall is a sign of Seattle's still thriving grunge scene in 2015 the alleyway was scraped clean, but it didn't take long for Seattle natives as well as tourists to build it back up again.
Pioneer Square
The Pioneer Square is another must-see in 3 days in Seattle and a popular Instagram place in Seattle. After all the walking I'd recommend a stop for lunch at Piroshky Piroshky before heading to Pioneer Square with a nice walk along the waterfront.
Pioneer Square has been around since 1852 and has several stops worth visiting including the waterfall garden, the Klondike Goldrush historical park and the Tlingit Totem Pole.
You can choose to do an underground tour which takes place in the subterranean passages.
These passages were created in 1889 after Seattle's Great Fire when the city was rebuilt over the ruins.
The tunnels are known to have paranormal activity and are brimming with the history of the city. When you're ready for dinner head back towards Pike Place for some good food and locally brewed beer at the Pike Pub.
DAY 2 IN SEATTLE
This is the day where you wake up early and get to it!
First, stop at opening time (8 AM) Biscuit Bitch for an amazing delicious breakfast and fun experience. There will be a line but the line moves quick and it's worth it.
The Space Needle
Afterwards, head to The Space Needle – you'll want to stop here first before lines get long. After getting your ticket and traveling to the top for amazing views you should visit 2 of my favorites- Mo Pop and Chihuly Glass Garden. All 3 are right next to each other.
The Space Needle is 600 feet tall and an amazing vantage point for views of Seattle. With glass walls and floors, it's a must-do on anyone's first trip to Seattle and if the ultimate icon of the Seattle skyline.
Museum of Pop Culture
Mo Pop (Museum of Pop Culture) is another uniquely spot to add to your 3-day Seattle itinerary. Showcasing musical history, rock stars and of course Seattle's own grunge subculture it's a fun and interactive museum unlike any other.
They have fun and unique pop culture showcases such as the "Horror" or "Sci-fi" features I visited during my stay and plenty of rotating features as well.
Chihuly Glass Garden
The neighboring Chihuly Glass Garden is a very different side of Seattle's art scene featuring elegant glass creations both indoors and out. Even those that aren't art lovers will still appreciate the unique sculptures and beautiful gardens.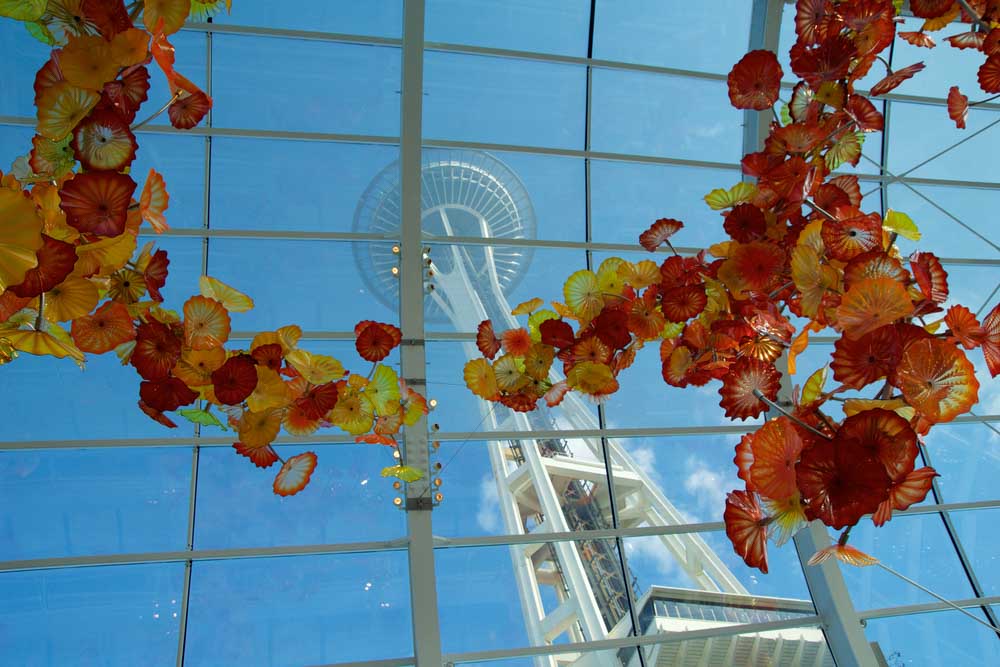 All 3 stops should take up most of your day and at some point in between you'll get hungry, a good local spot to grab lunch nearby would be the Skillet Counter.
Olympic Sculpture Park
While in this area be sure to walk through the Olympic Sculpture Park as well, it's a lovely walk right on the waterfront – 9 acres of sculptures on display by the Seattle Art Museum (which is also nearby if you have some spare time).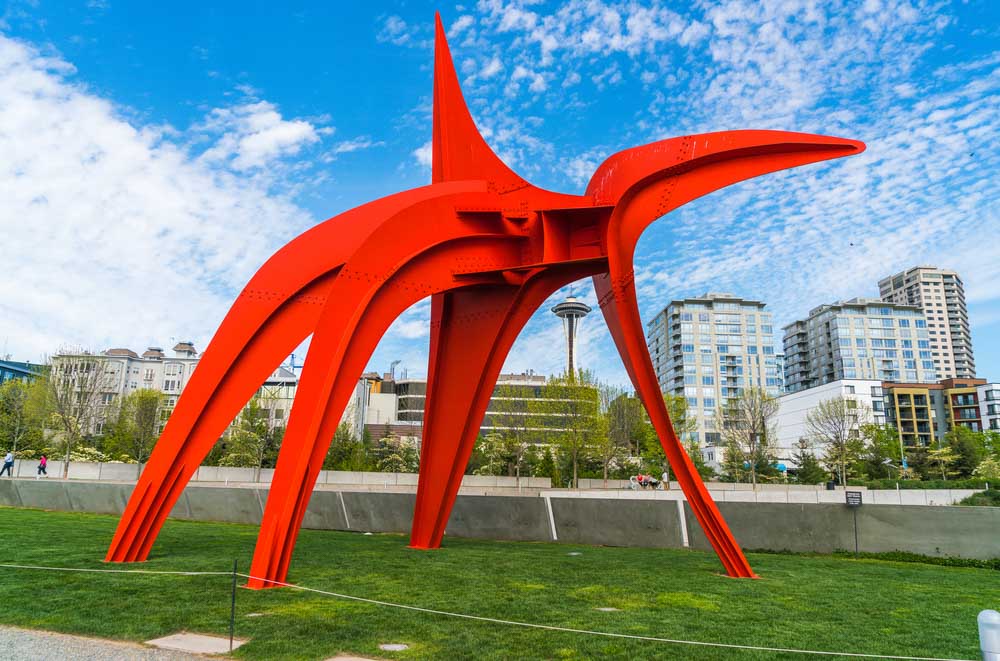 When you're ready for dinner head back downtown and grab a mela at Lola's for some delicious Mediterranean fare.
If you're a grunge music fan be sure to grab an Uber out to Viretta Park to see the memorial bench for Kurt Cobain and his old home.
DAY 3 IN SEATTLE
Although Seattle is a big city, it is surrounded by big nature! So, whether you want to hike near Seattle or do other acvities, I highly recommend on one of your days to book a day tour out of the city.
San Juan Island
My recommendations would be one of the following: San Juan Island– San Juan Island is only a ferry ride away but has a completely different feel than the city.
Laidback island life, lighthouses, vineyards and a charming coastal town to stroll through will give a nice break from the hustle and bustle of the city.
Mt. Rainier National Park
If you're visiting over summer months you can sometimes spot whales along the way as well- particularly Orcas. Another option is a day trip to Mt. Rainier National Park.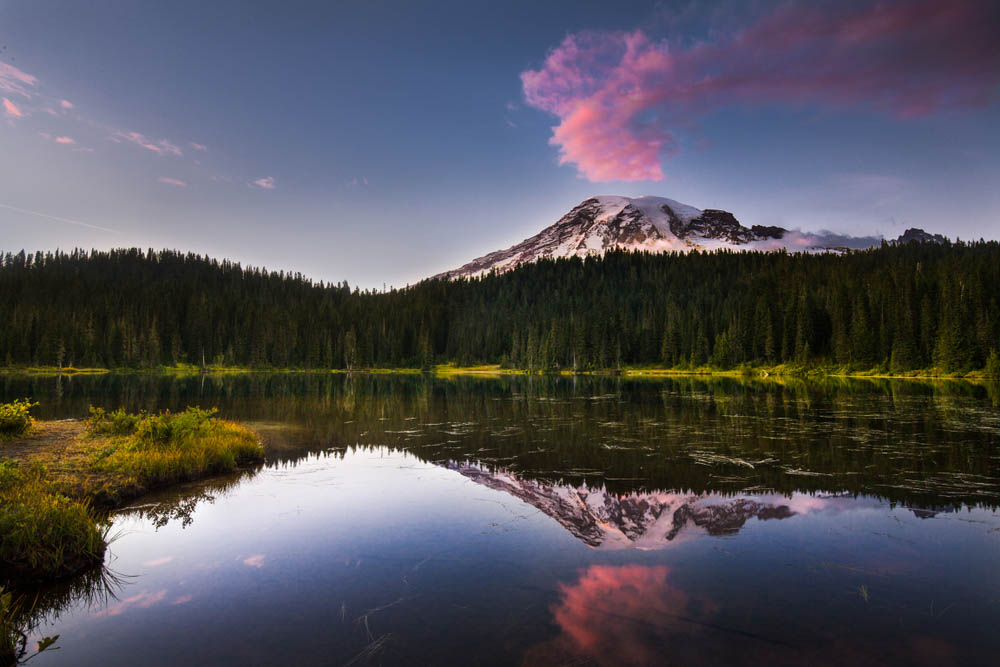 This is the perfect choice if you enjoy hiking and wildlife spotting. Mt. Rainer is a glaciated volcanic peak soaring over 14,000 feet. It's a gorgeous sight even from afar, if you visit over spring you're likely to see the slopes covered in wildflowers and rivers rushing by from melted snow.
Snoqualmie Falls
If you want something a bit more mellow but still want some glimpses of the surrounding natural beauty, a day trip to Snoqualmie falls which usually includes some vineyard visits for wine tasting would be a great option.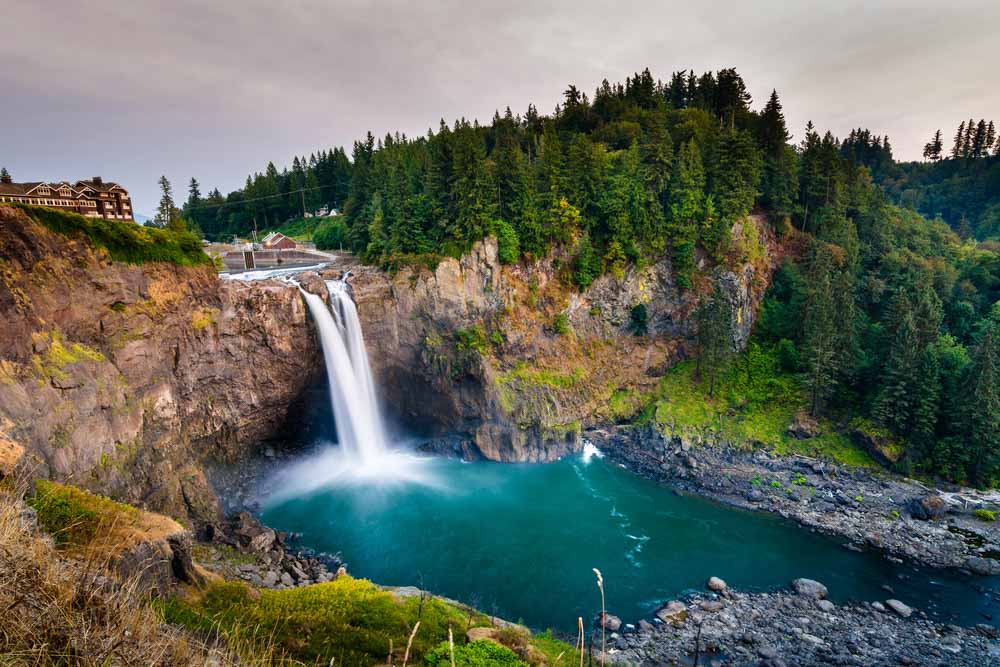 The waterfall is absolutely gorgeous and doesn't require any strenuous hiking to get to, nearby are several vineyards where you can taste, sample and sip the locally made Washington state wines.
No matter your style there's an option for everyone! Most of these tours take up a full day so when you get back to the city head out to grab your last dinner in Seattle.
I recommend El Borrachos- a tasty authentic style Mexican spot by Pike Place with tons of options including a vegetarian and vegan menu.
….
Hopefully, this 3-day Seattle itinerary has helped you plan your trip to the city and find out about how to spend 3 days. Stay safe.
PIN ME FOR LATER – SEATTLE ITINERARY
About the Author
Cassandra is a US-female travel addict who loves traveling the world and works for a tour operator. She is a freelance writer for Arzo Travels where she shares her expertise and has a special love affair with Mexico – so she knows pretty well what she is recommending to you 🙂