AMAZING ITINERARY FOR ITALY IN 14 DAYS
If you are planning your 2-week Italy itinerary, this post is for you! This 2-week Italy itinerary helps you to see some of the most beautiful places of Italy in 14 days (or a little less).
There are not many countries that are so rich in natural sights and beautiful architecture and history! Italy plays in a different league, and you could never spend too much time here.
While I have many favorite places in Italy, some quite unknown to tourists, I understand that the main tourist destinations like Rome, Venice, and Florence are on everyone's bucket list!
For your first trip to Italy, these destinations are probably very high on your list! And I can assure you: Each destination is impressive and worth a visit.
In two weeks you will experience some city life and also some stunning scenery. But more on that later.
TRAVEL TIPS FOR YOUR 2 WEEKS IN ITALY
So, before talking about the perfect 14 days in Italy, here are some travel tips for your first-time trip. Find out how to get around, where to stay, and more tips for your trip.
HOW TO GET AROUND ITALY IN 14 DAYS
There are two main ways to get around in Italy. I have done both: road-tripping and rail travel.
I suggest using the train to discover Italy in two weeks. You might have less freedom by using public transportation only but will gain so much more. Particularly, because it is less nerve-wracking compared to driving in Italy and it is way cheaper (at least, if you travel alone or in a group of 2 or where you can share the costs of a rental car).
ROAD TRIPPING
Petrol is sooooo expensive in Italy. It has some of the highest petrol prices in Europe, even more, expensive than in Switzerland!
Tolls are also pricey.
Plus, the streets are narrow, and Italians rush when it comes to driving!
TRAIL TRAVEL
Luckily, public transportation is an excellent alternative.
Trains are quite cheap, reliable, and very efficient.

Trains might run late a few minutes. Basically, all my trains were 5-10 minutes late, but that is still tolerable in my eyes.

Check out prices and schedules here.
So, go with public transportation for this Italy trip.
BEST TIME TO VISIT ITALY FOR 14 DAYS
You can visit all the places mentioned in this two-week Italy itinerary throughout the year: spring, summer, fall, and winter.
However, I recommend NOT visiting Italy in the summer months. It is hot and sticky, expensive, and worst of all, every place is full of tourists.
Understandably, tourists are here all year round, but in the summer months, be prepared to fight your way through the crowds. If you plan to visit attractions during the summer months, you will need to buy the more expensive "skip-the-lines tickets." Otherwise, you will spend a big portion of your day, waiting in lines.
Even during shoulder seasons, I highly recommend those tickets because it gets busy – but in summer, it is a must!
Disclaimer: This post might contain affiliate links. This means I might earn a small commission when you buy a product (at no extra cost for you) after clicking on my link. More about it here.
PLACES TO STAY IN ITALY FOR 2 WEEKS
Since I suggest rail travel for you, and I recommend not changing hotels too often as it makes the trip more stressful.
If you stay 14 days in Italy, my tip is to have a base near/in Rome for exploring Rome and

Vatican City.

Then have a base near/in Florence and a base in Venice. If you visit Cinque Terre and its surroundings, I recommend staying in La Spezia, a city directly in front of Cinque Terre.
These places are, without a doubt, quite expensive. It might be cheaper to stay a bit further out of the city. If you do so, make sure the train station is close by so that you can easily get to the places you want to visit.
So, here are my recommendations for places to visit for your Italy itinerary.
I suggest arriving in Rome and end your trip in Venice. You can, of course, do the trip the other way around and start with Venice. I wouldn't change the stops in between, though, as they make sense looking at Italy's geography.
PLACES TO VISIT IN 10-14 DAYS IN ITALY
Okay, let's talk about all the beautiful places you can visit in up to 14 days in Italy.
ROME AND VATICAN CITY FOR 3-3,5 DAYS
Arrival in Rome + Rome + Vatican City
Rome has two airports: Fiumicino and Ciampino.
Both airports are well connected to the city center.
The cheapest way to get to the city center is via a shuttle bus. The most expensive is via taxi or private transfer!
ROME (2 DAYS)
I suggest not wasting too much time in the hotel – head out and explore Rome! What a unique ancient and special city.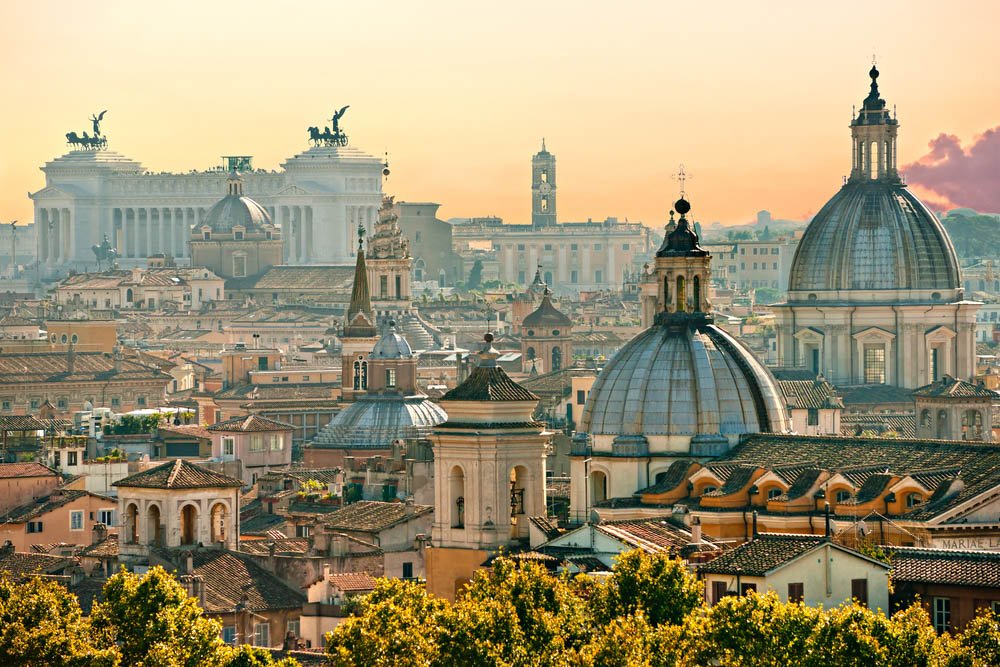 I'd say that the minimum amount of time for Rome and Vatican City would be 2.5 days. Three full days would be even better. Also, plan in a few hours to get to the next destination.
THINGS TO DO AND PLACES TO VISIT IN ROME
Colosseum is the largest ancient amphitheater ever built
Roman Hills & Palatine Hills is the centremost of the Seven Hills of the city is one of the most ancient parts of Rome
Spanish Steps are a set of steps, climbing a steep slope between the Piazza di Spagna at the base and Piazza Trinità dei Monti
Monumento Nazionale a Vittorio Emanuele is a national monument built in honor of Victor Emmanuel II, the first king of a unified Italy
Trevi Fountain is the largest Baroque fountain in the city
Castel Sant'Angelo was initially commissioned by the Roman Emperor Hadrian as a mausoleum for himself and his family. Later, it was used by the popes as a fortress and castle and is now a museum.
WHERE TO STAY IN ROME
Rome is one of the busiest cities in Italy. Accommodation can be pricey though you will not find many of the typical 5-star hotel chains that you might know from other parts of the world.
Luxury Hotels in Rome: St. Regis

is one of the few hotel chains with a property in Rome. The hotel is popular because of its central location (within walking distance to Rome attractions like the Spanish Steps, etc.).

Click here to find out more and get the best rates

.

Mid-Range Hotels in Rome:

This 3-star hotel is also popular – find out more about the

Suites Farness Design

Hotel.

Budget Hotels in Rome:

Looking for a budget hotel in Rome? This might be the perfect choice for you:

We were a group of three and needed a big room with three beds. And we were really, really happy with our hotel. It was not spectacular, but the location was good, and so was the value for money: Find out more about the

St. Peter Bed in Rome here

.
VATICAN CITY (1 DAY)
Crossing borders has never been easier than crossing the Italian border and entering a new country – Vatican City. I must admit, the excursion to Vatican City was one of the highlights of my Rome trip. I highly recommend a day trip (or at least half a day in Vatican City) and to see the Sistine Chapel and St. Peter's Basilica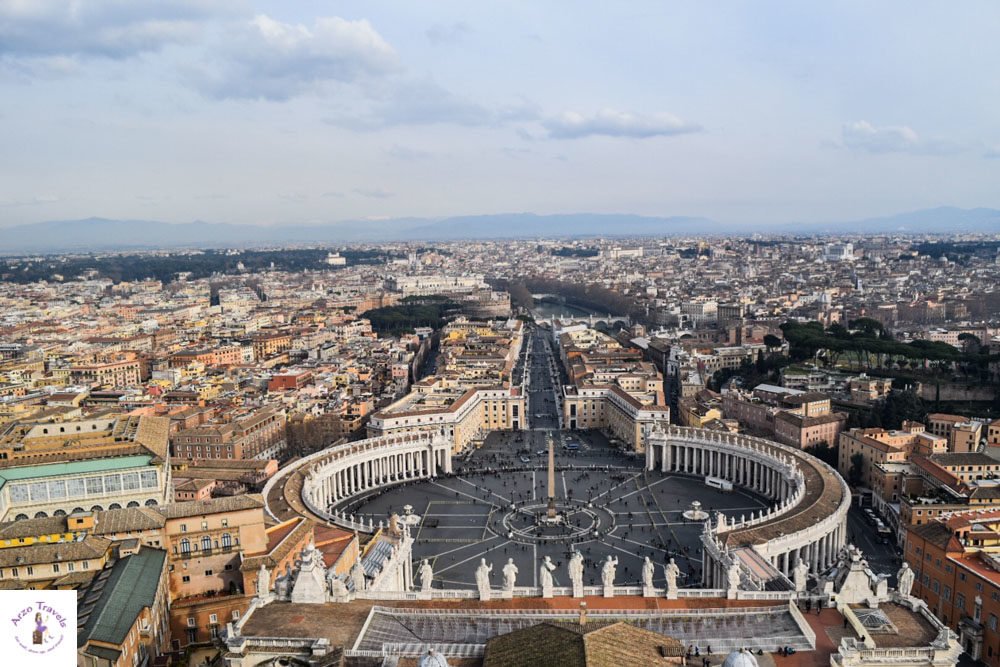 THINGS TO DO AND PLACES TO VISIT IN VATICAN CITY
Sistine Chapel is a chapel in Vatican City and the official residence of the pope
Spiral Staircase was designed to link the Belvedere Palace to the streets of Rome. This also allowed Pope Julius II to travel directly to his private residence by carriage
Raphael's Rooms form a suite of reception rooms and are now part of the Vatican Museums. They are famous for their frescoes
St. Peter's Basilica is a church built in the Renaissance style
FLORENCE AND TUSCANY FOR 3 OR 4 DAYS
Then it is time to visit Tuscany and its capital of Florence.
From Rome to Florence
From Rome's Termini Station, you can take the train to Florence. It only takes about 90 minutes.
They say that the earlier you book, the better and cheaper it will be. However, I haven't noticed that prices go up within a few days for train tickets. So, I always bought them more or less last-minute. But please do not take my word for granted and double-check because I might be wrong.
FLORENCE (2 DAYS)
Florence in one day is possible, but not fun! This city is bursting with attractions and sights. There is so much to do and see that you should try to stay 1,5-2 days.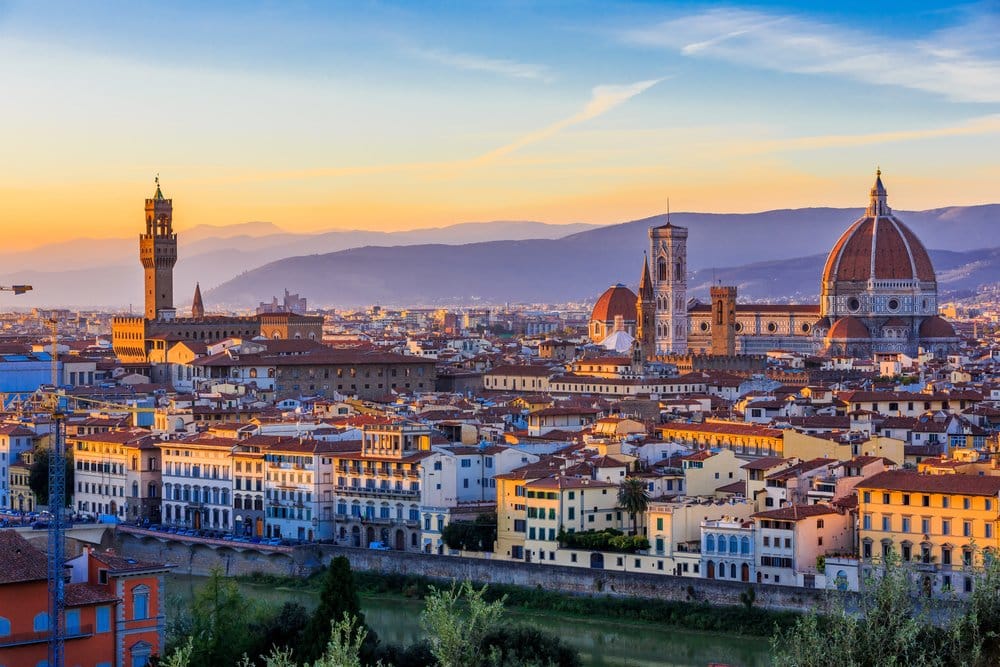 Even if you aren't into art – believe me, I am not – art in Florence is a different matter and totally amazing – you will love the city. You might skip a few museums and "finish" within 1.5 days.
THINGS TO DO AND PLACES TO VISIT IN FLORENCE
Florence Cathedral helped set the tone of the Italian Renaissance – now, is the third largest church in the world
Uffizi Gallery is a famous art museum housing impressive collections of ancient sculptures and paintings from the Middle Ages to the Modern period
Ponte Vecchio is a medieval stone closed-spandrel segmental arch bridge over the Arno River
Piazzale Michelangelo is on a hill on the south bank of the Arno River and offers a stunning panorama of the city
Palazzo Vecchio is the town hall of Florence
Piazza della Signoria is an L-shaped square in front of the Palazzo Vecchio and still maintains its reputation as the political focus of the city.
Check out my Florence trip for more tips.
After your 2 days in Florence, it is time to do one or two day trips and explore the area around Florence. You can also do them in between the days you are in Florence. You can do San Gimignano and Siena in one day and see Lucca and Pisa the other day.
WHERE TO STAY IN FLORENCE
I did not stay overnight in Florence but took a train from my accommodation nearby. However, based on recommendations, these are my tips for places to stay in Florence:
LUCCA AND PISA (1 DAY)
So, when planning your two-week Italy itinerary, you should plan one full day for Pisa and Lucca. These two places are located close to each other which makes it a perfect day trip from Florence.
PISA
As mentioned, the main places in Italy are easily accessible by train. While I road-tripped Tuscany, I often left my car at the hotel and used trains to get around, so I also suggest doing day trips this way.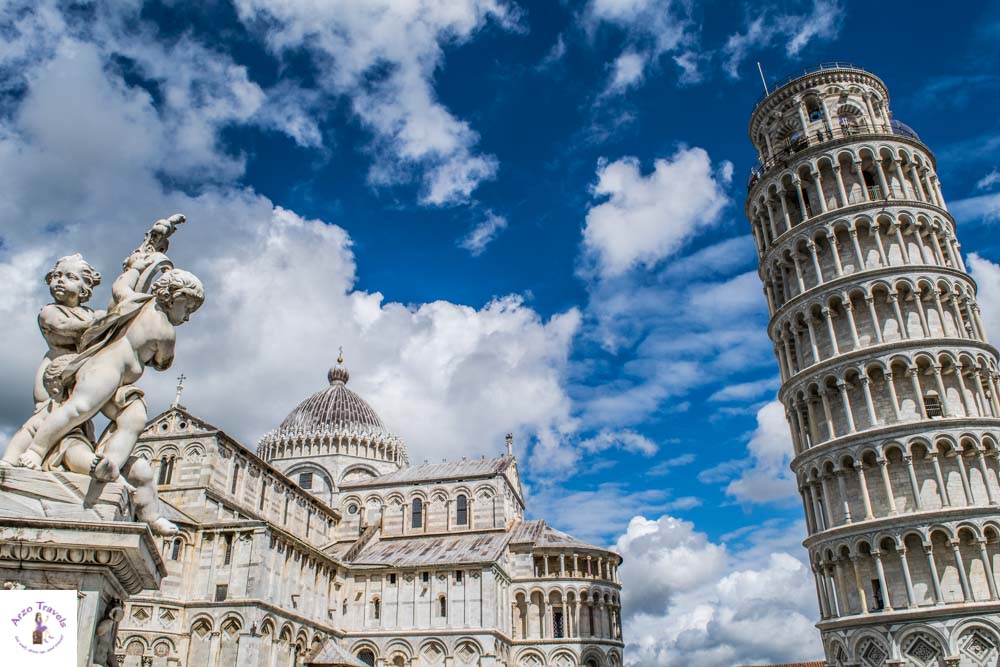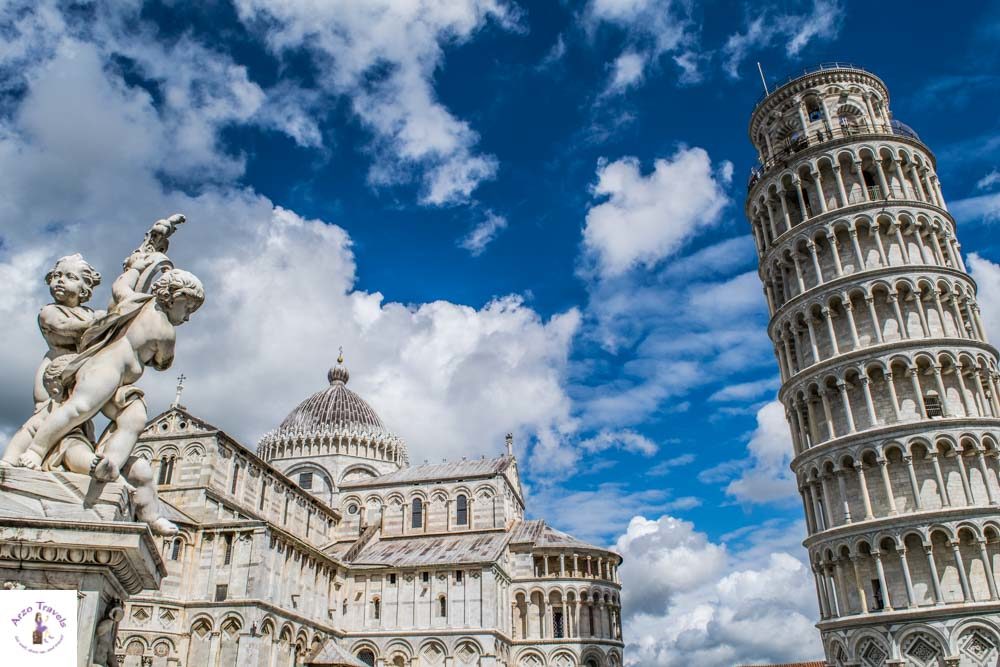 Pisa is well known for its Leaning Tower, but there is actually more to see. Lucca is a little gem, and while not really off-the-beaten-path, it is probably one of the least busy and least crowded places on this itinerary.
How to get to Pisa from Florence
It is easy to get to Pisa from Florence (in Italian Florence is Firenze). It takes about one hour by train, and the cheapest tickets are less than 9€ one way.
THINGS TO DO AND PLACES TO VISIT IN PISA
Leaning Tower of Pisa is the freestanding bell tower, of the cathedral of Pisa, most known worldwide for its nearly four-degree lean
Cattedrale di Pisa is a medieval Roman Catholic cathedral dedicated to the Assumption of the Virgin Mary
Camposanto Monumentale is a historical edifice at the northern edge of the Cathedral Square
Palazzo Blu is the center for temporary exhibitions and cultural activities
Check out my travel guide on Pisa for more information
On your way back, stop in Lucca – a lovely, charming medieval town. Lucca is a little gem, and while not really off-the-beaten-path, it is probably one of the least busy and least crowded places on this Italy itinerary.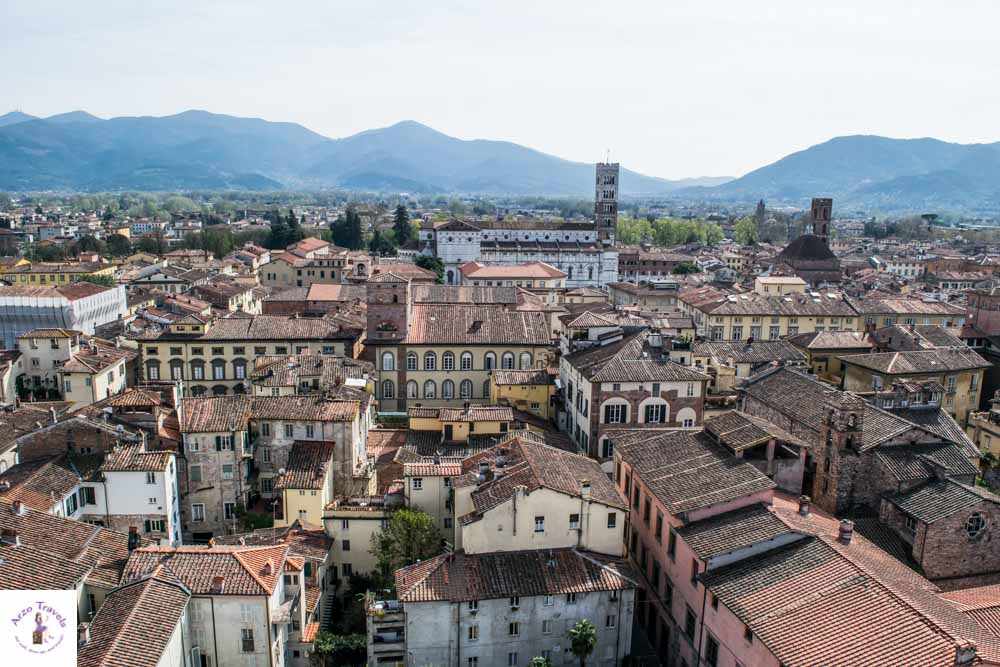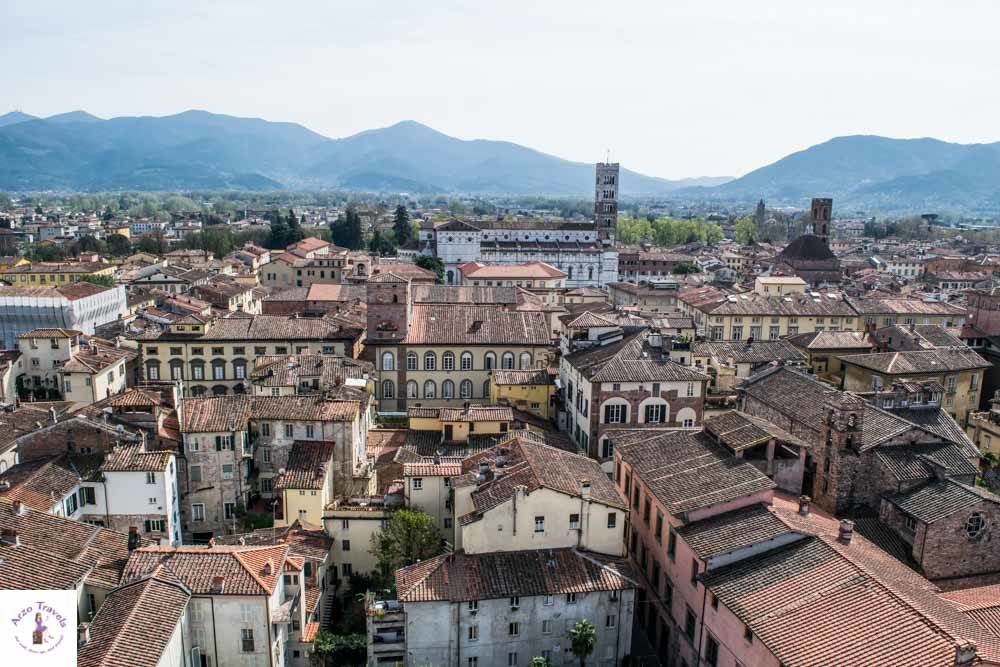 THINGS TO DO AND PLACES TO VISIT IN LUCCA
Guinigi Tower
Basilica of San Frediano
St. Martin Cathedral
Plaza del Anfiteatro (Piazza dell'Anfiteatro)
SIENA + SAN GIMIGNANO (1 DAY)
Another day trip from Florence could be a trip to Siena and San Gimignano. Both are wonderful places to visit – you could rush a bit and add both places to your itinerary or decide on one of the places.
SIENA
Siena is known as one of Italy's best medieval cities. It takes about 70-90 minutes to get from Florence to Siena by public transportation.
The city sits over three hills, so comfortable shoes are a must.
THINGS TO DO IN SIENA
Piazza del Campo
Duomo di Siena
Pubblico Palace
Tower of Mangia
Basilica of Caterina
Foto Gala
Check out my Siena travel guide for more tips
SAN GIMIGNANO
Siena is beautiful and you might need one full day for visiting it. However, I would try to add another town/place on this day. Some might also be interested in visiting San Gimignano, a famous village about an hour from Siena.
It is a small hilltop village encircled by 13th-century walls. It looks pretty to look at but also the village itself is impressive.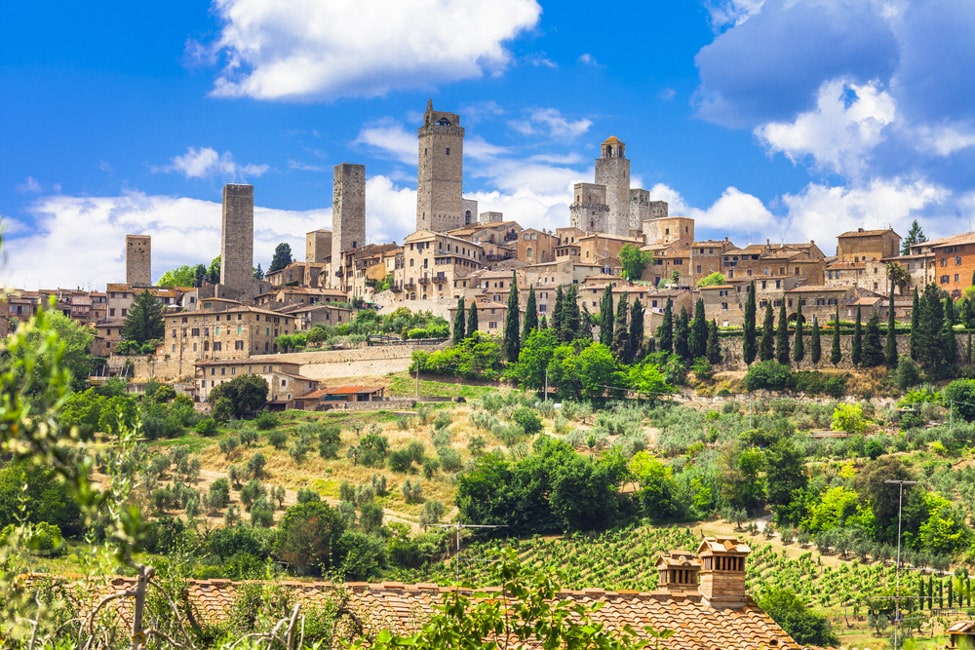 THINGS TO DO AND PLACES TO VISIT IN SAN GIMIGNANO
Piazza della Cisterna
Torre Grossa
Duomo di San Gimignano
Palazzo del Popolo
Torre e Casa Campatelli
With Florence or Rome as your base, you have spent about six to seven days in Italy so far – it is time for some beach time and a different side of Italy.
CINQUE TERRE AND PORTO VENERE FOR 2 DAYS
CINQUE TERRE + PORTO VENERE (2 DAYS)
It is time to head to Liguria – a beautiful region northeast of Italy.
It is quite easy to get to Cinque Terre and Porto Venere from Florence.
From Florence, you take a train to La Spezia. You cannot get to Cinque Terre by car. It is almost impossible and will make your hard day harder, so park your car at La Spezia.
From there, you will hop on the Cinque Terre Train, which will take you to Cinque Terre within minutes.
CINQUE TERRE
This string of five towns on the Italian Riviera is famous for its colorful seaside houses and a great combination of relaxed Italian village life and outdoor activities, like swimming and hiking. While I enjoyed my time in Cinque Terre, I would suggest not spending more than 1,5 days there. Italy has so much to offer, and two weeks in Italy actually isn't that much – and Cinque Terre is quite small.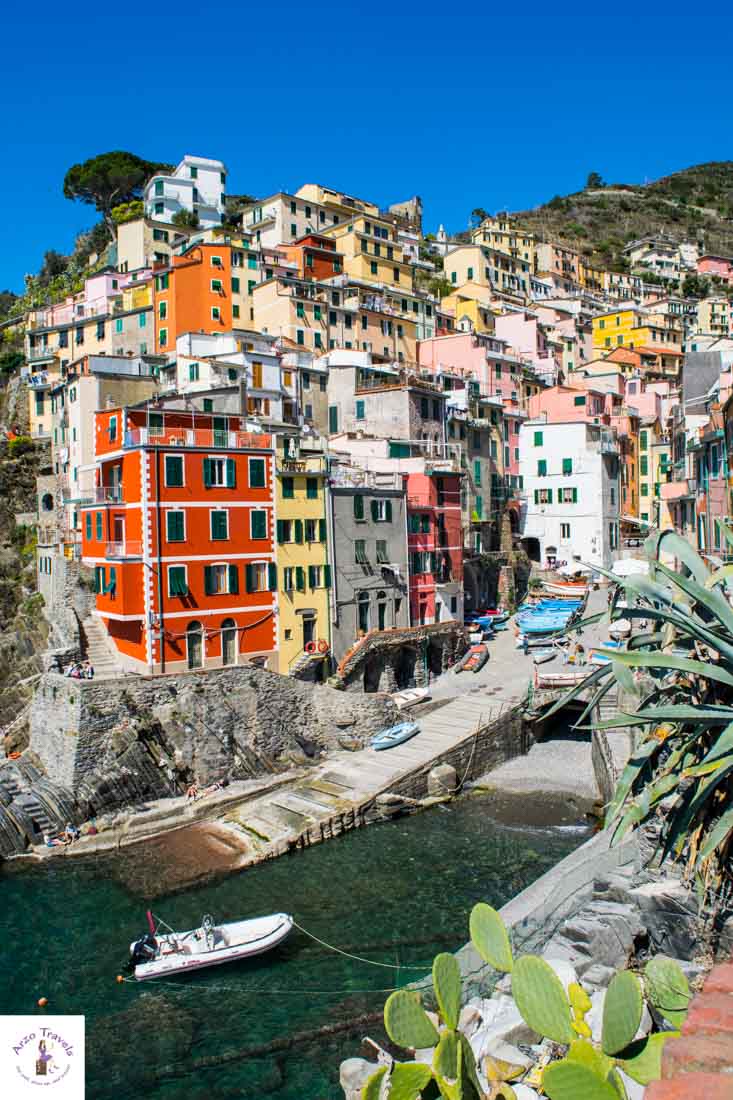 It is easy to visit the five villages. Either hike or hop on the train that connects all 5 villages. It does not take much time.
THINGS TO DO AND PLACES TO VISIT IN CINQUE TERRE
Riomaggiore
Manarola
Corniglia
Vernazza
Monterosso
Here is my Cinque Terre travel guide (also with more images and plenty of travel tips)
There are many more beautiful places in Tuscany – check them out here.
PORTO VENERE
This place is not a typical stop on most Italy itineraries, but I loved it. Porto Venere is a small and lesser-known but equally stunning (or probably even more stunning) little fishing village near Cinque Terre.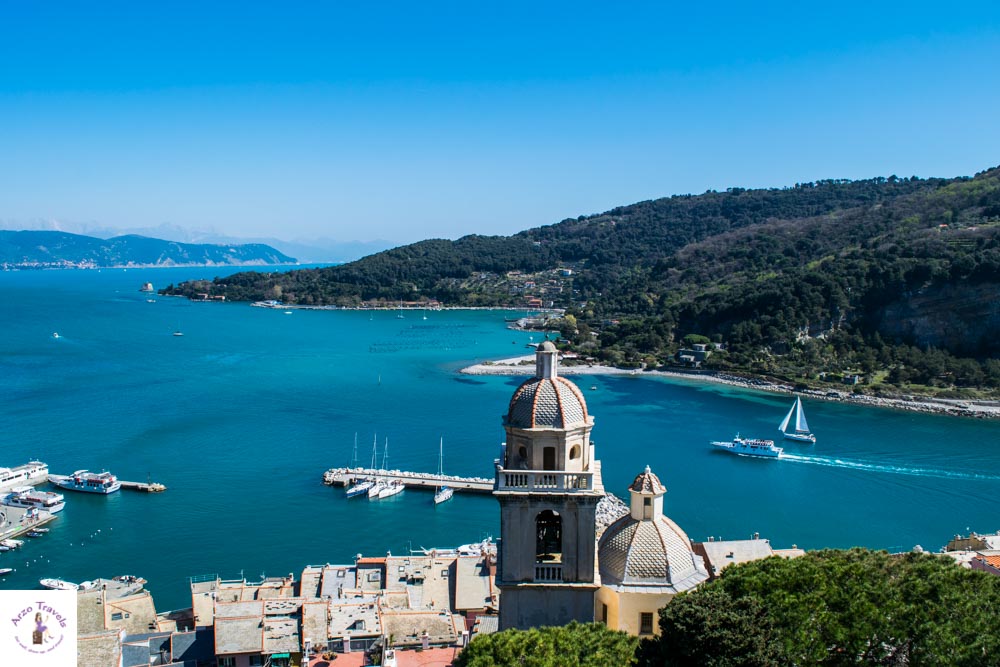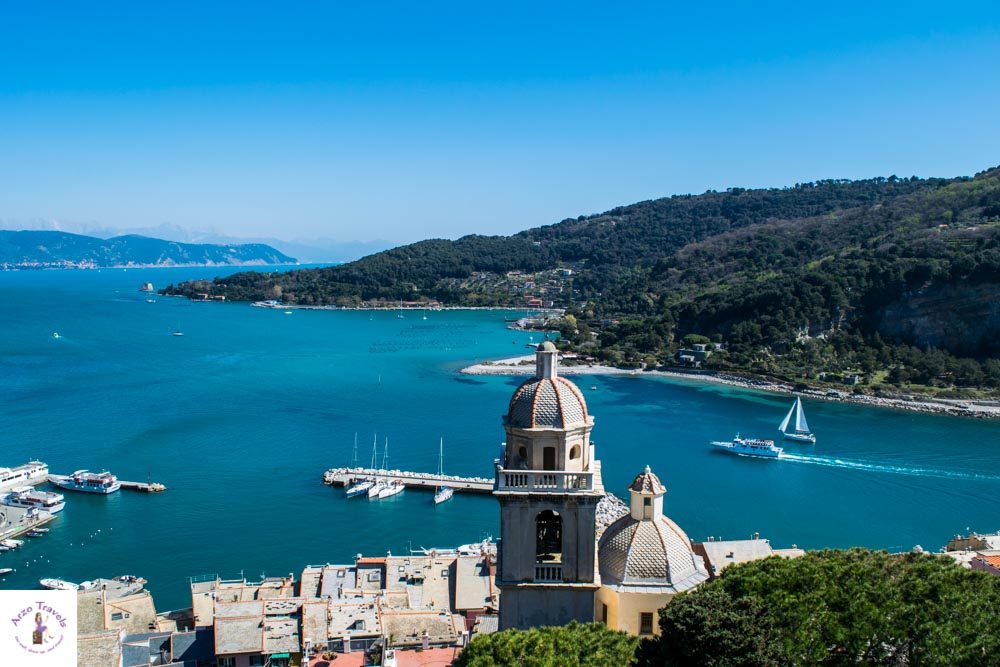 Cinque Terre is quite small, and you can explore it in one day or 1,5 days max. Use the rest of the time for Portovenere. I know places like Portofino, which is also in this area, are more famous and popular with visitors, but after having visited both, I can say, that I liked Portovenere better.
THINGS TO DO AND PLACES TO VISIT IN PORTO VENERE
Doria Castle
Promenade
San Pietro Church
Byron's Grotto
San Lorenzo Church
Cemetery
Here is my Portovenere travel guide (with more pictures and info)
Spend 1-1,5 days in Cinque Terre and half a day – 1 day in Porto Venere. I would leave half a day for the onward journey. If you want to find out more about the area, check out my post with the most beautiful places in Liguria.
WHERE TO STAY IN CINQUE TERRE
Riomaggiore is a popular place to stay in Cinque Terre. I stayed there, too. Check out rates and prices here for the hotel I stayed at. The location was okay. It did not come with any great views, but it was easy to reach from the train station, and the room was quite big by Italian standards.
However, I would choose differently if revisiting Cinque Terre, and it would probably be in Vernazza or Manarola because they were the prettiest towns in my eyes.
If you are on a budget, I actually recommend staying in La Spezia. After two nights in Cinque Terre, I booked a hotel in La Spezia for two nights. I used it as a base to get around and see other places in Cinque Terre, like Porto Venere, and it is easier to take a train if heading to your next destination on your Italy itinerary. Click here to find the best hotels in La Spezia.
VENICE, BURANO, AND VERONA FOR 3-4 DAYS
So, while the two weeks in Italy are almost up, you still have a few highlights on your itinerary.
From Cinque Terre to Venice
I recommend that you now head to Venezia Santa Lucia.
The whole journey will take about 2 hours.
Venice (1 Day)
Venice is a city like no other. I have never seen or experienced such a city before. Even those who didn't like Venice can't disagree on that.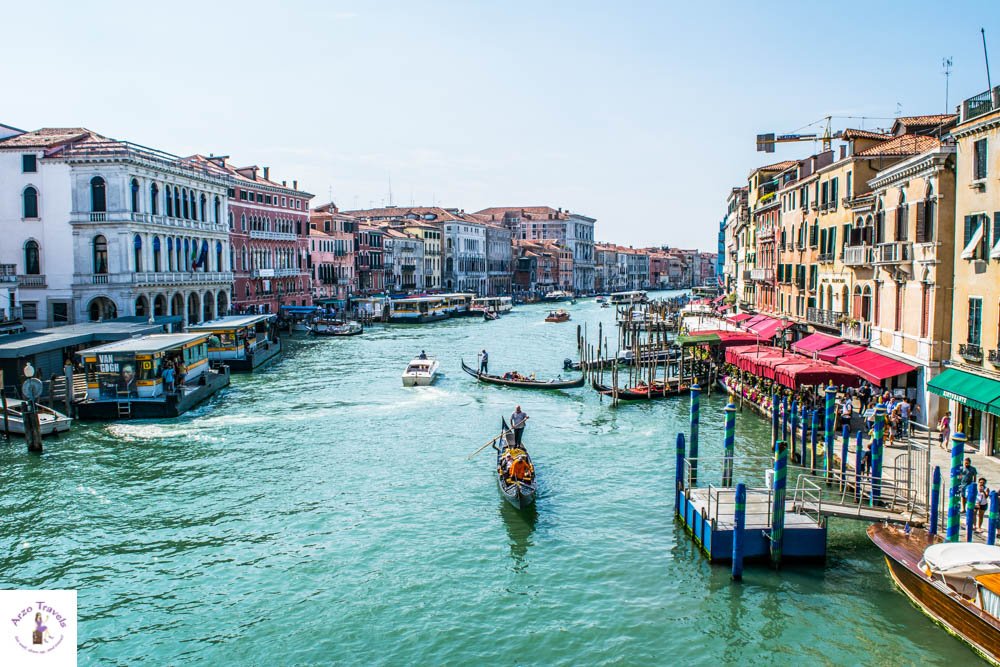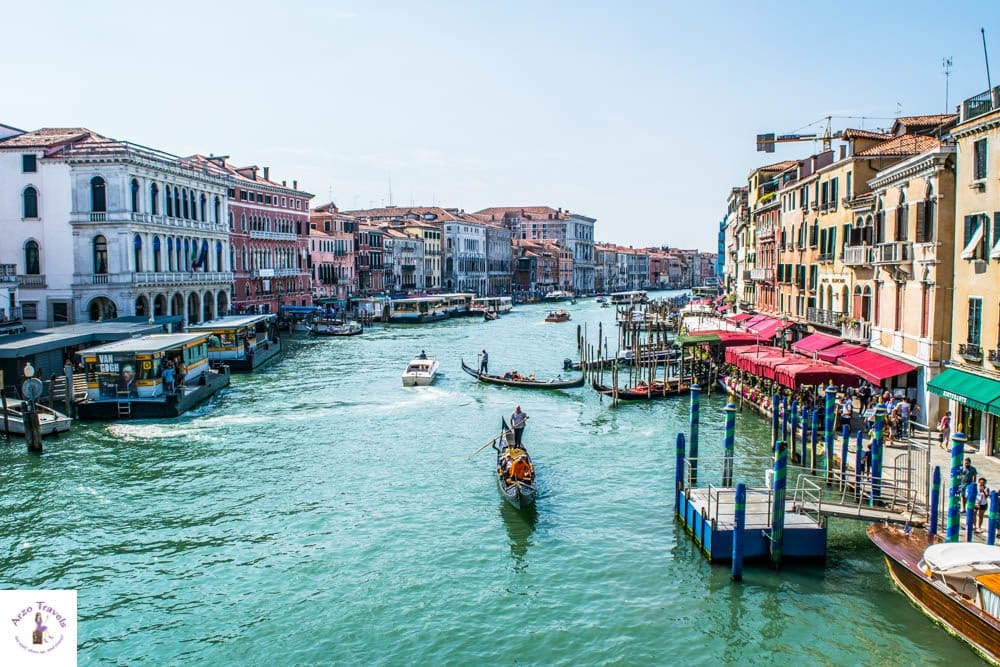 Seeing all the gondolas and ferries, and no cars around, makes this city quite surreal. So, you have to see and experience the city, the Grand Canal, gondolas, and everything else to really believe it.
However, the city itself is quite small. Venice is one of those places you have to see once in your lifetime. While there is definitely way more to see and do in Rome or Florence, Venice also has some attractions.
THINGS TO DO AND PLACES TO VISIT IN VENICE
Grand Canale
Doge's Palace
Saint Mark's Basilica
Rialto Bridge
Bridge of Sighs
Campanile Tower
Check out my Venice guide for more info.
But after one full day in the city, you will have seen all the main attractions and might even have time to visit a museum or two.
WHERE TO STAY IN VENICE
Luxury Hotels in Venice:

Venice has some great 5* hotels like the Gritti Palace with a lovely view of the Grand Canal.

You can check the prices for the

Gritti Palace here

.

Mid-range Hotels in Venice: Travel back in time to the 18th century at Antica Locanda Sturion Residenza d'Epoca: antique furniture, silk wallpaper, and views of Rialto and Grand Canal. Check out the prices for this hotel here.
Budget Hotels in Venice: The family-run Hotel Locanda Ca' Foscari offers some hotel rooms with ensuite bathrooms, as well as cheaper rooms with shared bathrooms, at a good location close to a Vaporetto ferry stop. Check out prices here.
If you plan to travel to Verona by train or need even cheaper accommodation, consider staying in Mestre, the first large city on the mainland. The ao Hotel Venezia Mestre is conveniently located near the train station. Recently built, it provides comfortable rooms as well as dorms, in a relaxed and friendly atmosphere. Check out the prices here.
BURANO AND MURANO (1 DAY)
If you have one full day, visit Burano and Murano but if you have less than one full day, make sure to visit Burano – the most colorful place in the world. Burano is a small little island near Venice and it is easy to get from Venice to Burano and Murano.
You can buy a 24-hour (or 48-hour) pass, which allows you to use unlimited water taxis. Within 90 minutes, you are in colorful Burano. Spending 2-5 hours on the island is totally enough because it really is tiny!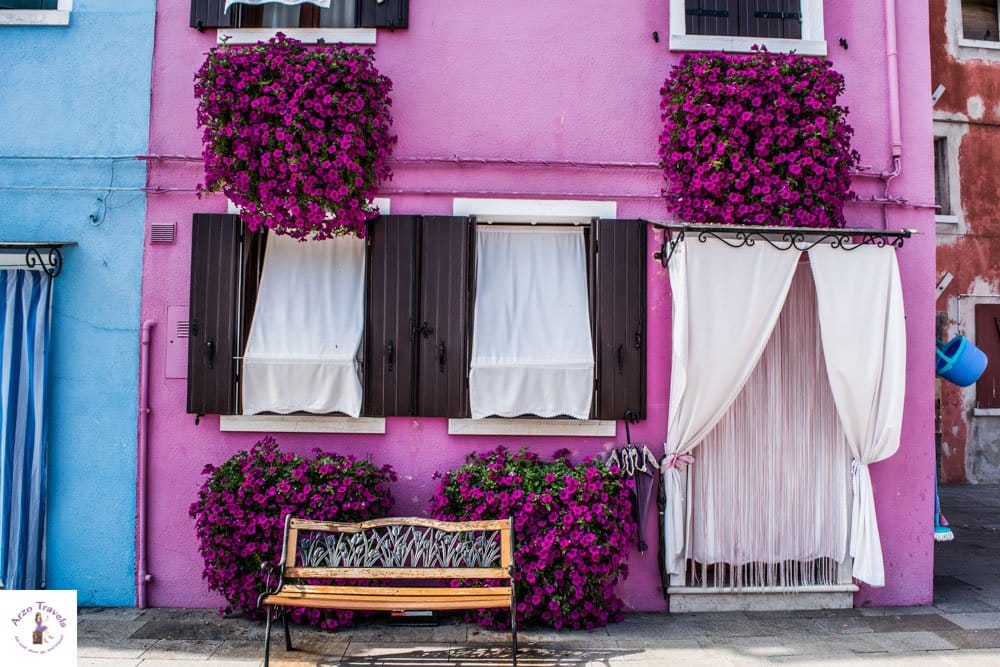 THINGS TO DO AND PLACES TO VISIT IN BURANO
Get lost in its colorful streets (seriously, there is not much more to do, but this is actually a wonderful activity).
If you like, you can also visit Murano, which is on the way to Burano. If you have a 24-hour ticket for the water taxis, you can just get out in Murano and take another taxi later to head to Burano.
See if you still have time left to discover this little island that is known for its glassworks. However, I would make Burano a priority.
VERONA (1 DAY)
You can do a day tour from Venice to Verona.
It takes a bit more than one hour to get to Verona from Venice.
One of the best, most pleasant surprises in Italy was the beautiful city of Verona. Though it was bursting with tourists, I have the feeling that it is somewhat underrated.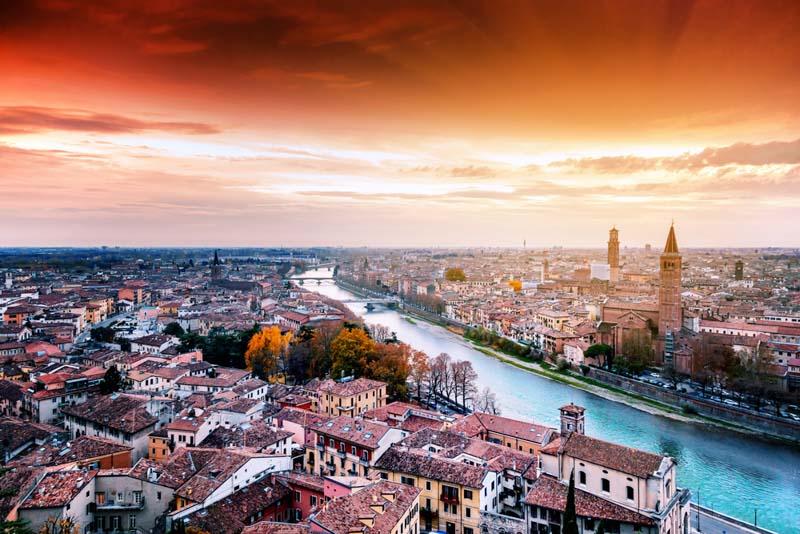 And when I went through my own images, I understand the problem: taking great pictures is a bit challenging because it is so full of statues and attractions that something is always "in the way." It is hard to find a good angle. Thus, I hardly saw great photos that convinced me to go. Luckily, I still went and was happy because it is just the most charming city in Italy.
THINGS TO DO AND PLACES TO VISIT IN VERONA
Casa di Giulietta
Piazza dei Signori
Torre dei Lamberti
Piazza delle Erbe
Castelvecchio Bridge
Arena di Verona
Piazza Bra
WHERE TO STAY IN VERONA
Verona is great for a day trip from Venice, but of course, you can stay there overnight, too.
I highly suggest picking a hotel directly in the city center, and I would choose this hotel for my next Verona trip.
DEPARTURE
Now, there is some bad news. It is time to leave beautiful Italy! Your two weeks are up! There are many other gorgeous places to visit in Italy – I do not want to confuse you but I want to give you more options in case you are looking for alternatives.
Check out this guide on the Dolomites – this area in Northern Italy is perfect if you are an outdoor person who likes hiking.
If you want to spend time in and around Lake Como and Milan, you can check out this Lombardy itinerary.
If you want to avoid long train rides and rather focus on one part of Italy, you can check out this Northern Italy itinerary or find out about the best places in Southern Italy.
CONCLUSION: ITALY IN 14 DAYS
Wait, where is Milan? As you can see, some top places, like Lake Como and Milan or the Dolomites, are not on the list. They surely are lovely and have their charm, but with limited time (meaning less than three or even four weeks in Italy) for the first time, I suggest the places mentioned above.
If you are a restless traveler and want to add even more places to the itinerary, I have more tips here. However, this itinerary is busy already, though it should not stress you out.
If you plan a trip to Italy, you're sure to broaden your horizon and experience a variety of unique adventures. I can highly recommend that you travel to Italy for a guaranteed great trip.
You will be able to see quite a lot – and with this 2-week Italy itinerary, you get a perfect idea of the best places to visit.
However, you can never spend enough time in the country and 2 weeks in Italy is surely not enough, so it will just whet your appetite for Italy, and you can see more of it on your next trip.