Jordan is not only beautiful it is also one of the best places to drive –  and here is why a Jordan road trip is a must!
Even as a solo female traveler in Jordan I had a blast and congratulated myself for making the decision to discover Jordan by car.
This country…the people, the sights, the nature, the food… It was an absolute amazing experience and luckily, Jordan is also a very safe destination to visit with and conditions are great for road tripping.
I came to Jordan right after spending time in Lebanon and I admit, I was worried that Jordanians would drive like Lebanese people. Luckily, they do not. I did not drive myself in Lebanon and I could nit have driven in Jordan if this had been the case. Actually, this Jordan road trip was so relaxed and fun, so I have to recommend it to anyone.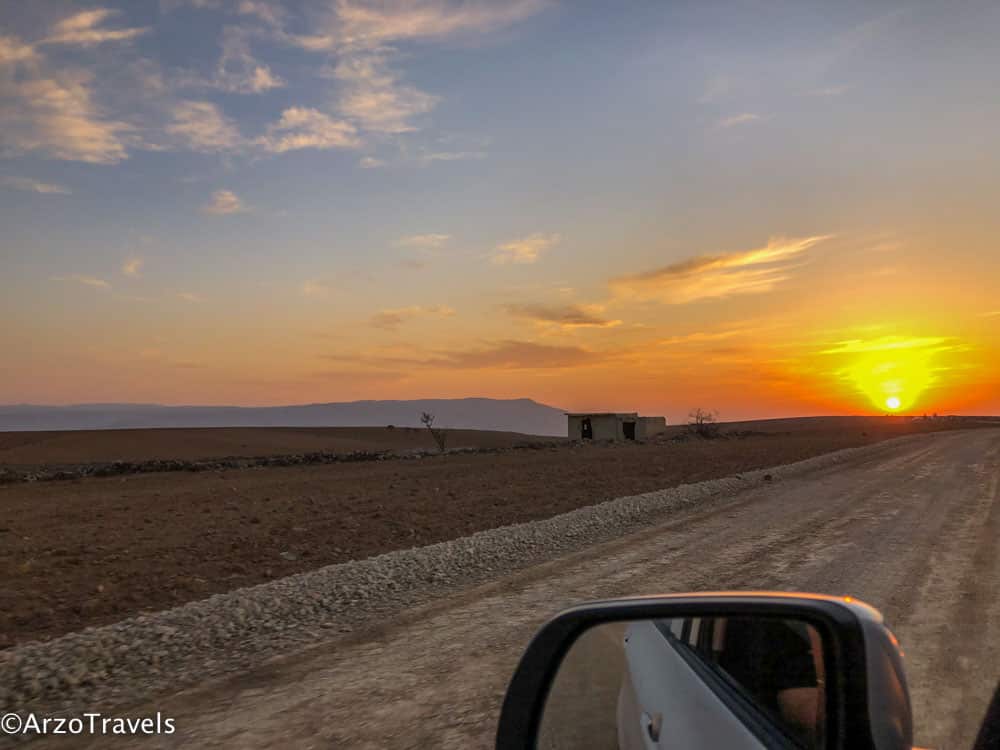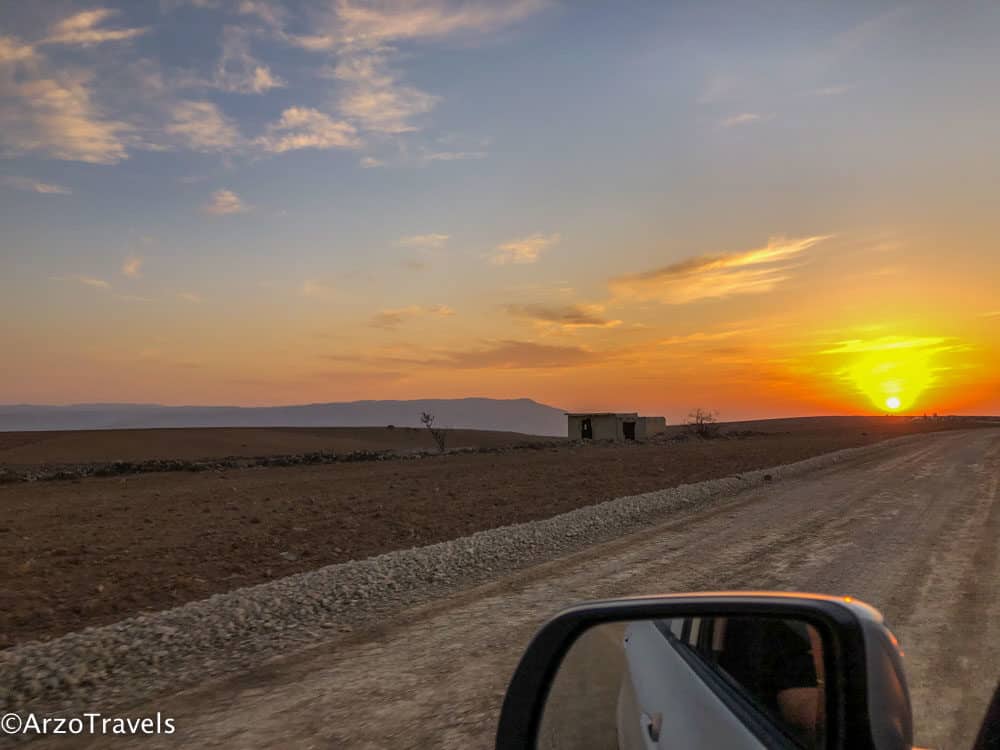 DRIVING TIPS FOR YOUR TRIP
Here is some information about driving in Jordan. While I think, it was quite easy and straightforward (and the streets, overall, were in very good condition), you should probably be aware of these things before starting your road trip.
Rules
Drive on the right side.
You have to wear a seat belt.
Driving age: 18. If you want to rent a car: 25 years old.
Bring a driver's license when renting a car and a credit card (a deposit is charged most times, but you will get refunded if everything is okay).
You are not allowed to throw things out of a car – and compared to many other countries in the Middle East, it actually is quite clean.
GPS – I had Google Maps and Here We Go. However, sometimes they did not get me where I wanted to go. Since there are some new streets, both apps had problems guiding me. Overall, they worked well, but not perfectly. Make sure to download an offline map before your trip.
Signs are in Arabic and English, so you should be fine understanding directions.
For the road trip, you will most likely need to rent a car and not driving with your own one. When you rent a car, you will get a paper – and if the police give you a fine, it has to be written on that paper, which you have to hand in to the rental company when you drop off the car.
There are a lot of police stops throughout the country – so, you could be pulled over at any time, but normally it is fine and you just have to present your papers.
P.S. I was pulled over and, apparently, one paper was missing. The rental company did not give it to me. The police charged a fine – I did not have to pay on spot

 

– and wrote a note on the paper. When I handed that over to the rental company, they said that it would not be a problem and they would pay for it… Apparently, they do not always hand over that particular certificate and so they accept the consequences.
Just double-check all the papers when you pick up the car, so you avoid any – unnecessary – problems.
Speed limits: There are many speed signs that will tell you the exact speed limit, but in general: 60 km in cities, 80 km in rural areas, and 120 km on highways.
There are speed humps. A lot of them. I mean really a lot of them. They are everywhere. So, always watch out for them because they sometimes even appear out of nowhere – and even if you stick to the speed limit, you very quickly have to sharply reduce your speed if you don't want your car to be damaged.While speeding in Jordan is less of a problem than in other countries, they sometimes even cause some danger. Anyhow, don't be surprised by allllll the speed humps.
Sometimes, animals are on the street. And sometimes humans are on the street. In the town center near Petra, people sat on the curb (with their legs and feet in the street)… smoking shisha. Also, some people in groups don't like to walk behind each other, but would rather walk next to each other – even if that means that people walk in the street. So, always watch out.
Compared to other countries in the Middle East, driving in Jordan was easy – people mostly stick to their side of the lane. However, never believe that drivers will follow all the rules and drive carefully.
Don't drink and drive. Unfortunately, this isn't a global rule (some countries do allow drivers to have a few drinks), but in Jordan, you can't drive if you have had a drink.
I saw plenty of petrol/gas stations – however, this does not mean you will find one every 50km. So, whenever you have a longer distance to drive, make sure you refuel your petrol/gas. There is always service and you can wait in the car while it gets refuelled – you have to pay in cash.

 

Petrol/gas prices are quite affordable – and unlike in Germany, where prices change many times over the course of the day, the prices are more stable here and cost about 1€ for 1 liter.
One of the reasons I loved Jordan was because of the friendly locals. When I drove through villages and towns, many kids waved at me and were smiling – however, some teenage boys did throw stones at me and my car. My tip: ignore and continue driving.
If you drive at night, double-check your lights as there aren't many street lights.
The King's Highway: In ancient times, the King's Highway was a trade route that linked Africa with Mesopotamia. It ran from Egypt to Aqaba, then to Damascus and the Euphrates River. Today, you can still travel along this ancient 280-kilometer-long roadway, passing through tiny villages and mountain towns. Popular attractions include St. George's Church, the ruins of Mukawir, the site of Umm ar-Rasas, the Crusader castle of Kerak, and Shobak Castle, among many others. This road will also take you from Amman and pass through other popular destinations in Jordan, like Wadi Mujib, Dana National Park, and Petra.
Jordan Pass: Most nationalities have to pay for a visa: The Jordan Pass is a pass, that you can buy (online or when you arrive in Jordan) and which includes the visa and also entry to most attractions in the country. Financially, it makes sense to buy the Jordan Pass if you stay in Jordan for a few days and visit places like Petra or Jerash.
Jordan is a very safe country and as a solo female traveler in Jordan I never had to worry about my security – just exercise common sense whether you travel alone or not.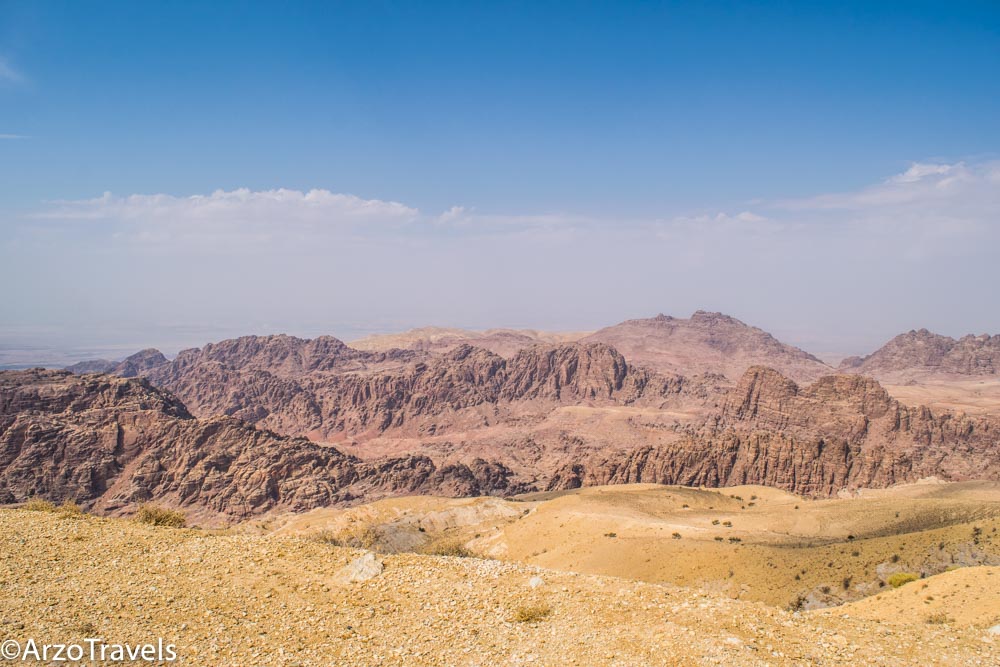 How to Rent a Car in Jordan
Renting a car in Jordan is quite straight forward. I used RentalCars to find a car – I picked the smaller car available and it was fine. I realised, later in the mountains, that it was challenging for the car to drive up the mountains but it did a good job after all. BUT, with what I know now, I suggest not taking the smaller car but probably a medium-sized car.
Unless you have a lot of luggage or you are a group of 5 people you will not need a big car. Street conditions are good – and a medium-sized car should be fine. A 4wheel car is not needed – for a trip to the desert, I highly suggest, to book a tour.
When renting a car, make sure all damages are well recorded when you pick up the car so that you don't get blamed for damages you did not cause.
TIP: Get full insurance. I always do that – it is a bit more expensive, but it is less stressful in case anything happens to your car (whether it is your fault or not) and make sure all papers are complete when picking up the car.
With the above driving tips, you should be fine to drive in Jordan. 
Where to Stay in Jordan
While I have hotel recommendations under each stop, you can also check out my Jordan accommodation guide to find the best areas and hotels in Jordan.
Find more general travel tips for Jordan here.
ITINERARY FOR ROAD TRIPPING
So, for this road trip, you will need a minimum of 5 days. However, 7 or 10 days in Jordan would be much better as you could actually see all places mentioned here. If you plan a two-week road trip, you will actually have enough time to also rest and relax and spend time at the beach (or in the desert). So, if you can visit Jordan for 2 weeks, then go for it.
But you can even discover Jordan on a 7 or 10-day road trip. And with a 5-day road trip you have to skip two or three places mentioned here. Anyway, here we go, here are places not to miss when road tripping Jordan.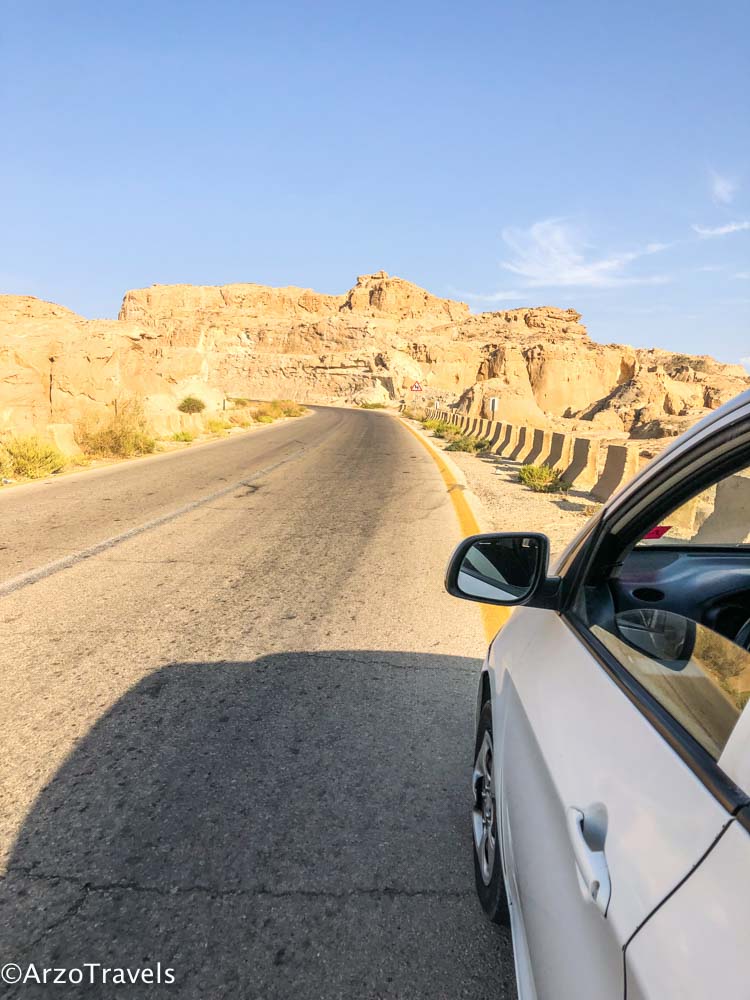 Stop 1: Amman
Personally, I really enjoyed my time in Amman and I do think, it is one of the best things to do in Jordan. Amman is the capital of Jordan and a very busy and exciting place to visit. It is one of the oldest continually inhabited cities in the world, and also well populated as half of the people in Jordan live here.
While the city is very old, there is a mix of both ancient and modern architecture.
Amman is teeming with shops, restaurants, and an active nightlife, and has a hectic feel as everything always feels like it's in motion. There are a number of attractions offered within the city, such as the Roman Ampitheater, downtown Amman and the souks, and the views from the Citadel. 
Entry to most attractions are free with your Jordan Pass.
Tip: I recommend spending one or two days in Amman – and discover the city WITHOUT a car. Unless you enjoy driving in busy places. Then Amman is a good place to drive. But for all others: Make Amman your starting point of the road trip and pick up the car after your time in Amman (or make it the end point of the trip).
You can get around on foot or take a bus or an Uber if needed in Amman.
WHERE TO STAY IN AMMAN
I stayed in Nomads Hostel Hotel (and another place that isn't worth mentioning). It was very conveniently located near Rainbow Street and made it easy for me to connect with other female travelers. The hostel was fun, modern, and clean, with a great location. Check it out here because it surely is a perfect budget accommodation.
For a midrange hotel option, I suggest Albasem Hotel, because it is well-rated and centrally located. Check out rates and availibilities here.
For a luxury hotel, try The House Boutique Suites, which is also near Rainbow Street (which is probably one of the best places to stay) and offers lots of amenities.  Find out more about the hotel here.
Stop 2: Jerash
Dating back almost 6,500 years, Jerash is located just north of the capital, Amman, and in the northwest part of Jordan. I think, there is no way to skip Jerash when you do this road trip.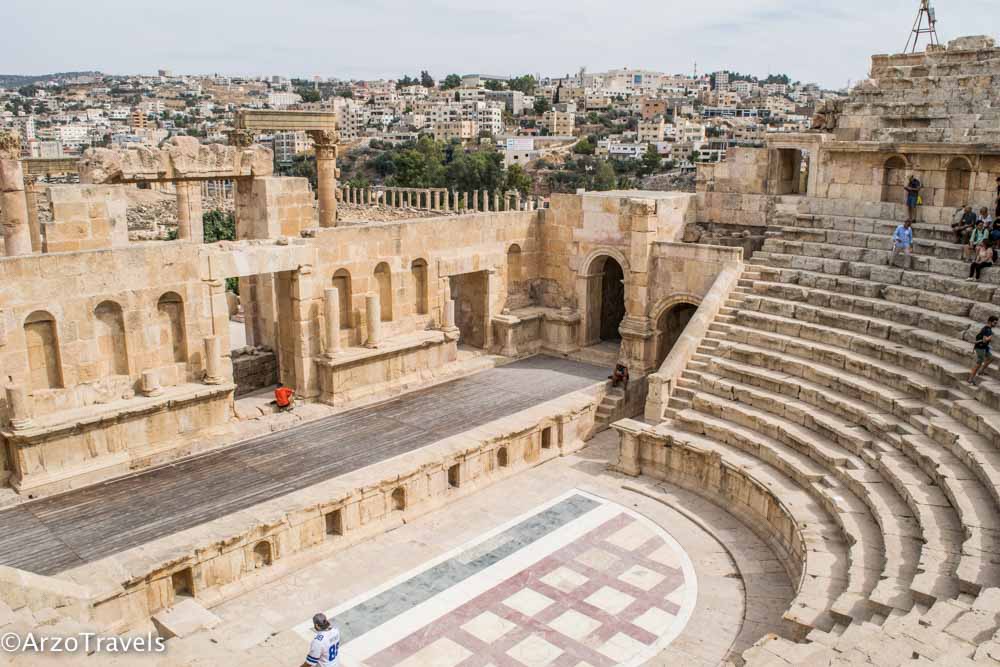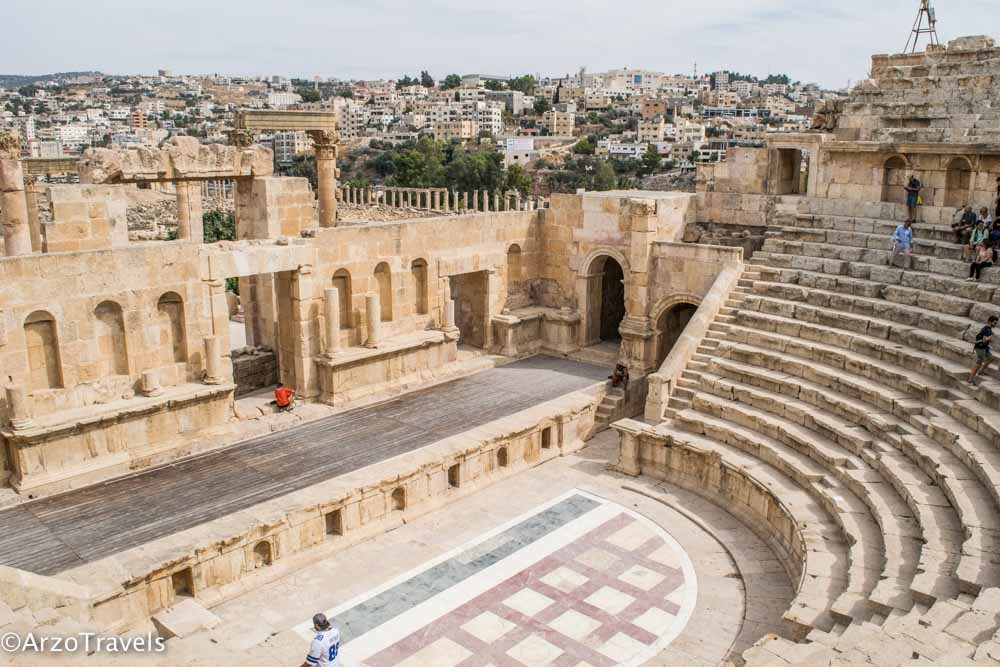 It is one of the best preserved cities from under the rule of the Roman Empire and is really amazing. It was rediscovered about 70 years ago and restored. You can explore a lot of attractions in Jerash, including the 2nd-century Hadrian's Arch (aka Triumphal Arch), the South Gate, the forum, the hippodrome, the Corinthian columns of the Temple of Artemis, and the Temple of Zeus, among others.
The Jerash Archaeological Museum also exhibits their finds for viewing.
Tip: I recommend renting a car now, and getting there after your time in Amman and plan in half a day (max. one day if you are really into history) and then head to the Dead Sea. Entry is free with your Jordan Pass.
You can leave early in the morning and – after a few hours or a full day – head to the Dead Sea which is a 1,5 – 2 hours drive.
Stop 3: Dead Sea
The Dead Sea is located along the western border of Jordan and is the lowest point on the planet. It surely is a must-see for any Jordan road trip.
It is more than 400 meters below sea level. It is so salty that you cannot swim in it because you only float. But it is a destination for many because the mud from the Dead Sea can be used to soften skin. Even Cleopatra was known to do it. So, the minerals in the mud make it a natural spa destination and the beaches are also popular.
Most are owned by the resorts in the area, but there is a public beach to enjoy as well.
Tip: Many people visit the Dead Sea on their way back to Amman – because this is the place to chill and relax. I did not wait until the end – I was ready for a day in a luxury accommodation and wanted to get pampered.
If you plan a 5-day road trip, I would probably just visit for a few hours but if you road tip Jordan in 7 days, stay a night here and chill before you get to experience some adventure. I would continue my journey around 10 am and visit a real highlight in Jordan which is quite close.
BEST PLACES TO STAY AT DEAD SEA
I stayed at the Mövenpick Resort & Spa. My room was nice, but a little outdated, especially in the bathroom, but Stthe bed was comfortable (I had an amazing sleep) and staff is very friendly. The hotel was done in the Arabic style, and breakfast and dinner were included. Butt you can also book it without any dinner/breakfast/lunch. I would say it was definitely worth the money and my first choice for staying at the Dead Sea. Check out rates here.
The Ma'in Hot Springs Resort & Spa is also a good place to stay, situated among beautiful mountain landscapes and offering relaxing spa amenities. It is a bit more expensive than Mövenpick Hotel – find out more about this luxury hotel here.
For a budget option, try the Dead Sea Spa Hotel, which is a well-rated 4-star hotel with great amenities and private beach access. Find the rates here.
Stop 4: Wadi Mujib
Wadi Mujib is a river canyon, where the Mujib River empties out into the Dead Sea, making the area the lowest nature reserve in the world at 420 meters below sea level.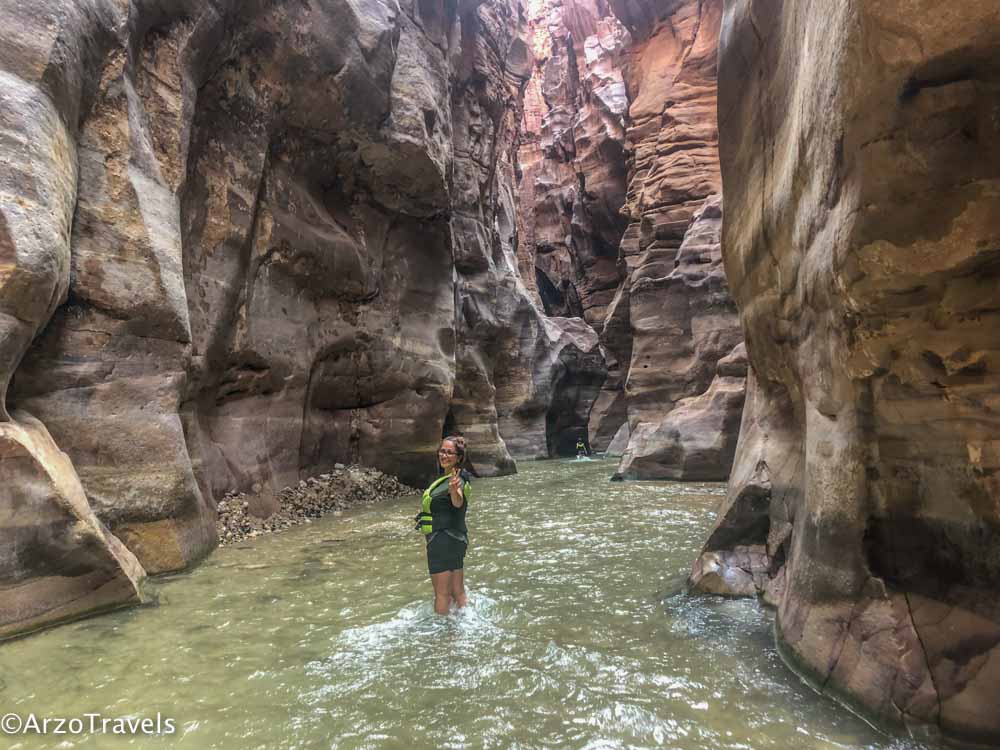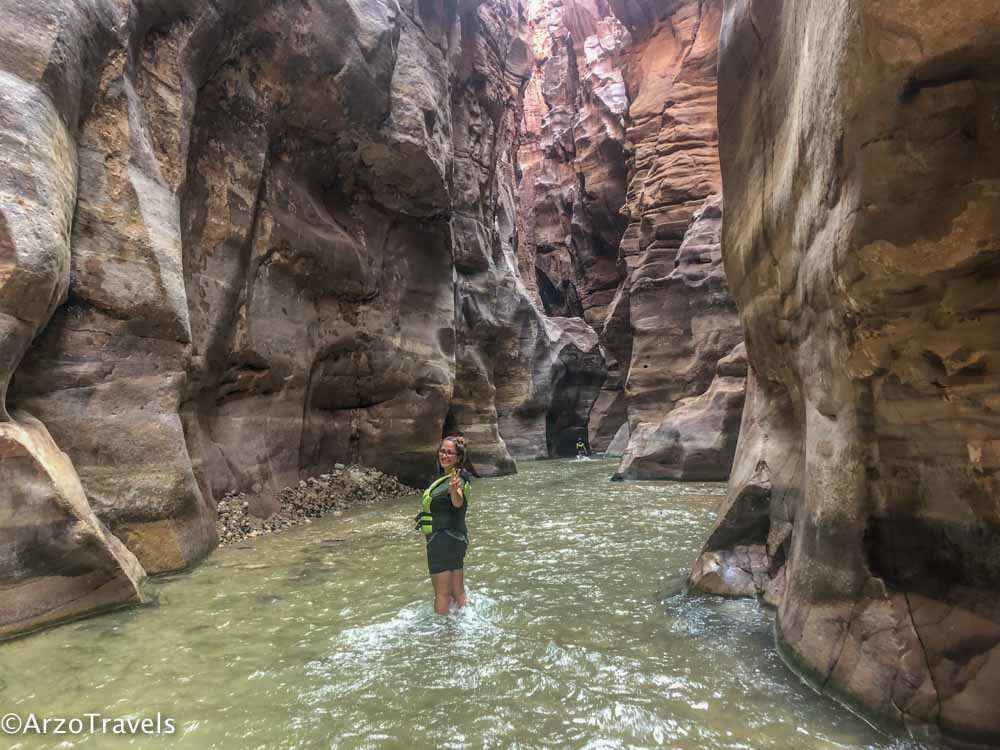 The Wadi Mujib Gorge is a stunning place, and a fun and exciting destination while in Jordan. You can hike the area, climbing stairs under waterfalls, crossing through the water, and floating in between the gorge. The water is filled with the little fish often used for "pedicures."
This is a very adventurous place to visit and was one of the highlights during my road trip.
Tip: It is closed in the winter months (exact times depend on the actual weather conditions but it might close mid-October for a few months). You can get there from your way from the Dead Sea to Dana and it will take a few hours (or up to a day, depending which tour you want to do).
There is an entrance fee (not covered by the Jordan Pass) that is about 25€ – you can only pay in cash – and then you can rent a guide. I did hire a personal guide for another 25€ and it was absolutely amazing. I did the shortest – yet not easiest – hike through the gorge and it was just better than expected.
I am an active person though not very sporty and it was not always easy but definitely doable with the help of a guide (and if you are active and fit you can do it yourself!). Bring suitable shoes with you! I would try to leave Wadi Mujib at around 3 pm so you can experience the sunset at this gorgeous place that I am talking about now.
Stop 5: Dana
Located between Petra and the Dead Sea, Dana is a lesser-known stop and many dont add it to a Jordan road trip, but features stunning sights.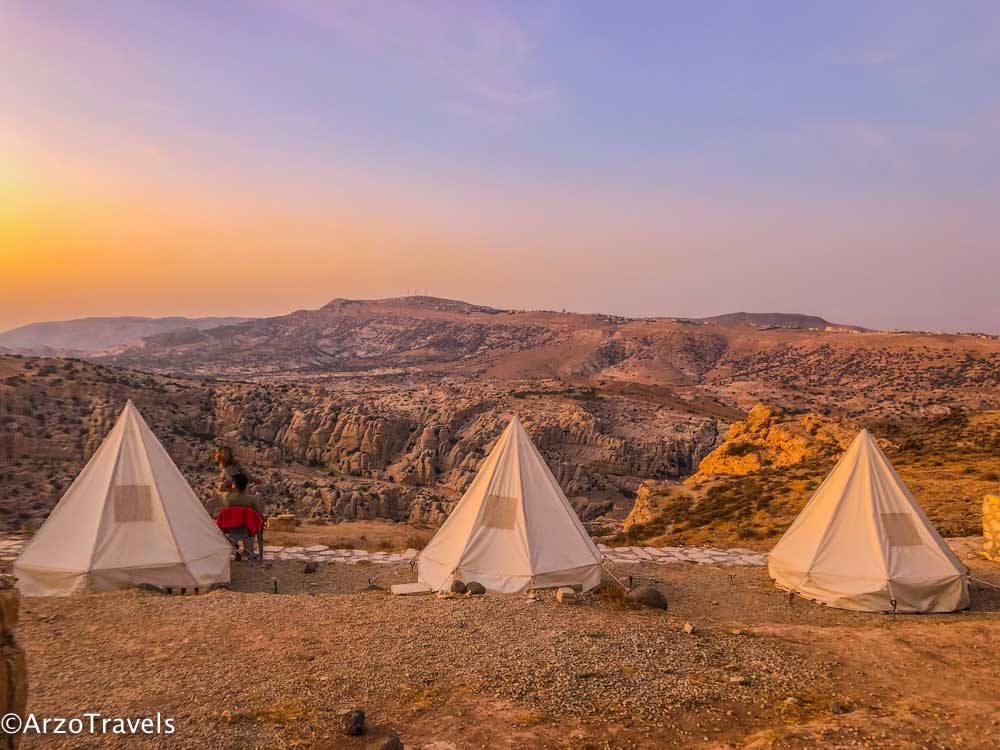 The Dana Nature Reserve encompasses about 300km around Dana Village and Wadi Dana.
It is inhabited by the Al Atata Tribe, who have been living there for 6,000 years. Popular among hikers, Dana offers many hiking trails. Wadi Dana, a canyon, is also visited for its natural beauty and views. The town of Dana is about 500 years old and you can see many aspects from the 19th century well-preserved and still present today. 
Tip: This place is a bit more off-the-beaten path – but if you are into hiking or hidden gems, you should not miss out. I am not a hiking fan but did a short hike but most of all, I loved the sunset in Dana. Accommodation here is mostly very basic yet it is a great place for any road trip itinerary.
WHERE TO STAY IN DANA
I stayed at Al Nawatef Bedouin Camp – it is a very basic camp. You have shared toilets and mattresses were not great. However, I still recommend it because the views are great (and sunset from here is top!), and the food was great.  They also offer guided hiking tours (from a few hours to a 2-day hiking trip).
So, I definitely recommend staying here (plus it is very budget-friendly). Check out their rates here.
If you are looking for a bit more comfort you will probably find it at Mount Dana Hotel. You can check out their rates and amenities.
Stop 6: Petra
Petra is perhaps the most visited place in Jordan and one of the best stops for your road trip. Located in the southwestern part of the country, it was the prosperous capital of the Nabatean kingdom around 1 BC.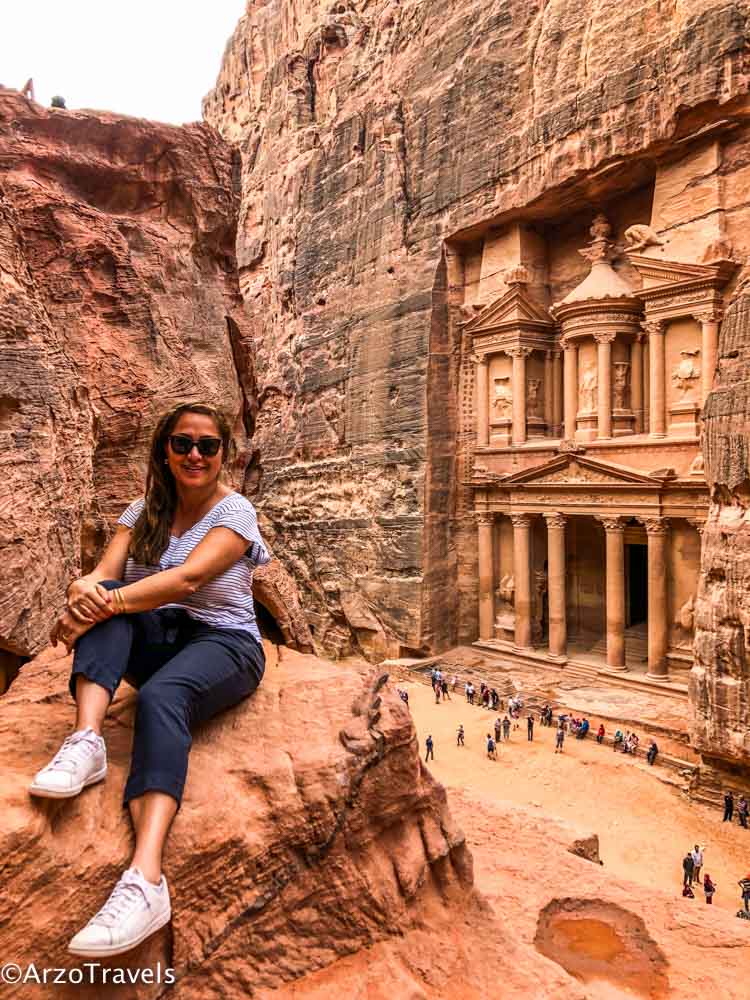 It flourished under Roman rule, but was then destroyed by an earthquake in 4 AD.
Only the Bedouins remained after that, until a Swiss explorer discovered it in the 19th century. Some attractions in Petra are the Siq, the Theater, the Treasury (Al Khazna), the Monastery (Ad Deir), the Royal Tombs, and the Colonnade Street. You can also visit a nearby Nabatean site that was built around the same time as Petra.
Tip: Petra is huge…I am serious. You can't see it in a few hours. You will be able to the Siq and the Treasury but you won't be able to see the main attractions. You would need more than a day for all that. I booked a 3-day pass with my Jordan Pass, but I only visited on two days because I somehow felt it gets repetitive (apps, yes, I said it) and some places looked similar.
There is a lot of walking and some hiking included – wear comfy shoes and never, never ride a donkey.
There are terribly treated (what I saw) and if you need a ride, you can take an electric mini bus for some parts. Even though they don't take you up all the way to mountain peaks, I guess, it is not an option to ride a donkey, so bring enough drinks and snacks (though there are stalls where you can buy all that) and prepare for some nice walks.
Petra By Night was a little disappointment – too many people, too loud and too short. It wasn't worth the money in my opinion (and it is not covered with the Jordan Pass).
WHERE TO STAY IN PETRA
The Mövenpick Resort is a very nice luxury hotel located just next to Petra (so perfectly located). But it is very popular and fills up fast, so if you want to stay there, then I suggest you book early. Check out rates here.
Another beautiful place to stay near Petra is the Hyat Zaman – while it is rated as a 3-star hotel, it actually is a beautiful luxury hotel about 15 minutes drive from Petra. It was my favorite place to stay in Jordan and definitely recommend staying there. It is a great choice if you don't have to watch your budget closely. Check out the hotel here.
For a cheaper option, you can stay in Wadi Musa at the Cleopatra Hotel, which is only 2 km away from Petra. It is a simple place to stay but was fine for the 2 nights I stayed there as it is close to min attractions. Read more about the hotel here.
Stop 7: Wadi Rum
There is absolutely no way to skip Wadi Rum on your Jordan road trip. Wadi Rum, also known as Valley of the Moon, was named a UNESCO World Heritage site for its cultural and natural significance.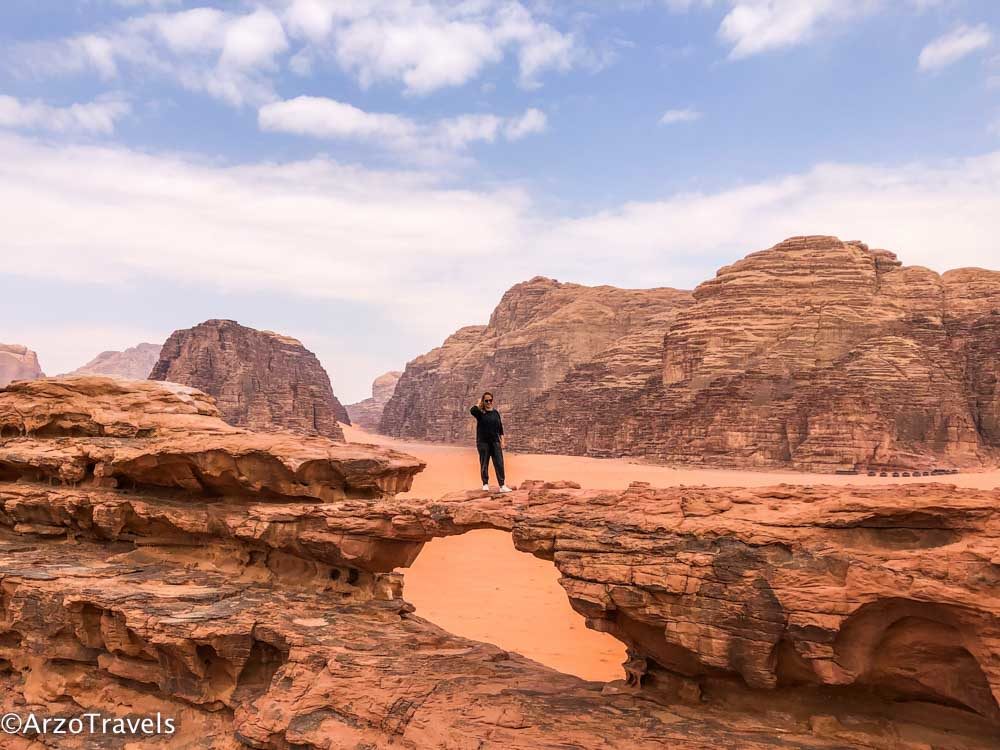 Inhabited by the Nabataeans in prehistoric times, this area has a unique landscape and stunning views. It is also the largest wadi in Jordan. It is famous for its red-pink desert sands, natural arches, mountains, and prehistoric rock engravings.
Wadi Rum also became well-known as a filming location for movies, such as Lawrence of Arabia. Other attractions include the Burdah Rock Bridge, Al Hasany Dunes, and the Khazali Siq.
Tip: I suggest, staying at least one night in Wadi Rum. Most other visitors only come for a day (for few hours) but they miss out on a magical night. There are several camps (unfortunately, the one I stayed is closed atm) and it was amazing. Basically all camps offer tours for the day. And do have dinner/breakfast and lunch if you stay with them overnight and book a tour.
You should not drive with your own car in the desert – the desert is huge and you would need a 4 wheel drive and should have at least some experience driving in sand. So, you can leave your car at the visitor center and will then be picked up by the company you booked the tour / accommodation with. Sounds complicated but is quite easy if you book in advance.
WHERE TO STAY IN WADI RUM
I stayed in a very good camp but it seems the owner has some troubles with the police and it was closed?! I am not sure but you cannot book it anymore and the last review looked like this. Anyhow, you should not worry.
Make sure that you ask about the tours once you have your accommodation booked. This camp looks pretty similar to the camp I stayed at and they also offer tours, so once you have your night booked then email them and ask about tours.
Check out this luxury camp that offers beautiful rooms with great views.
Stop 8: Aqaba
Located in the southern part of Jordan, Aqaba is the only coastal city in the country. This port city is situated off the Gulf of Aqaba in the Red Sea.
It is a popular destination for those who enjoy diving, wind surfing, snorkeling, and other water sports. It also has a rich history, dating back to 4,000 BC when it was first inhabited. Some attractions to see here are the Yamanieh coral reef and the Aqaba Fort. There are many beach resorts here as well, but this city generally attracts lovers of water sports.
Since I, personally, had not added Aqaba to my road trip, I actually can't say much as I am not into diving and am also not a beach person. However, it is very popular with the people who like to dive. Aqaba is probably one of the best places to chill and rest – so, if you road trip Jordan for more than 7 days, then you will have time to do so here.
WHERE TO STAY IN AQABA
For accommodations, you can stay at Al Manara Hotel in Aqaba, which is a luxury resort that is highly rated for its location, service, and amenities.
A more mid-range hotel would be the Lacosta Hotel, which is close to the beach and other attractions, and often includes breakfast.
A budget option would be the Amir Palace Hotel, which is a charming boutique hotel in the city center.
Tip: This could be your last stop – and from here you could head back to Amman or continue your journey (many visit Israel afterwards).
Stop 9: Amman
Aqaba – or Wadi Rum – is quite far from Amman. If you flight is from Amman it is time to head back north. It takes time so make sure to leave early – or better, book your last night in Amman so you don't have to stress.
As great as driving in Jordan is, it always can happen that something happens with your car or streets are closed so plan in enough time for the drive back.
PLACES TO STAY IN AMMAN
Though I mentioned it above, here are three places that are probably the great fits for all budgets.
Nomads Hostel Hotel: Check it out here because it surely is a perfect budget accommodation.
Albasem Hotel, is well-rated and centrally located. Check out rates and availibilities here.
The House Boutique Suites,  is also near Rainbow Street (which is probably one of the best places to stay) and offers lots of amenities.  Find out more about the hotel here.
CONCLUSION: JORDAN ROAD TRIP
Jordan is such an amazing country. As public transportation is not great, a road trip is actually the best way to explore the country. As mentioned, I traveled through Jordan as a solo female traveler and I loved it! So, whether you plan a road trip in Jordan by yourself, with friends or family or alone – do it.
Jordanians are very relaxed, friendly and always happy to help, Whether you do a Jordan road trip by yourself, with friends or family or your partner – I am sure, you will have a great time!
Stay safe and great travels!