WHAT TO DO IN MEXICO – PLACES TO VISIT AND THINGS TO DO
Mexico is charming, Mexico is beautiful, and Mexico has a lot to offer. If you want to find out about the best things to do in Mexico, then this post is for you.
This post was written by Cassandra
In this post, you will not only find out about the best things to do in Mexico but also:
Tips and tricks to know when visiting Mexico
How to get around in Mexico
Security tips for (female) travelers in Mexico
The best time to visit
What to pack for Mexico
Where to stay in Mexico
Find out about the 10 best places to visit and see in Mexico
Things to Know Before Visiting Mexico
Before talking about the best Mexico activities, though, here are a few travel tips for Mexico.
General Tips and Tricks for Mexico
Tap water in Mexico is not drinkable! Only drink bottled water. The majority of the coastal towns are very safe, but of course, exercise common sense. When in cities, be more aware of pickpocketing and such, and if in Mexico City, beware of fraudulent taxi services.
Try to eat in restaurants over street carts, especially if this is your first time in Mexico or if you tend to have a sensitive stomach.
When shopping, always barter and negotiate the price!
Tips for Female Travelers in Mexico
Most importantly, be aware of your surroundings— always.
Most of the coastal areas are very accustomed to travelers, and I have found most people to be very friendly; once inland, in bigger cities, such as Mexico City, I exercise more caution.
Don't walk around alone late at night; usually, if I am alone after dinner, I will head back towards the hotel and relax at the beach or pool, or maybe go to a nearby/neighboring establishment, so I am close when it's time to head back.
Be careful not to expose your money/valuables. Trust your gut if a person or situation doesn't feel right—leave. Don't go out drinking alone, and don't share your hotel information with people you don't trust. If you don't feel comfortable walking, grab a taxi and establish the price before getting in. Be conscious that every city has good and bad areas—research before you go, so you know your good areas and stay in them.
Knowing some Spanish (even just the basics) is also very helpful. I do not speak Spanish fluently, but over the years have gained enough to ask for directions and have basic conversations and understanding, which can be incredibly helpful. Pick up a phrasebook and practice before going. If you are staying mainly in coastal areas where tourism is more common, English will be more widely spoken.
Aim to blend in—don't wear/flash designer items and expensive jewelry, for example. Also, don't dress too revealingly. The Mayan culture is more conservative. Once again, the coastal areas are more accustomed to tourists and will have more of a beach culture, where you will see more people wearing shorts and such. But going into the cities, you want to be a bit more conservative.
And ignore catcalls; it's better to avoid confrontation.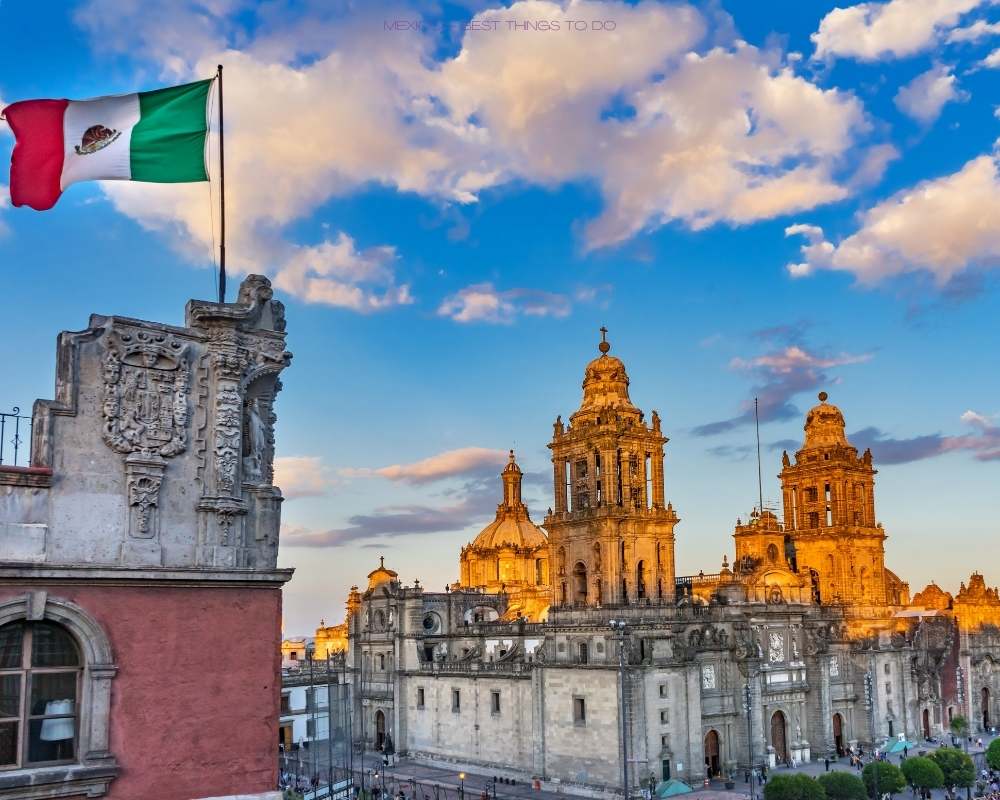 How to Get Around
I typically don't recommend a car rental in Mexico because roads aren't always in the best condition, and sometimes local police can give you a hassle. Also, many areas don't require a car.
I use transfer services where I can. I typically pre-arrange airport transfers via Olympus Tours. For other areas where Olympus Tours may be unavailable, I use Viator.
Once in the destination, if staying in a town or city, I walk a lot. Some cities may have hop-on-hop-off bus passes for touring.
I mainly use local taxi services, although please note that you should know the price before getting in the vehicle, and bargaining is commonly used; some areas have also started using Uber. Also, note that you have to be cautious when using taxis in Mexico City, as there have been fraudulent drivers, so I like to ask my hotel to arrange my taxis for me.
The ADO bus service is easy to use and inexpensive, although it usually takes longer than car services.
Collectivos are also an option, which is like shared mini-van taxis.
Tip: If you are a backpacker, you will love this backpacking guide for Central America.
Things to Pack for Mexico
It depends on the time of year and what area you are looking to visit.
With its diverse climates, you can visit the desert, mountains, or rainforest.
Generally, most of Mexico has warm weather year-round, but if you plan to visit an area of higher altitude, like Mexico City, you may need some jeans and sweaters.
Always check the weather forecast before going for temperature estimates, but don't be disappointed if rain is predicted!
Being in a tropical environment, rain is common in most countries but usually clears up quickly, bringing sunshine. Always bring both sandals and sneakers, bug spray, sunscreen, and basic over-the-counter meds, like Tylenol, Benadryl, and Pepto Bismol.
Disclaimer: This post contains affiliate links. This means I might earn a small commission when you buy a product/service via my link (at no extra cost to you). More about it here.
Where to Stay in Mexico
Below are my favored areas and hotel options. I choose the hotels based on location mainly and the options NOT being all-inclusive, so you can get out to local eateries and try the cuisine.
They are all varied in style and level of accommodation – some in town, some beachfront, some elementary and simple, and others a bit more high-end.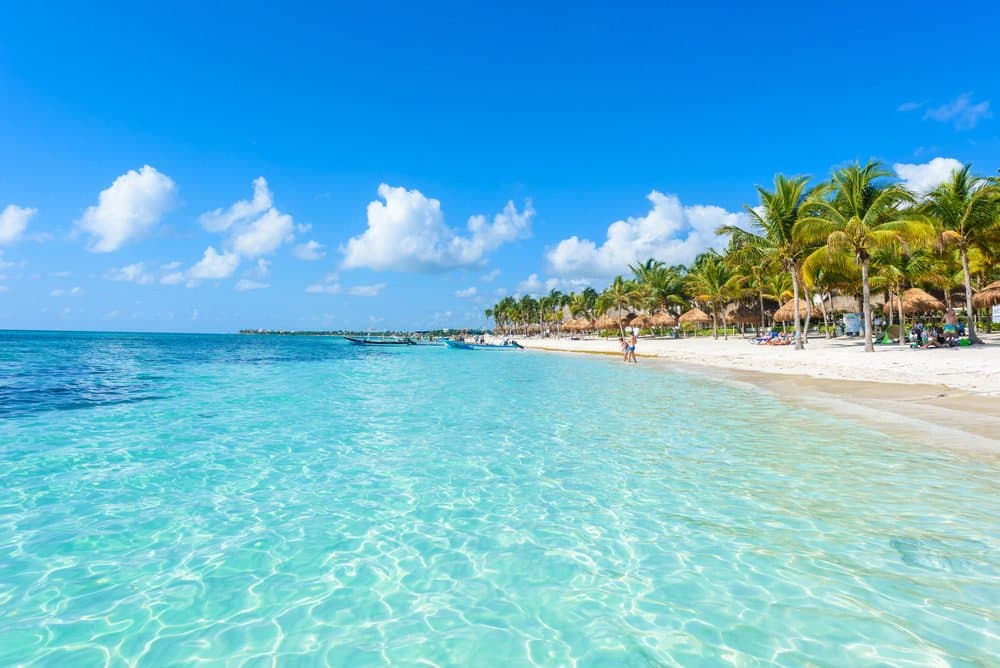 Accommodation: Caribbean Coast in Mexico
Isla Mujeres: Hotel Ixchel is a good choice – stay in the Playa Norte area to be close to town so that you can walk to restaurants easily
Puerto Morelos: Hotel Arrecifes is located on the beach, about a 10-minute walk into the town center.
Playa Maroma: Hotel Amarte – this area is normally pricey, but this property is set back in the rainforest area, making it more affordable. It's about a 15-minute walk to the beach, or you can take a shuttle service, but a great eco-boutique hotel) *more secluded- no town area within walking distance.
Playa del Carmen: Hotel Mahekal is set up in a traditional cabana-style, right on the beach; an amazing spot, but a bit more pricey. If you opt to stay in town at the Fiesta Inn (not on the beach), prices are lower (read more about Playa del Carmen).
Accommodation: West Coast in Mexico
Puerto Vallarta: Hotel Playa Conchas Chinas is right on the beach, only a 5-minute taxi ride into downtown for shopping, exploring, and nights out.
Punta Mita/ Sayulita area: Hotels Meson de Mita and Casablanca Sayulita are simple, beachfront, bohemian properties *more secluded- no town area within walking distance.
Accommodation: Yucatan Cities in Mexico
Merida: Hotel Casa San Angel, located in the historic district and only a 15-minute walk from the center of town, where the park and cathedral are.
Valladolid: Hotel Meson del Marques is an old colonial mansion converted to a hotel and serves delicious traditional Mayan dishes! Even if you don't stay here, eat here.
Campeche: Hotel Socaire is located centrally in the historic center, within easy walking distance to restaurants and sites.
Best Time to Visit Mexico
Any time is a good time to visit Mexico. Note that November and December bring higher prices, and September is the heart of hurricane season (although this doesn't mean necessarily bad weather)!
I visited during September with days of sunshine, but just a good thing to keep in mind. May usually has good pricing and is before the summer months' heavy heat, so it is a great option.
10 BEST MEXICO ACTIVITIES
Ready to find out about the best things to do in Mexico?
Visit Chichen Itza
Chichen Itza
This is one of the New Seven Wonders of the World and was enlisted as a UNESCO World Heritage Site in 1988.
Chichen Itza
is probably the most famous Mexico tourist attraction and comes with crowds – yet it is still a must-see because it is absolutely stunning. It is a large pre-Columbian city probably built by
the Toltec-Maya
between 1050 and 1300 CE.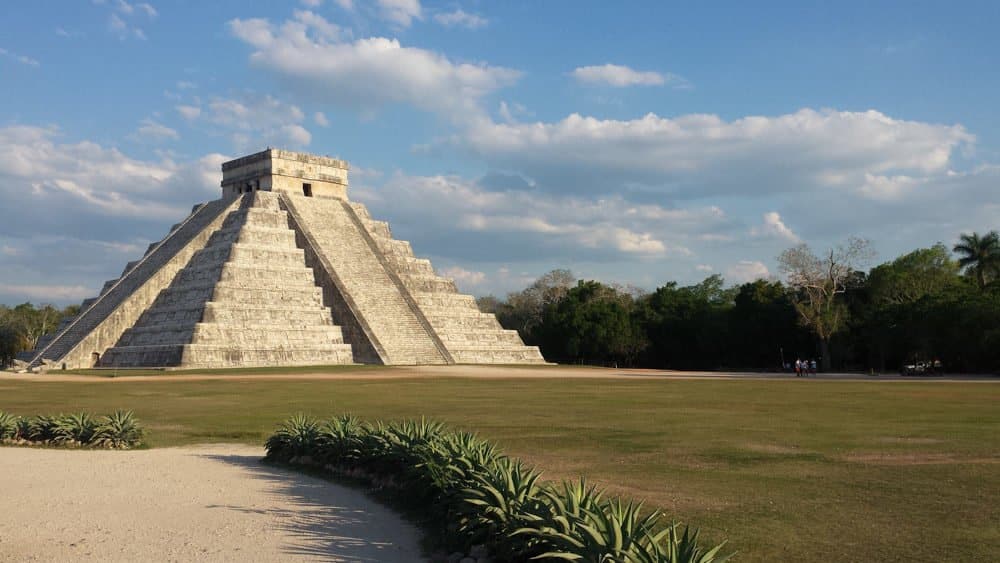 It was one of the largest Maya cities and likely one of the mythical great cities. There are many attractions but the most famous is probably the massive step pyramid, known as El Castillo or Temple of Kukulcan.
You will need between 3 hours to a full day to see the ancient city. Chichen Itza is located in the center of the northern portion of the Yucatan Peninsula, so getting there is quite easy.
You can also join a tour to Chichen Itza. Here are some Chichen Itza tour recommendations:
From Cancun & Riviera Maya: Chichen Itza, Valladolid & Cenote Tour
From Cancun & PDC: Chichen Itzá, Ik Kil, and Coba Small Group Tour
From Cancun & Riviera Maya: Chichén Itzá, Hubiku Cenote & Valladolid Tour
Swim in a Cenote
Cenotes are these magical, underground swimming pools created by Mother Nature. Some are open at the top, and some are more closed, like a cave. Most are located within the Yucatan Peninsula.
Ik Kil is a popular one, mainly because it is near Chichen Itza, but it is also STUNNING, with vines and tree roots stretching down hundreds of feet towards the water. The key is to get there early to avoid crowds. Several other cenotes are lesser-known and great to check out, each unique in its own way.
Cenote Zaci is lovely, and is in the center of the colonial city Valladolid. It is also best to go in the morning because locals come to cool off midafternoon and it can get more crowded.
Cenotes by area: Valladolid (Zaci, Samula, Xkeken and Xcanche), Playa del Carmen (Azul, Jardin Eden, and Cristalino), Puerto Morelos (Verde Lucero and La Noria), and Merida (Xlacah, and "the 3 cenotes of Cuzama").
Ik Kil is central to all of these locations, being a long drive of about 1 1/2-2 hours, regardless of which area you stay in, so it is best paired with a visit to Chichen Itza. Check out Prices for a Day Trip to Ik Kil and Chichen Itza
Snorkel the Mesoamerican Reef
Mesoamerican Barrier is the second largest reef system globally and stretches from Cancun all the way down to Honduras (it is almost 700 kilometers). The only reef larger is the Great Barrier Reef in Australia.
The reef system is beautiful, and you can see vibrant corals and snorkel with sea turtles. This reef can be accessed from any point along the Caribbean coast of Mexico, but the best spots are Isla Mujeres, Cozumel, Puerto Morelos, and Akumal.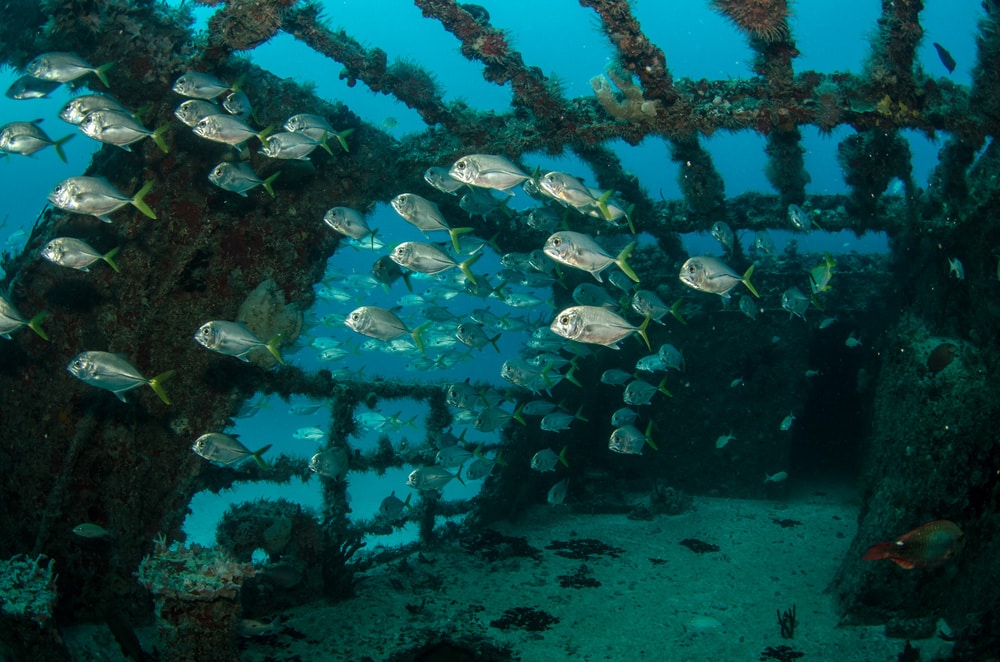 Visit a Biosphere
Mexico is home to 12 biospheres, which are scattered throughout the country, and depending on which area you travel to, there will always be something amazing to see.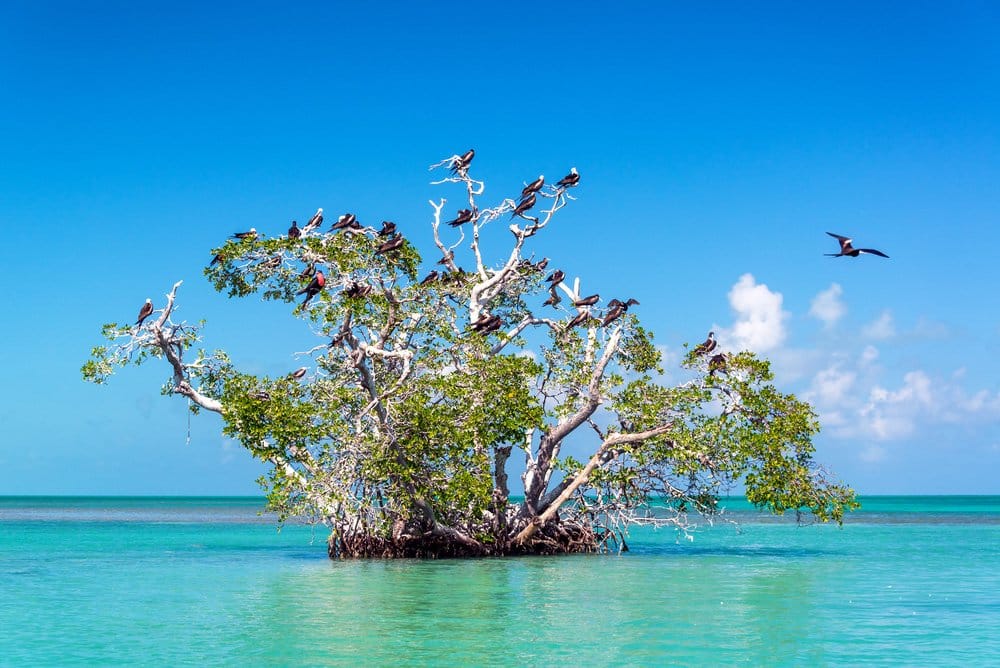 The mangroves of Sian Ka'an, the leopards, residing in Calakmul, the deserts of Mapimi, the sea lion colonies in the Islas de Gulfo de California, the wolves at La Michilia reserve, the forests of Sierra de Manantlan, and much more! The country is so diverse, but whichever area you choose to visit, make sure that you get on a day trip to the closest biosphere.
Mayan Cities of the Yucatan Peninsula
The Yucatan area (states of Yucatan, Quintana Roo, and Campeche) is home to a plethora of ancient Mayan cities and to the largest populations of contemporary Mayans in Mexico.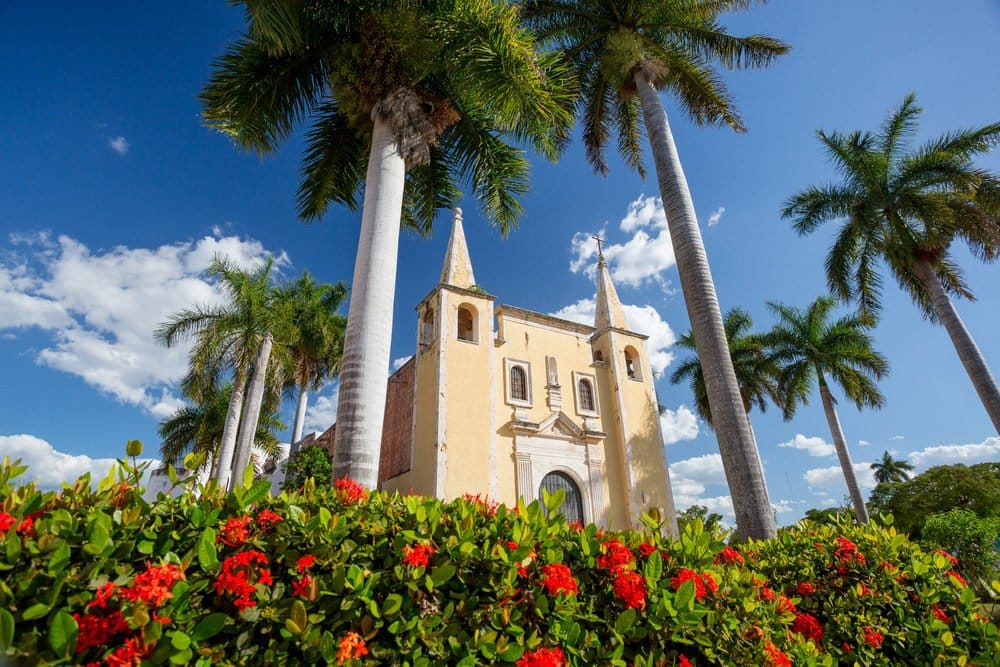 Although Quintana Roo has become a tourist hotspot for its Caribbean beaches, you can venture into the jungle just a bit to find some stunning cities within Yucatan and Campeche.
Spanish-colonial architecture, colorful buildings lining the streets, and traditional Mayan cultures are kept alive. My favorite cities are Merida, Valladolid, and Campeche. Get off the beaten track and explore these cities packed with history and culture, and don't forget to try some Mayan dishes, like Relleno Negro and Pollo Pibil—delicious!
Swim With the Whale Sharks
One of the best things to do in Mexico is to swim with sharks.
Don't worry. They eat plankton – not fish (and don't even have teeth to bite with!) These gentle giants migrate to Isla Mujeres to feed on the plankton annually between June and September. I went in August, and it was magical! Manta rays feed in the same areas, too, so the chances are that you will get to see and swim with both. It was absolutely awe-inspiring.
You must be conscious of what company you go with—this is an endangered species, and responsible tourism is necessary. I HIGHLY recommend Ocean Tours Mexico.
They pick up travelers anywhere from Playa del Carmen north to Cancun and transport you to the boats and then to the whale sharks. They are professional and care about the well-being of both the traveler and the sharks. Plus, they video and photograph your experience so that you can just focus on the swim— it was amazing!
Visit a UNESCO World Heritage Site
Mexico is home to 34 UNESCO World Heritage sites!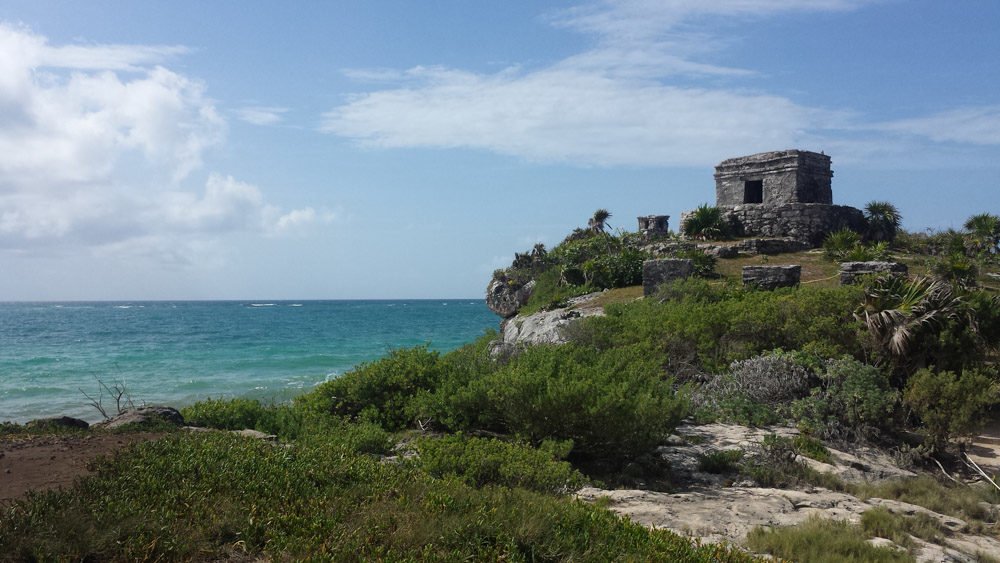 That is more than any other country in the Americas and lands Mexico as #7 on the list of all the countries in the world! These include ancient Mayan ruins, as well as historic city centers, and much more. Some of the included ruins are Chichen Itza (which falls centrally between Merida, Valladolid, Cancun, and Playa del Carmen), the Teotihuacan ruins near Mexico City, Uxmal near Merida, and Palenque near Villahermosa.
Some of the historic, gorgeous town centers included are Guanajuato, San Miguel de Allende (one of my favorites), The Walled City of Campeche, Puebla, Zacatecas, Morelia, Mexico City, and Oaxaca (known for their Day of the Dead festivals).
No matter where you choose to visit in Mexico, you will have a UNESCO World Heritage site to explore nearby.
Visit the Caribbean Coast
The Caribbean coast of Mexico is a dream come true. White, baby-powder sand, the turquoise sea, the temperature of bathwater, coral reef systems, sea turtles, and palm trees; combine that with Mexico's flavor and culture, and you couldn't ask for more.
The trick is to find the right areas to visit because, unfortunately, it is not a well-kept secret, so avoiding tourist hot spots has become more challenging in the past few years as mega resorts take over. Of course, if you want a pampered, all-inclusive stay, go for it! There is no shortage of them here, but I would avoid Cancun if you want a more authentic experience.
You could head to Isla Mujeres if you don't mind taking the ferry over or going south to Riviera Maya. Specifically, my favored areas of Riviera Maya are Puerto Morelos, Playa Maroma, Playa del Carmen, and Akumal.
Playa del Carmen has a larger town and continues to grow with a chic vibe. It is a great spot if you like to walk around and self-explore; also, there is a ferry there to Cozumel, which makes for nice day trips. Puerto Morelos is a much smaller fishing town, more for relaxing and having a good home base to explore ruins and cenotes.
Playa Maroma neighbors Puerto Morelos and boasts some of the best beaches on the coast. Akumal is farther and more secluded, about an hour south, if you want to be more in nature.
Visit the West Coast
Cabo is the west coast version of Cancun, so once again, if you want to get a bit more authentic with your travels, opt to avoid this area. In fact, for a truly authentic experience, consider wine tasting in the Valle de Guadalupe, near Ensenada.
The Pacific Coast is a beautiful place, and there are plenty of places along the coastline to enjoy, but I most recommend the states of Jalisco and Nayarit.
If you want to start or end your journey there, you will most likely fly to La Paz, north of Cabo, and a great way to get there.
They have nice beaches, gorgeous mountains, and a variety of areas to explore. The jungles and mountains stretch until they touch the ocean here. The water is clear and warm, but with more movement than the eastern coast—making it a nice spot for surfers as well.
You can opt to stay near a large town, like Puerto Vallarta, where you can explore the markets, see the Spanish cathedral, and take to the cobblestone streets to shop, eat, and have fun. Or, if you prefer more seclusion, try sleepy, bohemian towns, like Punta Mita or Sayulita.
From these states on the west coast, you can head into the jungles and zip line through the treetops, head out on a zodiac to see the magical pods of whales that migrate down here during winter months, or explore the hidden paradise in the Islas Marietas – surely one of the best places to go in Mexico.
Explore Mexico City
The Capital of Mexico is a hustle and bustle city, with a population of almost 9 million. It combines the ancient, the colonial, and the modern.
You can see the famous Mexican Folkloric Ballet, Frida Kahlo's home, explore the grand Spanish Colonial buildings, take a ride down the Xochimilco canals with a mariachi band, or try some interesting foods (find out about the best places to eat in Mexico City).
In addition to everything this city offers, it is a great home base for exploring other nearby areas, like the Teotihuacan ruins, some of the tallest Mayan ruins in Mexico, and still open for visitors to climb!
You can also witness the Monarch butterfly migration within the biosphere during winter months (about 2 hours outside of the city), hike the Izaccihuatl Volcano, and much more.
FINAL THOUGHTS ON THE BEST THINGS TO DO IN MEXICO
As you can see, Mexico has a lot to offer – whenever you visit you can choose from a sheer variety of attractions and activities.
I hope you enjoyed the post! Leave a comment and let us know if you have traveled to Mexico or which place had made it on your bucket list!
Safe Travels!
Cannot get enough of Mexico? Then read the off-the-beaten Oaxaca guide!
PIN ME
About the Author
Cassandra is a US-female travel addict that loves traveling the world. She has made traveling her priority, and so she has traveled for the last few years.