MOST STUNNING PLACES IN SPAIN TO VISIT
Barcelona! Madrid! These are probably some of the first places that come to people´s minds when hearing about Spain. However, this proud country has so many more places that are worth to be visited. So if you are wondering about the best places to visit in Spain, this post is perfect for you.
Find out about the most beautiful places in Spain – from cities to towns and beaches, from metropolis to hidden gems – this post, written in collaboration with some of some fellow travel bloggers.
Disclaimer: This post contains affiliate links. This means I might earn a small commission when you buy a product/service via my link (at no extra cost to you). More about it here.
Granada
Recommended by Abbie from Speck on the Globe
Tucked at the Sierra Nevada Mountains base in Southern Spain, Granada is one of the cities not to be forgotten. Getting lost in the six neighborhoods here is encouraged.
The small alleyways and narrow streets are perfect places for taking a walk, people watching and uncovering great places to eat.
Marveling at the Moorish buildings is a must, and the Alhambra is a perfect example of Andalusian and Arabic architecture. This building and the surrounding gardens are probably the most popular tourist attraction in the region. Therefore getting tickets ahead of time is a great way to ensure a ticket.
The Sacromonte neighborhood of Granada is located in the hills above the city.
The attraction here is to come up for the evening to see a more traditional flamenco show. Still, you can also spend the night in one of the many cave homes, offering unique lodging and stunning views of the Alhambra and the city below. There are several places to see a Flamenco, but Venta El Gallo is the place that mastered the local Zambra style.
Spending in the caves is another highlight of many.
Check out Best Rates for Accommodation in Granada
Montserrat
Recommended by Rashmi & Chalukya from Go Beyond Bounds
Montserrat is a famous Catalonian Pilgrim destination in Spain that can easily be done on Barcelona's day trip.
The Montserrat monastery sits atop a unique jagged mountain massif, which is a marvelous sight to behold and one of Spain's most beautiful places.
The Montserrat Basilica in gothic architectural style has a beautiful interior with elegant chandeliers and enshrines the famous statue of the Virgin of Montserrat. The Espai Audio Visual museum provides an insight into the history of the Montserrat Monastery, the mountain, and the life at Montserrat.
From Montserrat mountains, there are two more funiculars, one to the top Sant Joan which has trails leading to the highest summit, and the other to the caves of Santa Cova, which has a small chapel built into the mountain. Both the trails have wonderful views of the mountains and the valleys of Montserrat.
To reach Montserrat, one can take a train to Montserrat from Barcelona's Placa d'Espanya station and then a cable car or a rack railway to the top. Trains run every hour.
The combined tickets to Montserrat with the cablecar or the rack railway to the monastery and further ride up with the funiculars can be bought at the Placa d'Espanya station itself.
Overnight hikes to reach the top to watch the sunrise is very popular with the locals.
Check out Best Rates for Accommodation in Montserrat
Almería
Recommended by Sonia from Migrating Miss
Almería city is certainly a destination worth visiting and one of the hidden gems in Spain.
If you only went for the free tapas, which are some of, if not the best, in Spain, then you wouldn't be disappointed. Many of the tapas bars are exploring new flavors and fusions and producing high-quality traditional tapas, and you get to choose what you want for free from an extensive menu, as long as you have a drink too!
Explore the Alcazaba, a Moorish Fortress used in Game of Thrones that you will often have almost to yourself, plus several museums including one about the history of cinema in Almería, a film destination since the 1930s.
Add a visit to the Los Refugios de Guerra Civil, underground shelters from the Spanish Civil War, and you'll be wondering why more people don't visit this city of historical import.
Almería has one of the driest climates in Europe, with the nearby Tabernas is the only desert in Europe, and so you can look forward to plenty of sunshine when you visit.
This makes wandering along the Paseo de Maritimo pleasant at almost any time of year. If you want to venture further out of the city, you can always go to the nearby Cabo de Gata Natural Park, a stunning area where former volcanic mountains reach down to the sea.
Check out Best Rates for Accommodation in Almeria
Oviedo
Recommended by Talek from Travels with Talek
Oviedo, the capital of Asturias province in northern Spain, does not disappoint.
It is a traditional Spanish town with the massive cathedral in the central plaza surrounded by medieval monasteries, convents, churches, and winding cobblestone streets. Yes, there's that, along with riveting museums and art galleries.
There are three main sections of the city reserved for extreme revelry, each more fun than the next. Cider Street has great regional cuisine, and cider is served from bottles held up to four feet away from the glass. Tapas Street has a myriad of counter service bars offering killer tapas.
The more upscale North Street offers gastronomic works of art at surprisingly reasonable prices. Local musicians wander in and out of these restaurants, performing and encouraging them to join in the revelry.
Add to that some of the best wine in Spain, and the result is the Spanish version of a rip-roaring good time. Sometimes the patrons follow the musicians out to their next stop to continue the fun. It's unique!
Tip: Despite the festive atmosphere, Oviedo remains a very safe city for party-goers, including women traveling solo.
Check out Rates for Accommodation in Oviedo
Majorca / Mallorca
Recommended by Arzo from Arzo Travels
A must-see place in Spain is Mallorca.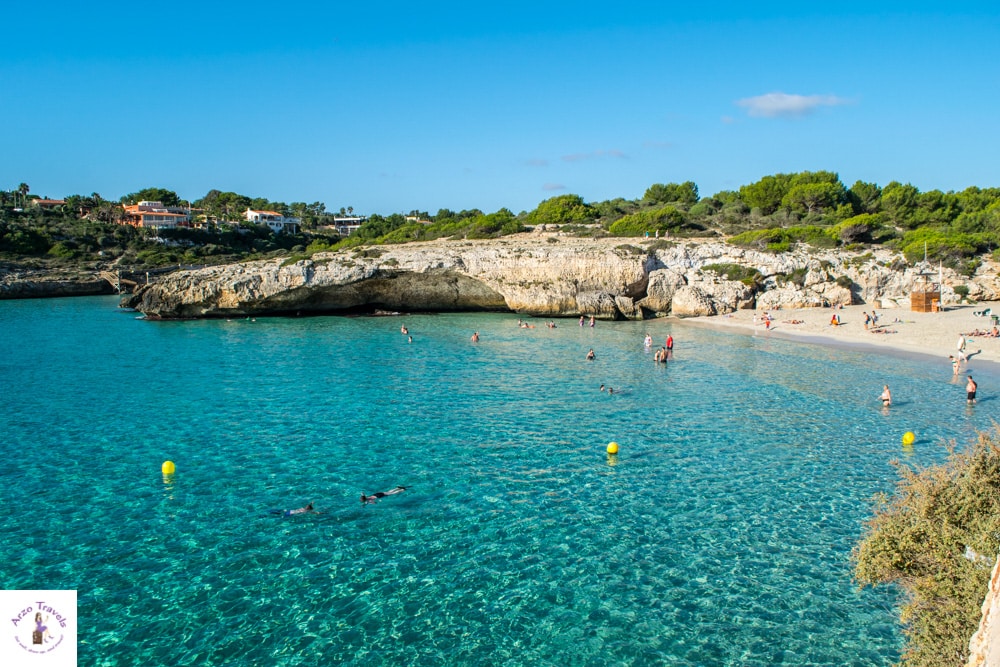 Outside of Europe, not many people have heard of the beautiful island of Mallorca. This might come as a surprise to many in Germany since several million Germans visit Mallorca, one of the Balearic islands, each year.
The island is known as the wildest party place. If you are enjoying wild parties, you might like Mallorca, but to me, it is much more than a place to party for cheap.
Mallorca has one of the most beautiful beaches and coasts (calas) in all of Europe. If you stay away from the party area, El Arenal, you´ll be amazed by Mallorca´s beauty. There is a lot to see and do besides spending the entire day on the beach, and you'll not get bored staying in Majorca for one week.
Things you need to do in Mallorca: visit the amazing calas (my favorites are Cala Mondrago and Cala de Mallorca) with their pristine waters and white sandy beaches; and get lost in the cutest villages, like Valldemossa.
Check out Best Rates for Accommodation in Mallorca
Cadiz
Recommended by Erin from Down Bubble
Cádiz is located in the south of Spain, in the Andalusia region, just below Seville.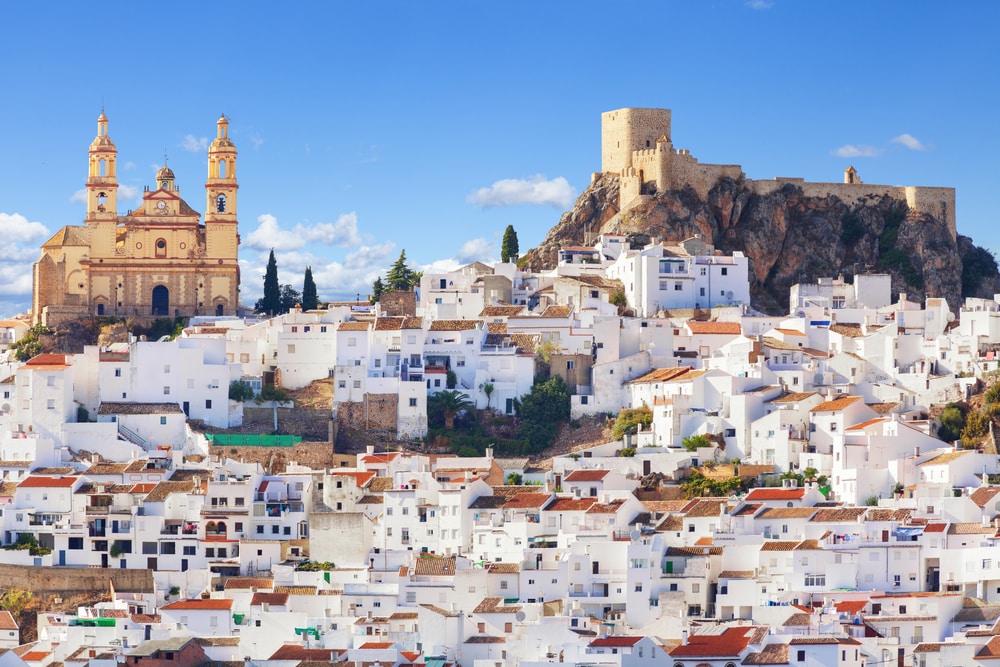 If you've visited Cuba, it may look familiar to you as its seaside skyline looks like a twin for Havana, and as such, it was actually used for the Havana scenes in the James Bond film "Die Another Day."
It is a coastal town built onto a sandbar peninsula, so if you like beaches, you'll want to stop by Cadiz! Enjoy the long beachside promenade with alfresco terraces to take in the views of glasses of wine.
Another excellent seaside spot in Cadiz is the Castle of San Sebastián. This is a military fortress from 1706 built on a small island about 1 kilometer off the coast of La Caleta beach as joined to the mainland by a stone levee, a novel way to extend an evening promenade stroll!
Near to here, you can then view the incredible ficus (rubber) trees, just one of Cadiz's many beautiful parks full of interesting foliage brought back from expeditions to the "New World."
A final must-see (but by no means the last thing you'll find in Cadiz) is the Roman Theatre ruins which are the second largest in the world, and the site allows you to walk through the tunnel out into the seating area just as the patrons must've done over 2000 years ago!
Check out Rates for Accommodation in Cadiz
Madrid
Recommended by Kelsey from Kelsey Social
Many people are disappointed with the Spanish capital city because they compare it to Barcelona, the second-largest city in Spain. The appeal of Madrid is in the hidden plazas, bustling marketplaces, and quaint neighborhoods.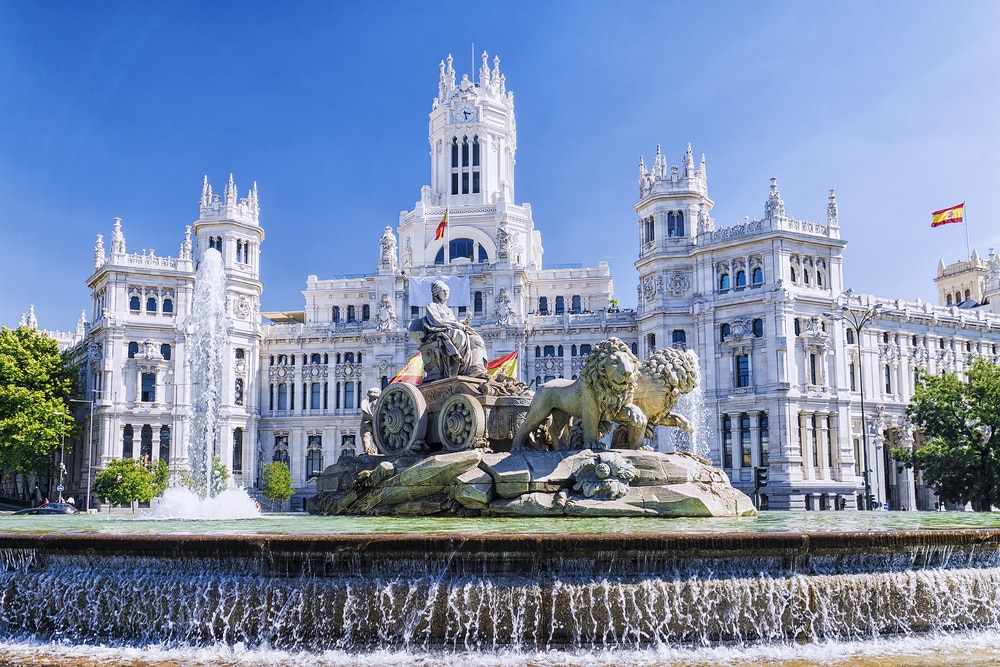 When visiting Madrid, allow yourself to wander through the narrow streets, free of tourists, only stopping to admire a beautiful site like the Royal Palace. Enjoy a cafe con leche while people-watching in Plaza Mayor. Stop in one of the many markets like Mercado de San Miguel for an afternoon glass of wine and sampling of tapas.
Stroll through Parque del Buen Retiro to take in the Spanish sunshine and maybe rent a rowboat. Catch the sunset and a great view at a place like Templo de Debod, a gift from Egypt, or Círculo de Bellas Artes, a favorite rooftop patio.
Don't you dare leave the city without sampling the iconic churros con chocolate at Chocolatería de San Gines. When you visit Madrid, remember to slow down and admire the people's constant liveliness in the city that serves as the heart of Spain.
Check out Best Rates for Accommodation in Madrid
Toledo
Recommended by Dan from Honeymoon Always
Toledo is a small, ancient, UNESCO-recognized city located about 50 minutes south of Madrid, and if you are wondering what to see in Spain, you have the answer.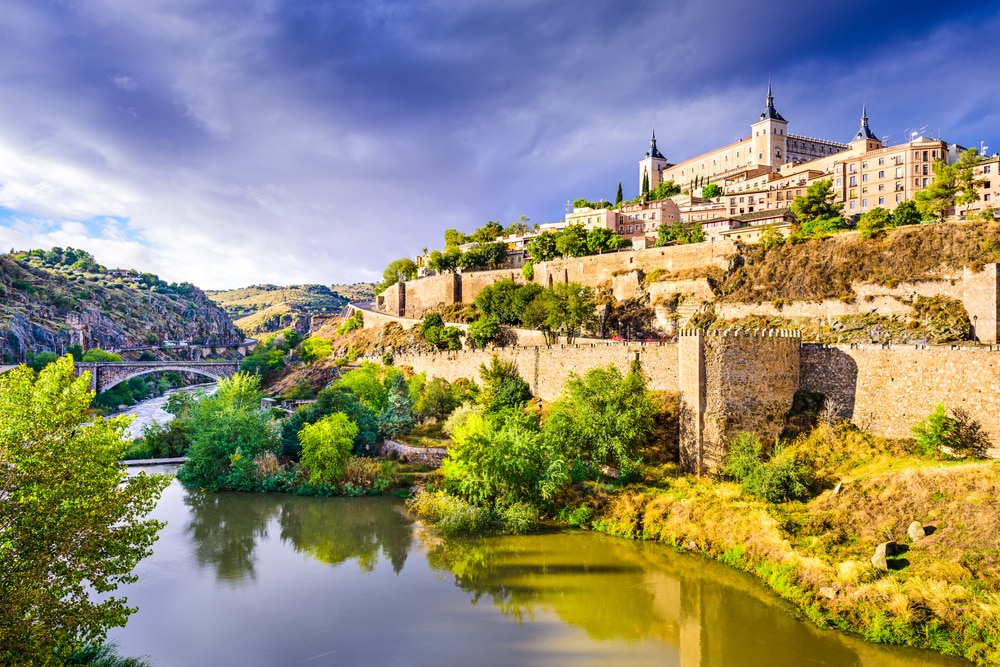 The city is known as the city of three cultures due to Christian, Arab and Jewish communities and their respective religious sites. The inner historical area contains a mosque, Sephardic synagogues, and Spain's finest Gothic cathedrals.
Walking around the historic area, you'll first want to visit those religious sites. The cathedral is huge and contains several rare pieces of art, including paintings from Zubarán, Van Dyck, Goya, Raphael, Bellini, Titian, Velasquez, and Rubens, as well as 18 El Grecos, who was from Toledo.
Additionally, take a stroll around the narrow cobblestone streets, stopping to look in the numerous shops.
You'll notice several shops filled with knives, swords, and armor paying tribute to the former Knights that once lived in Toledo.
Make sure you don't miss the zipline going over the river. It is the longest urban zip line in Europe and is also very affordable, currently only 10 Euros.
I also recommend going to the Alcazar Fortress, the army museum that is also a perfect place to see the city's panoramic views from a high hill.
Check out Best Rates for Accommodation in Toledo
Segovia
Recommended by Sam from Alternative Travelers
Segovia is one of the best towns to visit in Spain because it has it all – an epic Roman aqueduct, a fairytale castle, picturesque landscape views, and a beautiful town center.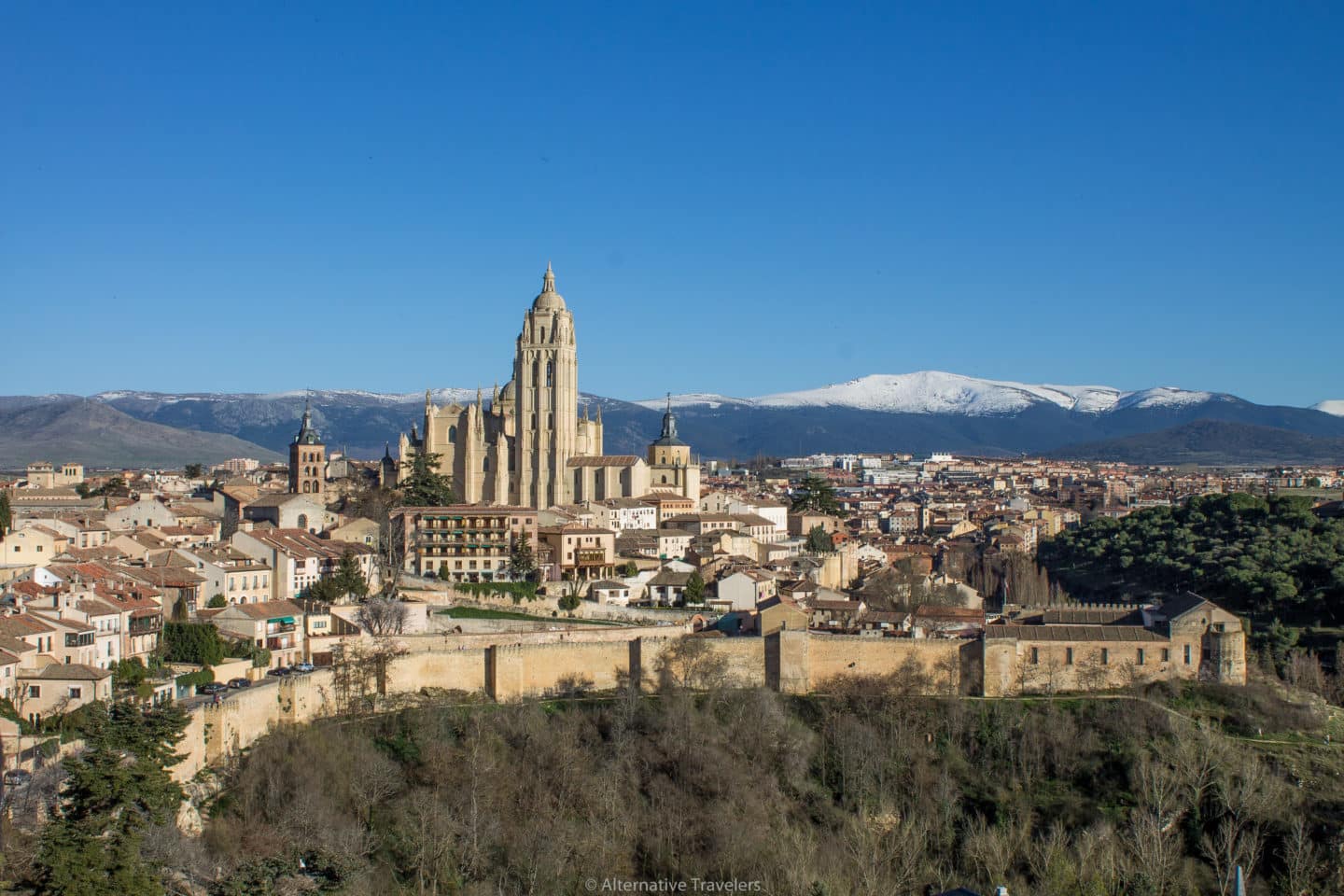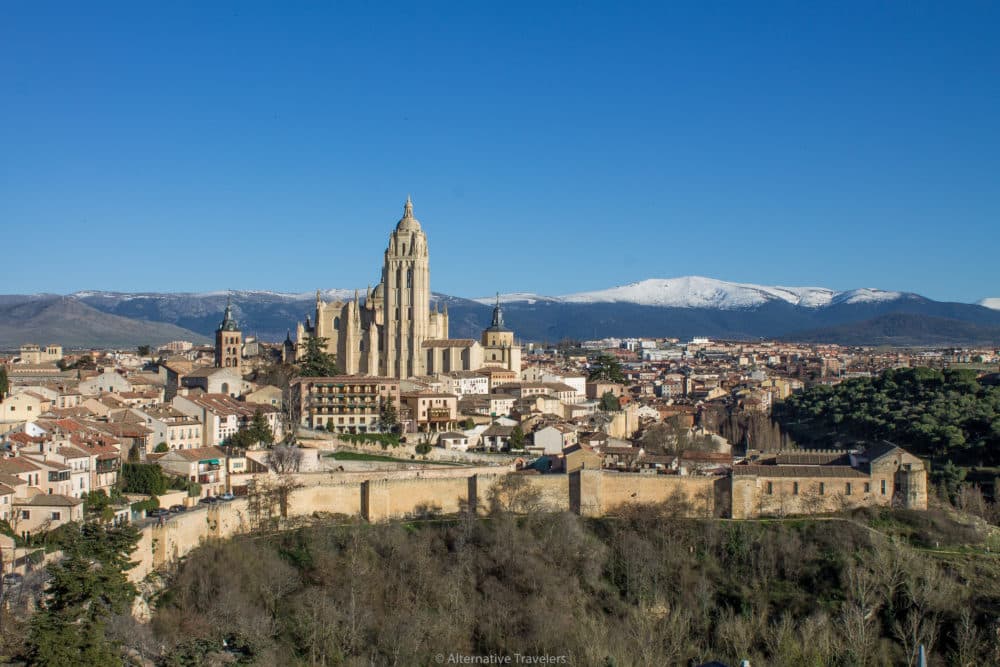 The walkable and winding streets packed with history will truly transport you to another time and place. The entire town in northern Spain is a UNESCO World Heritage Site, and the top must-see site is the massive Roman aqueduct that towers over one of the town's plazas. Bonus – it's free!
Beyond the aqueduct, no trip to Segovia is complete without visiting the 12th century Alcázar, a fortress turned into the royal palace and later military academy. Today, you can explore the entire building from the dungeons up to the turrets. Make sure to head all the way to the top for stunning views of the town itself as well as the surrounding countryside's rolling hills.
Afterward, walk back to Plaza Mayor, where Isabella I, one of Spain's most famous monarchs, was crowned. The plaza is also home to Segovia's cathedral, the last Gothic cathedral to be built in Spain and one of the last to be built in all of Europe.
Segovia is a perfect day trip from Madrid that is easily accessible by bus, train, or car.
Check out Rates for Accommodation in Segovia
San Sebastian
Recommended by Miguel from TravelSauro
Located in the mountainous Basque Country in the north of Spain, San Sebastian is well-known for its local tradition, impressive old town, white sand beaches, and top-class restaurants.
Besides its natural beauty, San Sebastian has become a popular gastronomic and cultural destination. It has 15 Michelin stars distributed among seven restaurants. The city boasts more Michelin stars per capita than anywhere in the world except Tokyo.
It's also home to the glamorous Festival de Cine de San Sebastián and the Donosti Jazzaldi, a world-known jazz festival.
Walk around Casco Viejo (Old Town) to wander its alleys and enjoy the traditional architecture. The city hall is a must-visit place – it was first used as a casino in the Belle Époque time of 1882 when San Sebastian was popular among European aristocrats.
Other places you shouldn't miss: Peine de los Vientos, a great steel sculpture complex located in front of the sea; La Brecha, a beautiful market inspired by Roman and Greek architecture; and the port area, where you can see the colorful houses of fishermen.
For the city's best view, take a tour to Monte Igueldo and enjoy a panoramic vista of the bay, the city, and the surrounding mountains!
Check out Best Rates for Accommodation in San Sebastian
Costa Blanca
I admit that Costa Blanca was not really on my radar – and I booked my flights from Bremen to Alicante just because I found a good deal. However, Costa Blanca is a beautiful travel destination in Spain.
It is just so diverse – of course, there is stunning Valencia (more on that a bit later), but there are also charming towns like Altea or Villajoyosa. You might have never heard of these as neither I had heard of them.
But while there are tiny and not very well-known, they are surely worth a visit. Villajoyosa is a very colorful (and I mean really colorful) town at Costa Blanca, while Altea is a mini version of Santorini.
But then there is the lovely city of Alicante with the beautiful promenade and the even more stunning castles that allow great city views.
As I have more detailed guides on those places, I keep it short here – but definitely add Costa Blanca to your itinerary.
Santiago de Compostela
Recommended by Elaine & David from The Whole World is a Playground
Santiago de Compostela's beautiful town in northwest Spain is best known as the final stop of the world-renowned Camino de Santiago pilgrimage.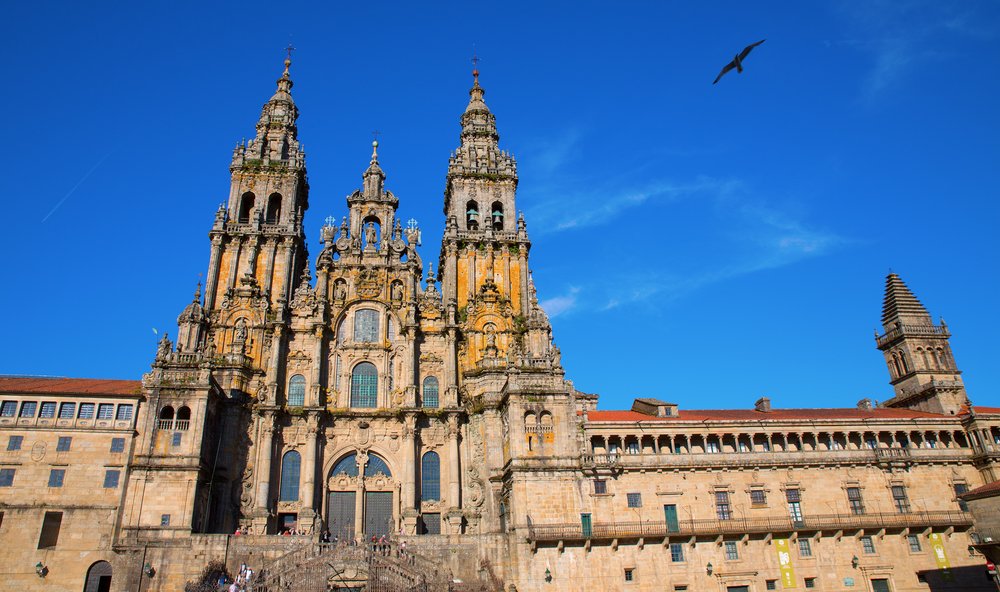 The Old Town of Santiago de Compostela, with its winding streets, quaint archways, and historical monuments, houses a plethora of delicious wine and tapas bars where locals and tourists alike relax over delicious food and wine during the hot Spanish afternoons.
The Old town is a UNESCO World Heritage site and is considered one of the world's most beautiful urban areas.
The square in front of the stunning Cathedral de Santiago de Compostela greets the Camino pilgrims as they enter the town at the end of their long journey: some make their way from France, winding through northern Spain and finishing in Santiago de Compostela where the remains of Saint James are said to be buried.
The symbol of the Camino, the sea-shell, is embossed on stones around in the square, and pilgrims stand in front of the cathedral to marvel at the end of their trek.
Plan your visit to the Cathedral at the right time, and you'll see the famous incense ceremony where incense is lit and swung around the altar in a giant thurible known as the Botafumeiro.
Check out Rates for Accommodation in Santiago de Compostela
Barcelona
Recommended by Arzo from Arzo Travels
A trip to Spain without visiting Barcelona at all would feel weird. It does not surprise that Barcelona is one of the best cities, does it? It should be on any Spain itinerary.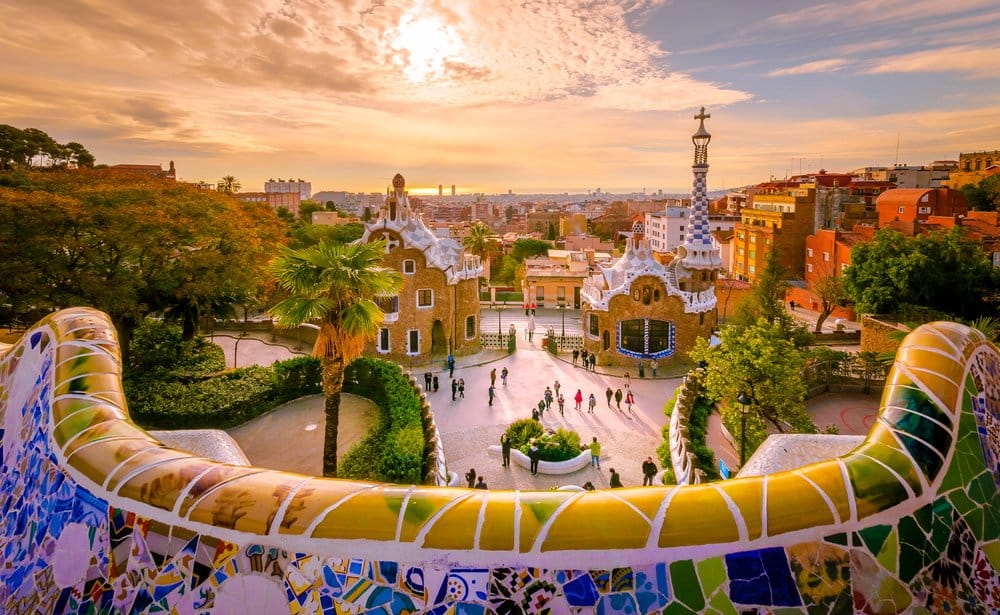 Often, I hear it is the favorite city of those who have traveled through Europe. Why is that? There are many different reasons, but for one, Barcelona is an amazing place to see Gaudi´s architecture. There are so many stunning buildings that it would be easy to spend days just exploring them, like the La Sagrada Familia or the Guell Park.
Checking out La Ramblas, the major entertainment street, is another (family-friendly) activity that is a must-see place and checking out the beach in Barcelona. Admittedly, it is not the best beach ever, but rest at the beach comes in handy after all the sightseeing.
Football fans´ first choice would probably be Camp Nou, the football club FC Barcelona stadium.
Either way, Barcelona is probably the number one place to visit in Spain, so you need to put it on your Spain itinerary.
Click here to find out what to do in Barcelona in three days.
Check out Rates for Accommodation in Barcelona
Almuñécar
Recommended by Hannah from That Adventurer
Almuñécar is a small, fairly quiet town in the south of Spain, just a few hour's drive from Malaga and just an hour south of Granada. It has absolutely gorgeous beaches that never seem too crowded even in summer – perhaps because there's 19km of the beach!
It's worthwhile spending a morning (before the sun gets too strong) exploring the old town. You can climb your way up the narrow, windy streets where you'll really find yourself immersed in the local way of life. Then wander the Paseo del Altillo, where you'll find a monument to the writer Laurie Lee who lived in Almuñécar in the 1930s.
Continue your historical morning by making your way over to the San Miguel Castle, which has been resorted, slowly, over the last 130 years.
The castle also has an interesting archaeological museum containing artifacts from different periods of its history and offers impressive views of the rocky coastline beneath its walls and turrets.
Want more great views? Head to the western end of Almuñécar's main beaches, and you'll notice a group of rocks called the Peñón del Santo. A gentle climb takes you up some steps to the top, and it's well worth the climb.
Check out Best Rates for Accommodation in Almunecar
Cordoba
Recommended by Adelina from Pack Me To
In the heart of Southern Spain, halfway between Madrid and Seville, lies the city of Córdoba.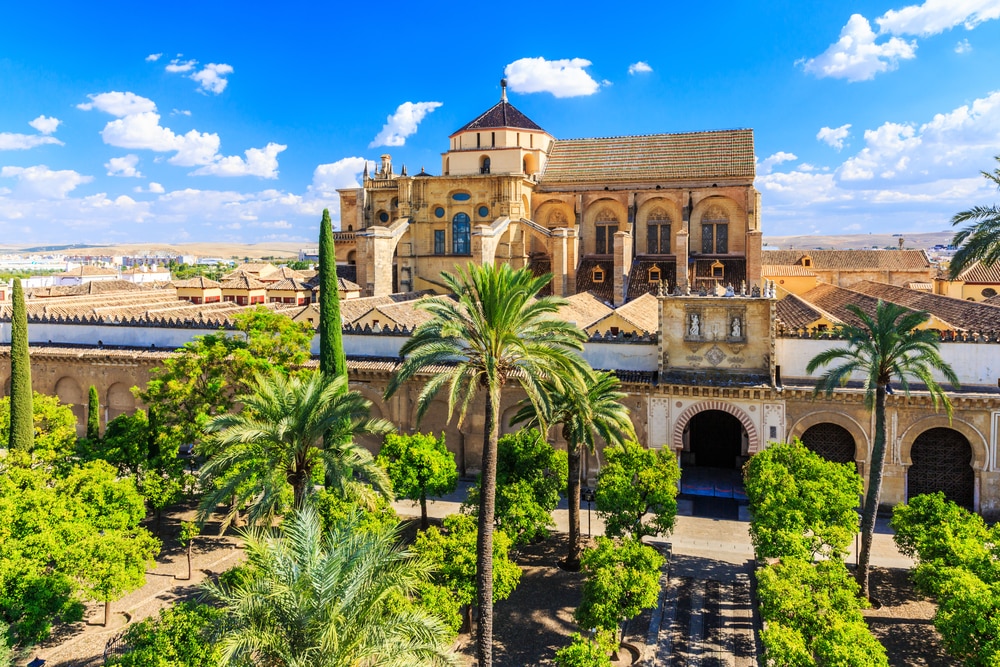 Famous for its Mezquita, or The Mosque-Cathedral of Córdoba, there is plenty of other things to discover in the city as well. Córdoba's old town, the second-largest old town in Europe, is a UNESCO World Heritage site and offers discoveries around every corner.
Be sure to stop by the Alcázar de los Reyes Cristianos, the former royal fortress and primary residence of Isabella I of Castile and Ferdinand II of Aragon. Walk across the Roman Bridge, which was used to film part of Season 5 of the Game of Thrones.
At night, you can see the city basked in a beautiful hue from its lights. And of course, you can't miss the Mezquita. Part cathedral, part mosque, the building's divergent architecture is fascinating and a lot of fun to wander through.
Before you leave the city, be sure to get a taste of salmorejo, a thicker and creamier version of gazpacho made from a puree of tomato, bread, olive oil, garlic, and salt.
Check out Best Rates for Accommodation in Cordoba
Girona
Nathan Aguilera from Foodie Flashpacker
With its gorgeous medieval architecture and walled Old Quarter, Girona shouldn't be missed. Game of Thrones fans will also likely recognize Girona as it's used as the setting for Braavos.
You should start your visit to the city by trying one of the legendary xuixo pastries created in Girona. The deep-fried dough is filled with Crema Catalana and then dusted with crystallized sugar. Many locals have one of these with coffee to start their day!
During your visit, make sure to visit the Girona Cathedral, also known as the Cathedral of Saint Mary of Girona. The cathedral has the world's widest Gothic nave at 22 meters or 72 feet.
Girona is famous for its cathedral having the world's largest nave, but the city also houses Europe's smallest square, the Placa dels Raim, measuring only 24 meters.
Also, make sure to visit the Iron Bridge, also known as the Eiffel Bridge as the designer also designed the famous Eiffel Tower located in Paris. When planning your visit to Spain, make sure not to overlook Girona.
Check out Best Rates for Accommodation in Girona
Seville
Recommended by Liza from Tripsget
Seville is definitely one of the most beautiful cities in Europe. It's located in the South of Spain, already pretty close to Portugal. Due to its location, it's warm all year long in Seville, so it's a great destination even for winter.
That's one of the reasons why Seville is special. Another reason is that Seville's architecture is amazing – you can see a huge palace-castle – Alcazar, impressive cathedrals, palaces, and towers. It even has a canal with gondolas, just like Venice (but 50 times smaller). Seville is bright, colorful, and cheerful.
Also, Seville is the capital of Flamenco, so there are many restaurants and special bars, which offer a ticket for dinner with a chance to see a Flamenco show.
Seville's absolutely best day is undoubtedly Monday because it's the day when almost all the attractions in Seville are free or partially free, so it's useful to keep this tiny fact in mind.
And of course, some of Game of Thrones' episodes were filmed in Seville too, so it's another reason to visit this gorgeous city.
Check out Best Rates for Accommodation in Seville
Calella
Recommended by Natasha from Meldrums on the Move
Calella is a small town in the south of Costa Brava. It lies only an hour and a simple bus ride from Barcelona city. It is a resort town, really catering to families and couples but it is great for any traveler.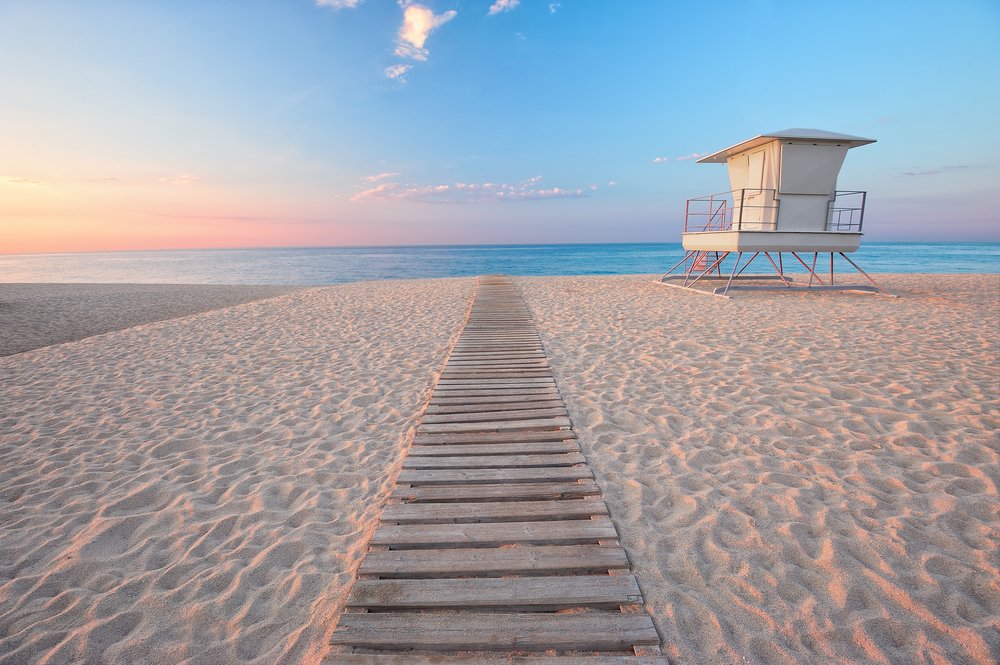 Explore the old town, walk the cobbled streets, and shop until you drop at the local shops. Enjoy a night away at a Medieval show, visit a Salvador Dali museum or have a blast a Costa Brava's largest water park. Take some time to explore the beaches in Calella and enjoy a drink at the Blue Bar Beach Club while watching the waves slosh back and forth.
Calella boasts great weather with a fantastic location so close to Barcelona that you can regularly visit the city without paying the Barcelona city accommodation price tag.
Choose between resort hotels, smaller boutiques, and Airbnb to find a place that suits you best.
Valencia
Recommended by Gearoid from Unlatinoverde
Viva Valencia! In a country of vibrant and historic cities, travelers can easily overlook its charms.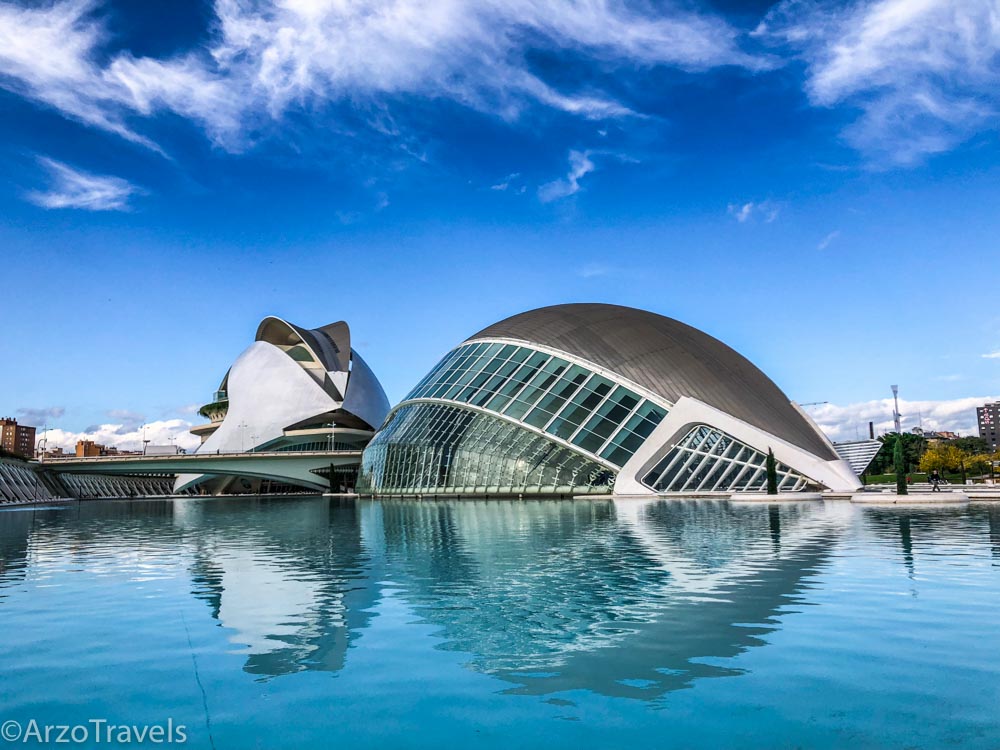 They will miss a destination with more winter sunshine than Seville, a medieval core equal to the Gothic Quarter in Barcelona, and a more human size than Madrid.
Valencia is the gift of the Turia river, which due to disastrous flooding in 1957, was diverted around the city. Today, the exposed riverbed offers visitors miles of open green spaces to explore on foot or bike. It's also home to Santiago Calatrava's world-famous Cuidad de las Artes y Ciencias. This monument to modernity houses Oceanografic, which many consider Europe's top aquarium.
However, Valencia is no one-trick pony. Bioparc replaced the city zoo in 2007, and it will delight children of all ages. Here, animals roam freely in habitats such as the savannah and an equatorial rainforest. They have even recreated Madagascar on a small island!
Then, there's always the beach. With miles of golden sand on the Mediterranean coast, take a long walk in the evening before dining on paella, the local specialty.
Valencia was one of the first places I ever visited in Spain. Now, it's high on my list for a return visit.
CONCLUSION: BEST PLACES TO VISIT IN SPAIN
There are so many beautiful places in Spain – from vibrant cities to lovely towns and charming villages…let´s not forget about the beautiful beaches and islands and the mountain areas. There is a lot to do and see in Spain, and I hope this list will help you plan your itinerary. There is something for everyone – and Spain will not disappoint you!