ONE DAY IN ALICANTE – WHAT TO DO AND SEE
One of the more underrated cities in Spain is this beautiful city – Alicante. So, if you are planning your Alicante trip and want to find out how to spend 1 day in Alicante, then this post is for you.
Alicante is a beautiful city at Costa Blanca, Spain (a coastal region of the Mediterranean Sea). Located near cities like Valencia and right off the beach, with its mild climate, it is a great place to visit at any time of year.
I saw a cheap flight from Bremen (my hometown) to Alicante. I had no idea what to expect, but I was sure that a getaway to Spain in the winter could not be a bad idea.
Alicante was prettier than I expected – and though I visited in the winter months (late November), it was a pleasant trip. While summer times are probably great for spending time at the beach, there are also many activities you can do in the winter.
After booking, my friend decided to join me on the trip and so we spent a few days at Costa Blanca. We stayed in Alicante for the whole time and did a few days trips – and stayed in Alicante for two days.
Disclaimer: This post contains affiliate links which mean I might earn a small commission when you buy a product (at no extra cost to you) after clicking on my link. More about it here.
Fun Things to do in Alicante
Here are my tips for the best things to do in Alicante (in one day)
If you visit the area, I suggest planning in one day in Alicante. If it is warm and you like to swim, you could plan in more time (2 days fine or even longer especially if you visit Spain with kids).
Santa Barbara Castle
I suggest starting your morning at Santa Barbara Castle.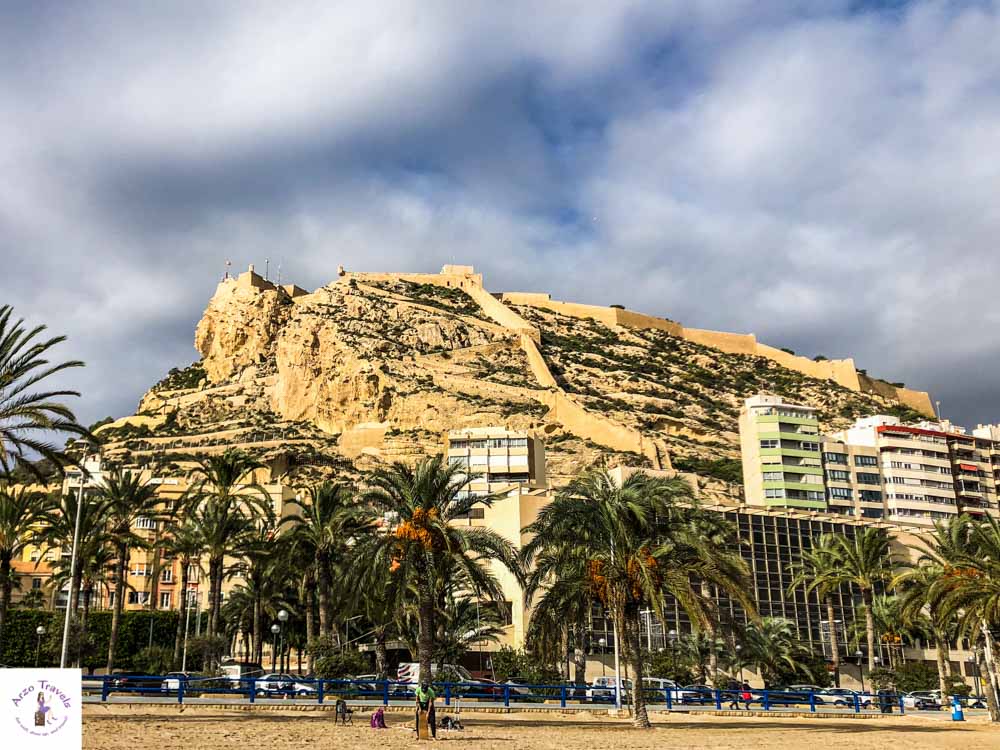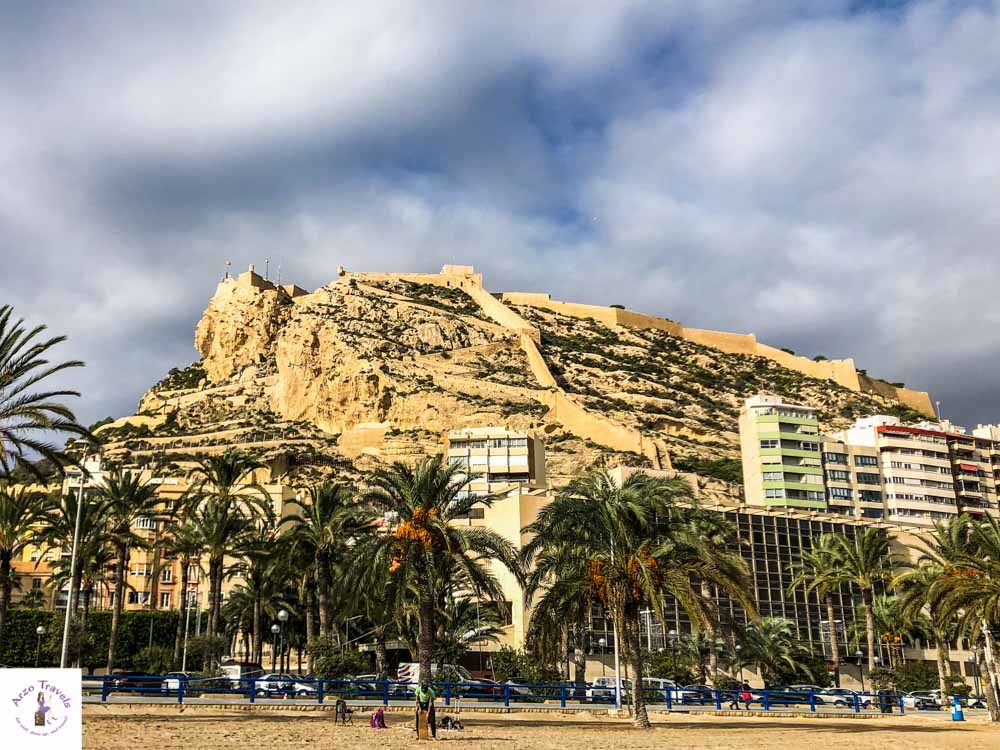 The castle stands on Mount Benacantil and is, hold on…free to visit. This gorgeous castle that comes with stunning views is really free! I still cannot believe it (other castles charge money for way less spectacular views).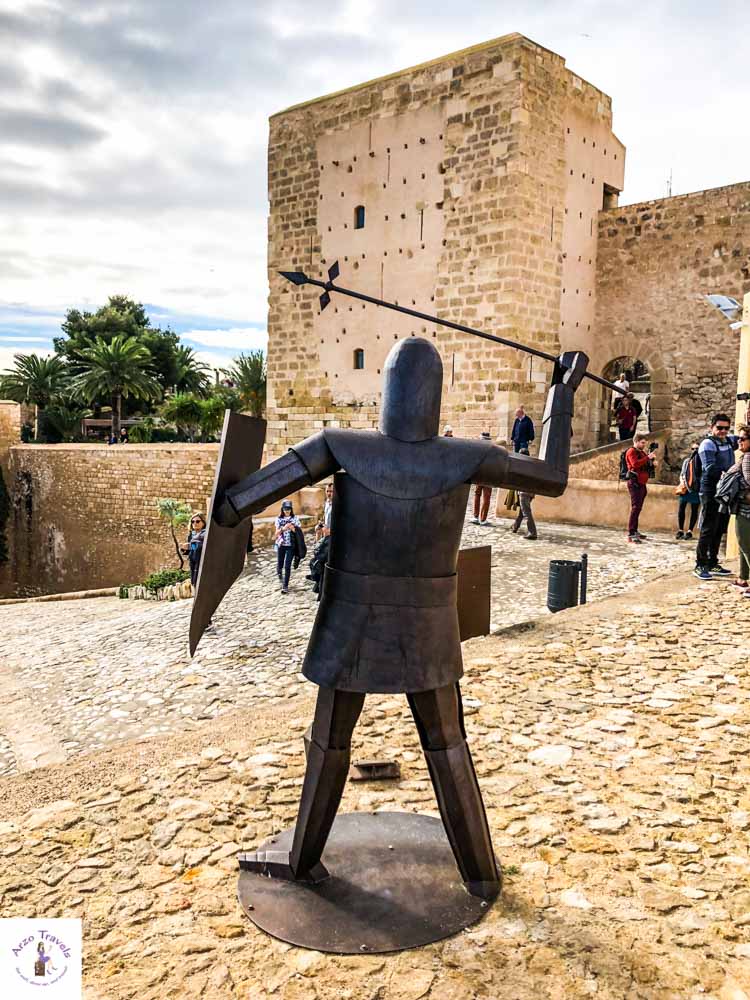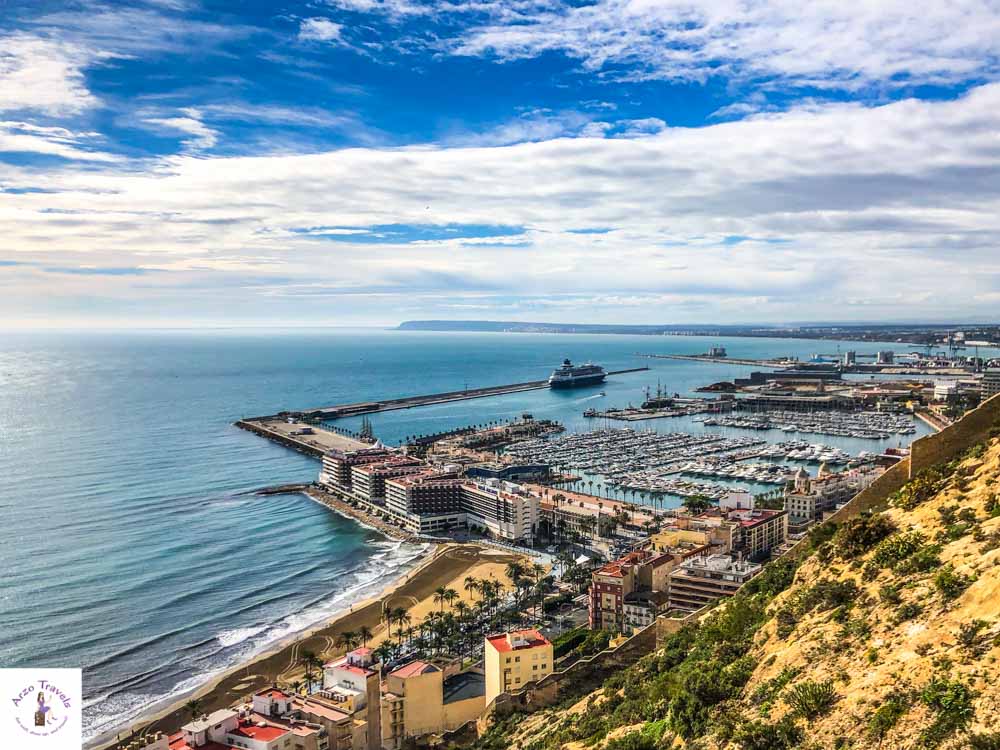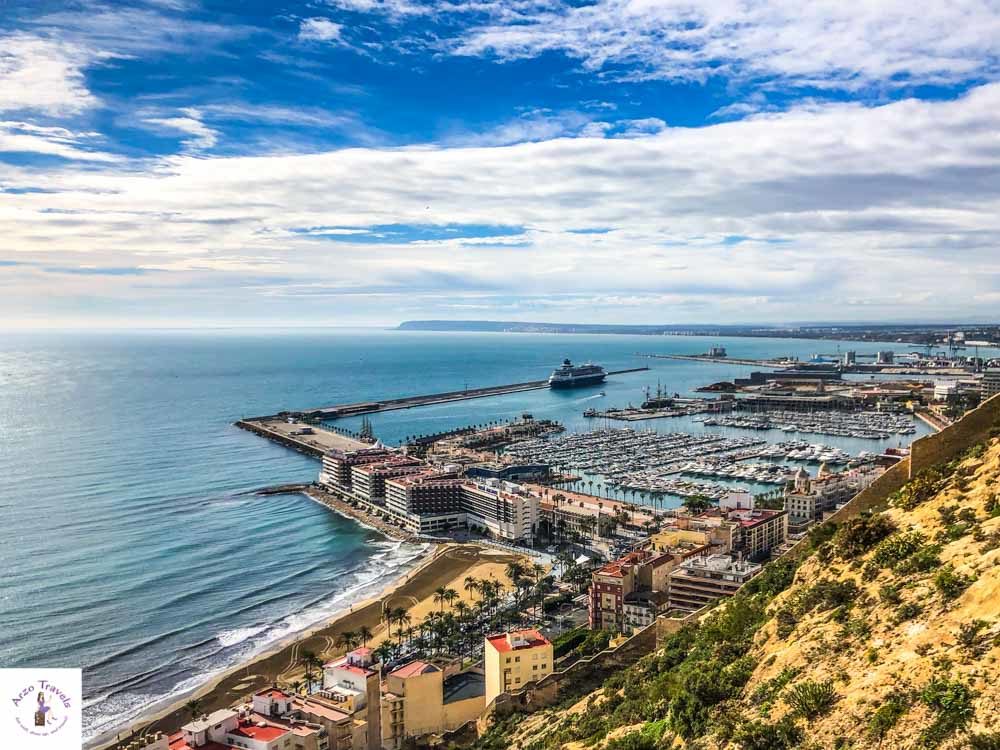 The castle itself is quite big, and the numerous informative signs give you a good idea about the history of the castle. The castle probably dates back to the 9th century, and like several places in southern Spain, was designed in an Arabian/Islamic style. 
We thought that one hour would be enough, but actually, we ended up staying there much longer. The views and the size (plus the info) made it really interesting.
On the one hand, you have the views of the ocean and Alicante´s harbor. You can also overlook the old town of the city and the inland.
Even though we visited during the off-season, it got busier later on in the day, so I suggest getting here early. We actually came here twice. We hiked up one more time in the evening to see Alicante from above in the dark.
There is a restaurant that serves food and snacks. The castle opens at 10 am (at any time of the year) and is open to 8 pm (in summer, until 10 pm or midnight).
How to get there: The best and most scenic view is to hike up. Depending on which path you choose, it will take anywhere from 15 to 30 minutes. You could also get up by lift in front of the Postiguet beach (Av. Juan Bautista Lafora), which is about 3€ per person, or you can drive up there in a car (or a sightseeing bus tour).
El Barrio / Old Town of Alicante
From the castle, you can head to the old town of Alicante. To be very honest with you, this place was recommended as a top place to visit in Alicante, but while it is cute and lovely to stroll, if you are short on time, skip it. You can get a first good impression from top of the castle and overview the old town.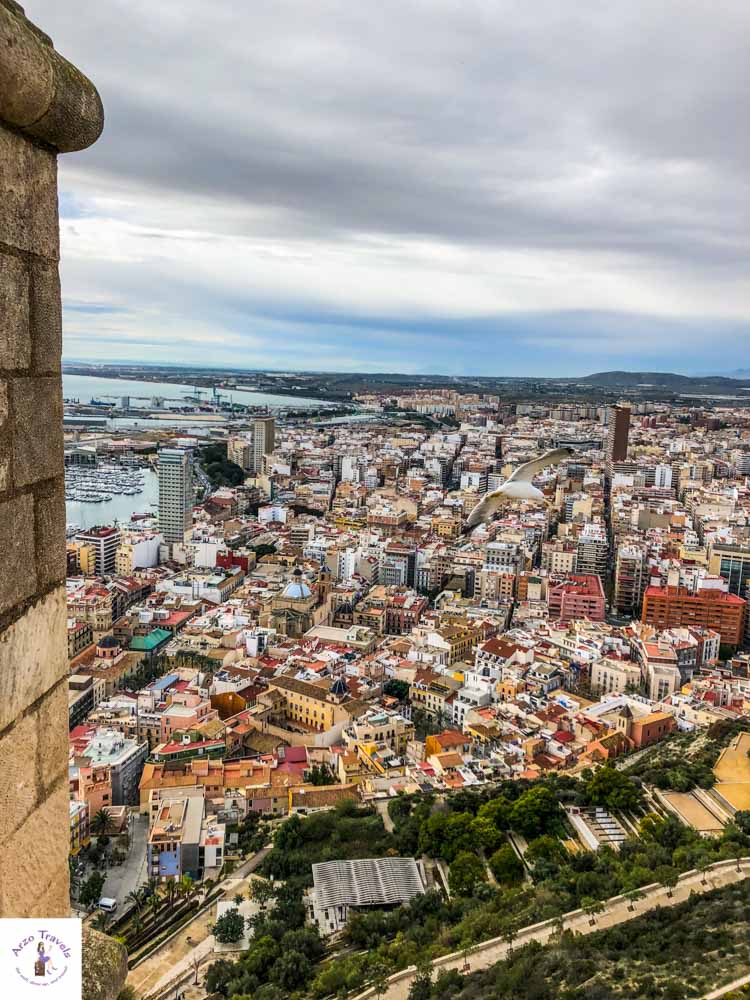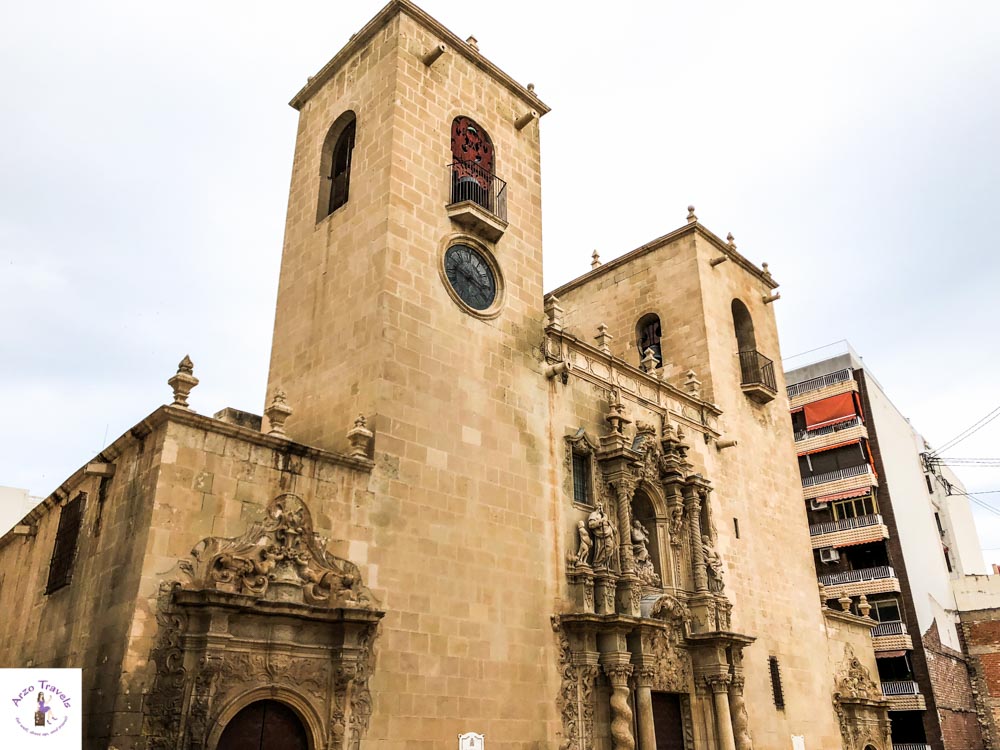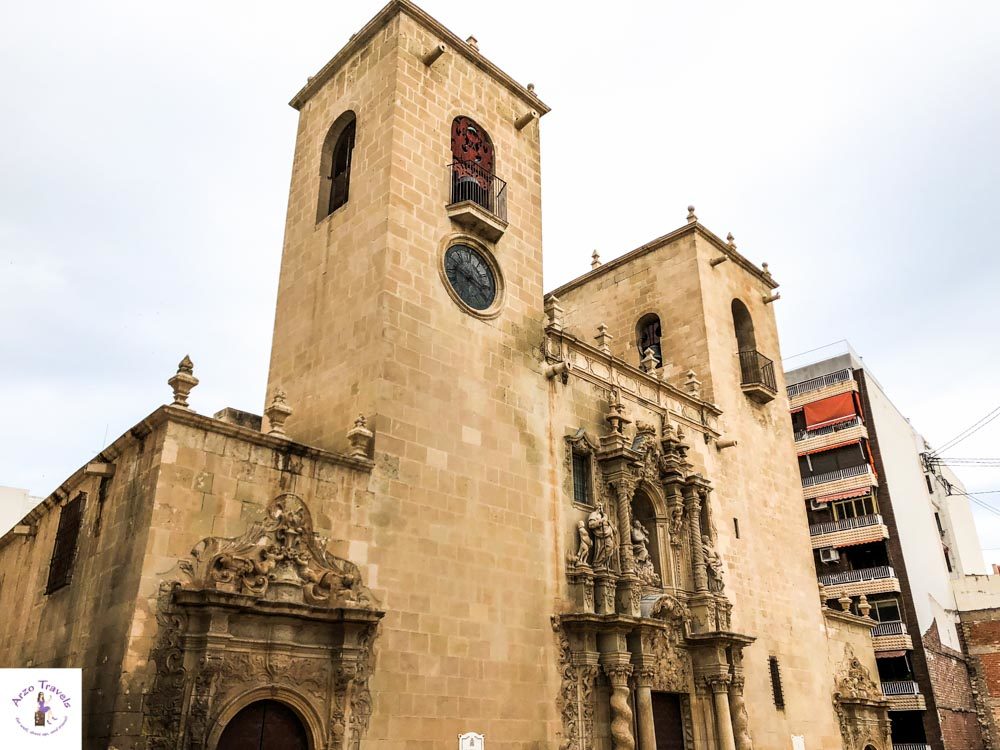 Beautiful houses line the street, and I enjoyed the street art most of all. If you are looking for restaurants and cafes, you might find a great option here.
La Explanada de España / Esplanade of Spain
From the old town, you can walk along the Esplanade of Spain.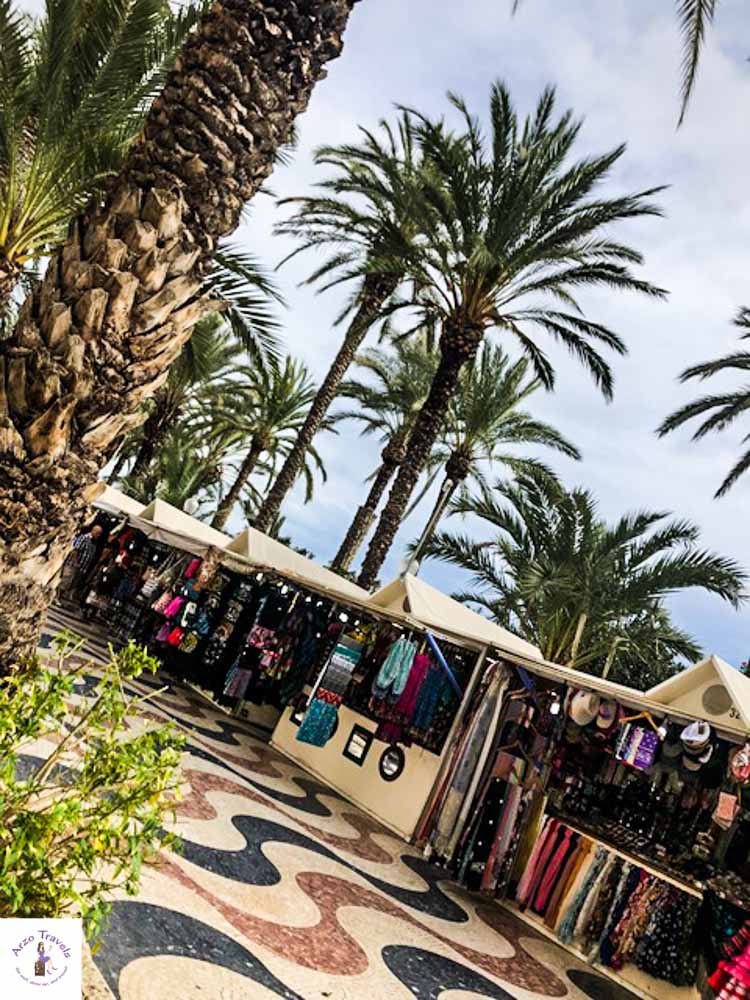 Many restaurants and cafes line the pretty promenade, which runs parallel to the port. The Esplanade is made up of 6,600,000 tricolor marble tiles – no wonder it is often considered to be the most beautiful promenade in Spain!
Parque de Canalejas / Canalejas Park
I recommend walking all the way until the end. There you will find the Parque de Canalejas.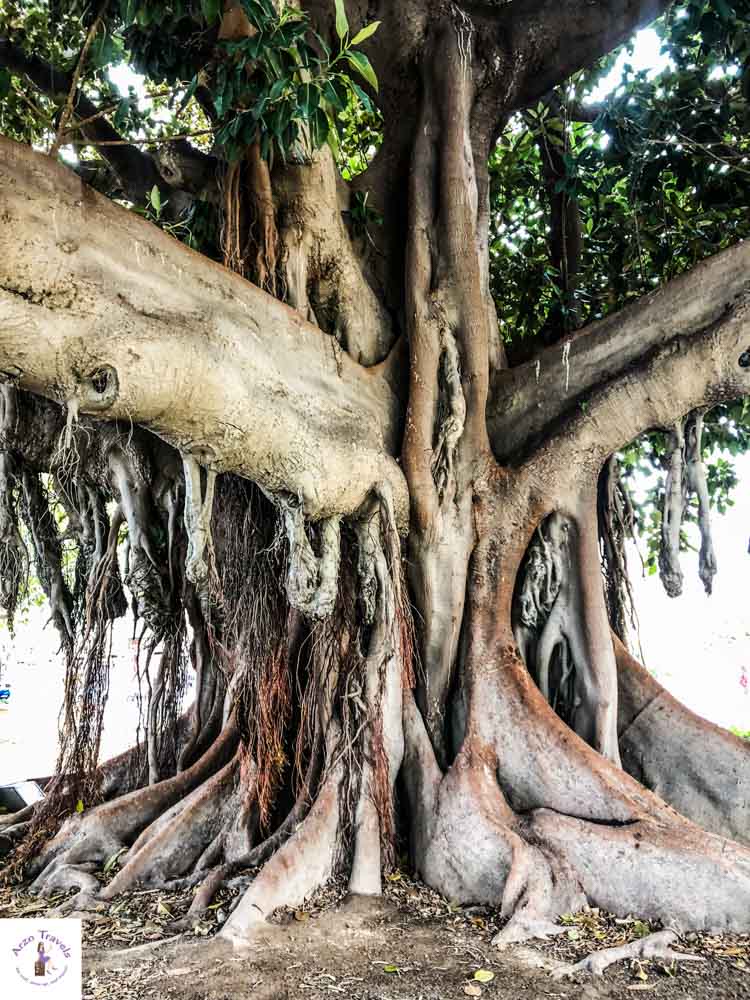 This park is not only one of the most popular parks in Alicante, but with its unique trees, it is also a real attraction (at least it was to me). The centenary ficus trees are high, but their width is incredible. 
From there, I suggest walking back. But this time, not along the Esplanade. Instead, head back along the port.
Port

 
Stroll along the port until you reach the beach. The Esplanade is gorgeous, no question about that. But strolling along the port also has its own charm (though the part with the big ships is not probably the most charming area, but heading from there towards the beach is lovely).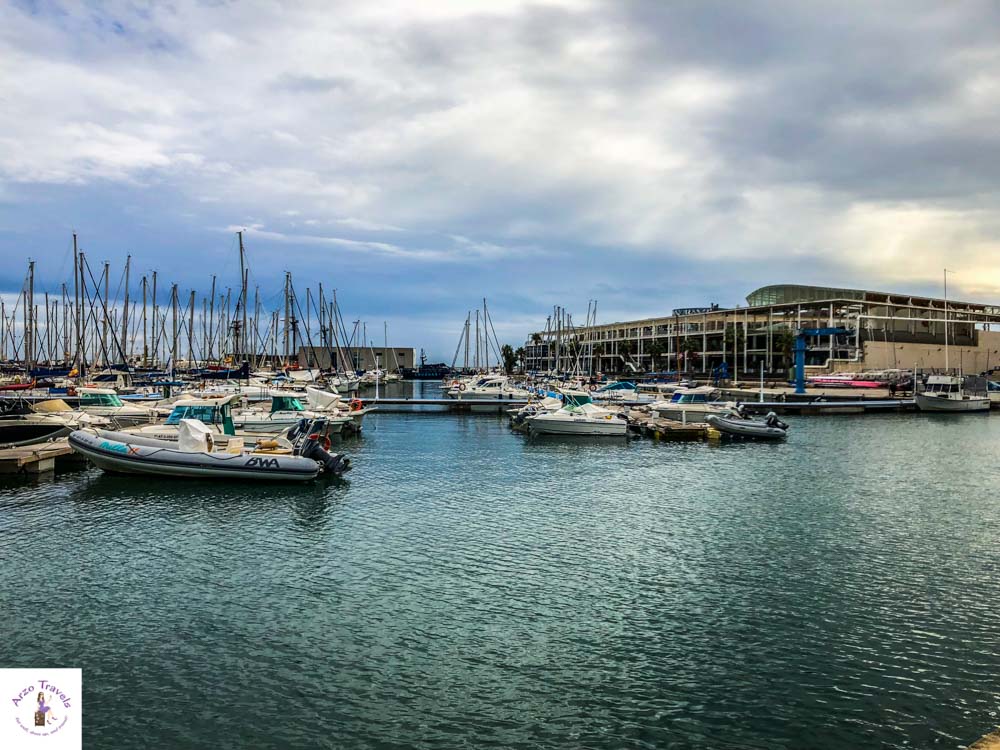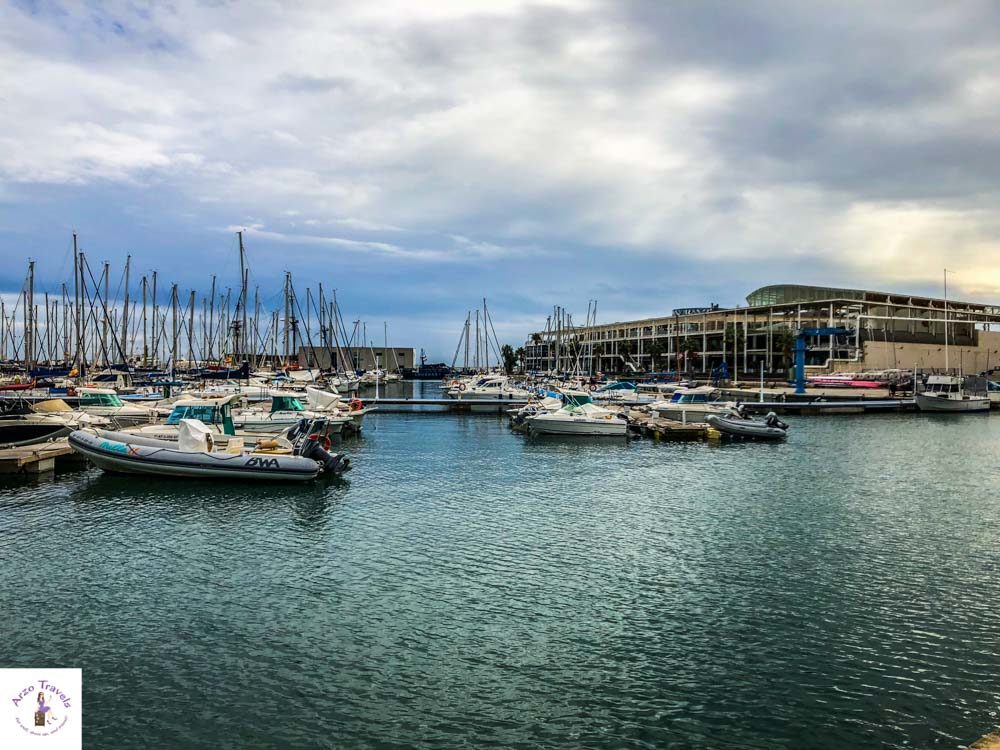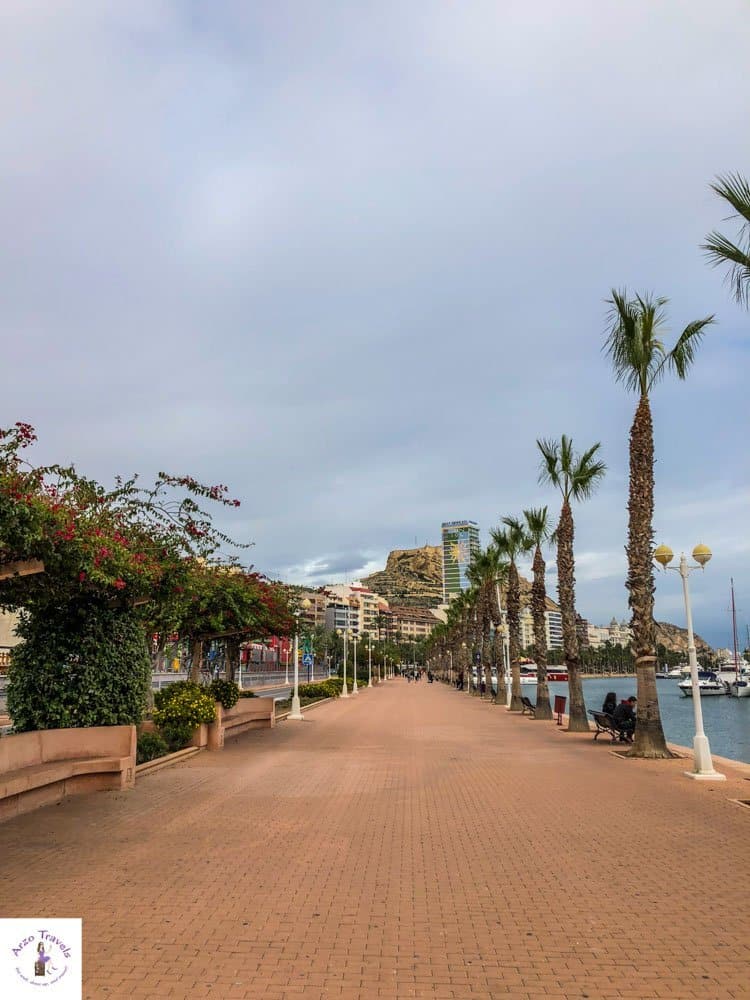 Beach

 
Alicante has a lovely beach – and some people even swam in late November. In summer (or even early fall), it must be amazing at the beach.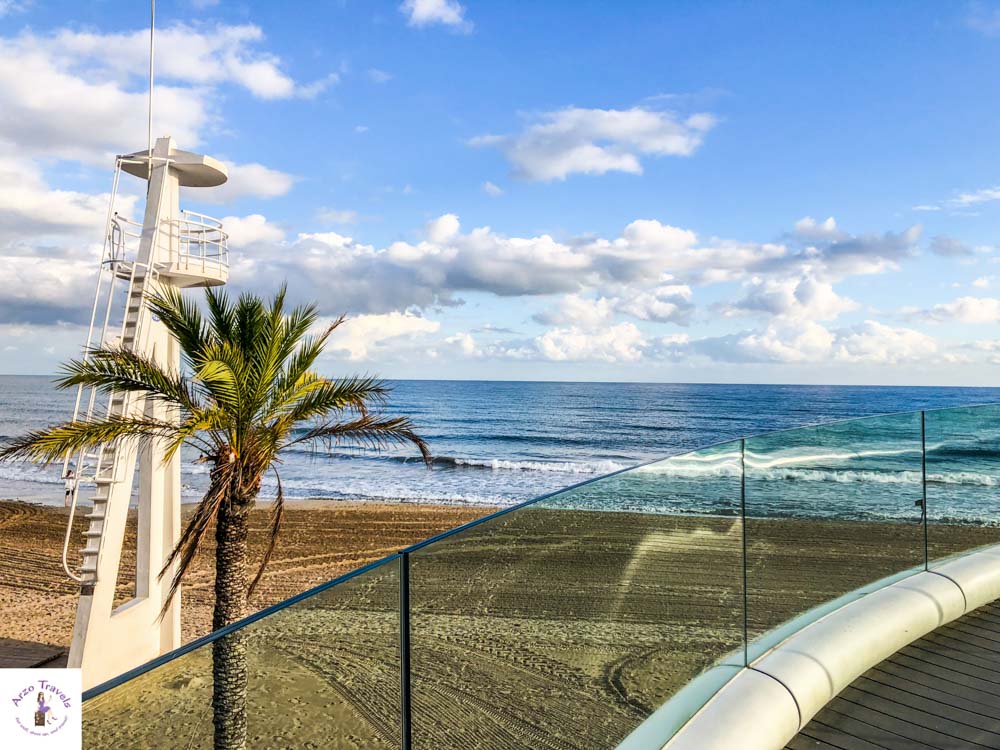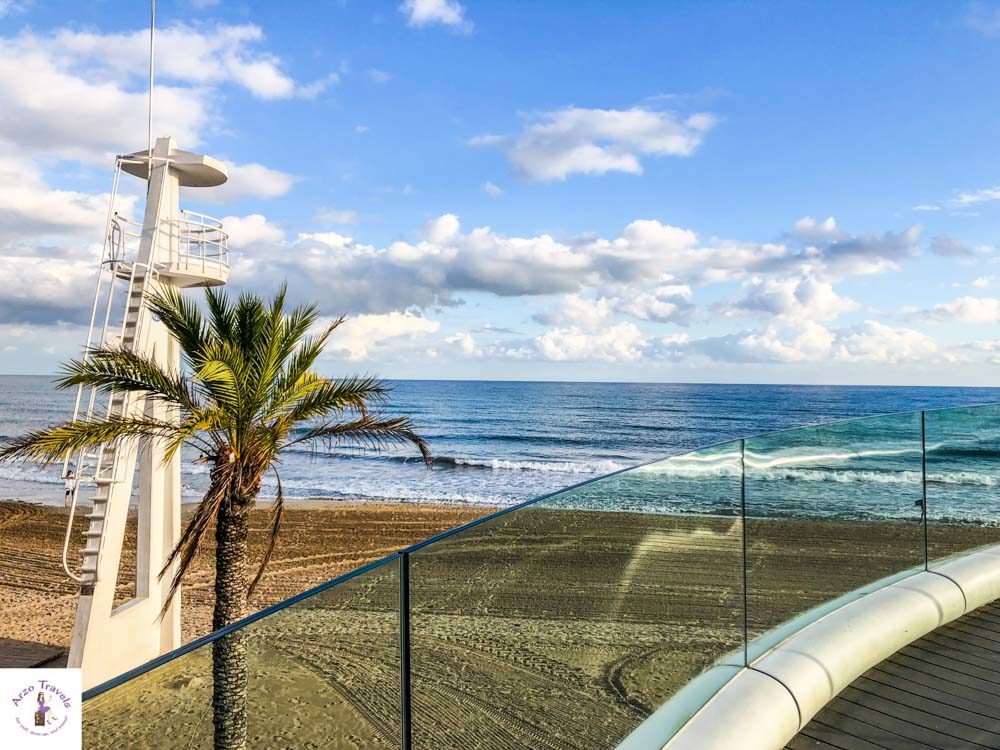 While we enjoyed some really nice walks at the beach, we did not dare to even put our foot in the water. If you are here between May and September, I can imagine how busy it gets. In winter, one day in Alicante is enough. In summer, though, I would plan in at least two days (spending a whole day at the beach).
Extra Tip for the Evening
Though Alicante is also known for its nightlife, I am too old for that kind of stuff, so we spent our evenings in the hotel. However, there are many great restaurants.
The city center gets busy, and whether you have your dinner here, in the old town, or at the Esplanade (or at the hotel like we had), there are more than enough choices. And the best part is that compared to many other popular travel destinations, Alicante is still affordable (maybe not as cheap as some eastern European countries, but better than many other places like Italy, Germany, and of course, Switzerland).
Day Trips From Alicante
Alicante is close to several beautiful places like Valencia or Altea. Here are more day trip ideas from Alicante.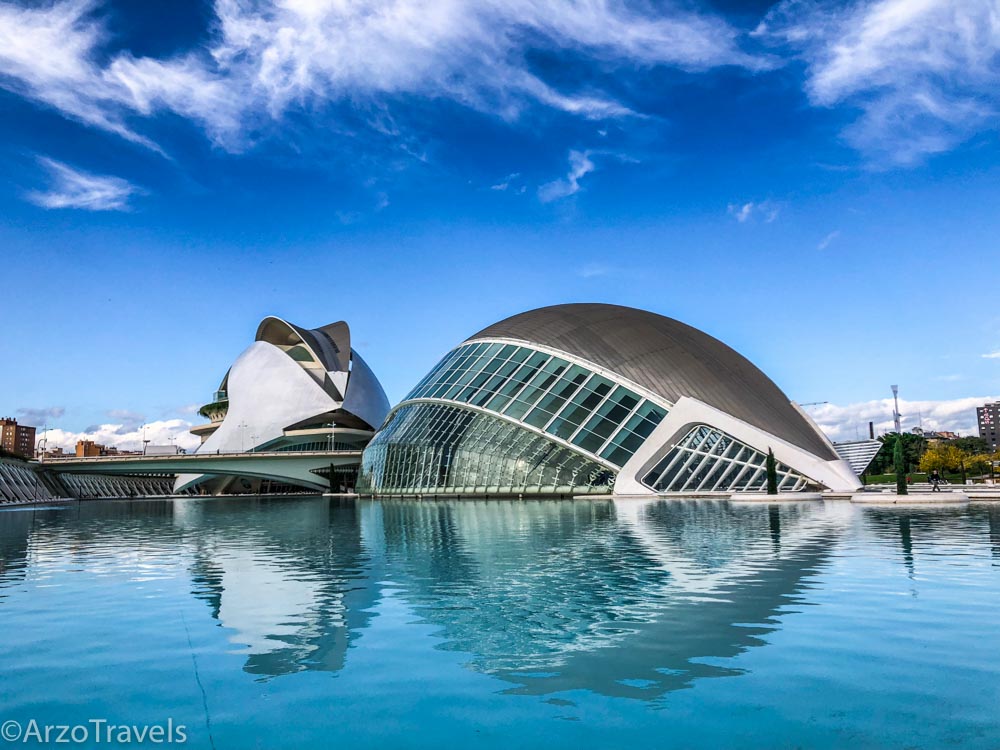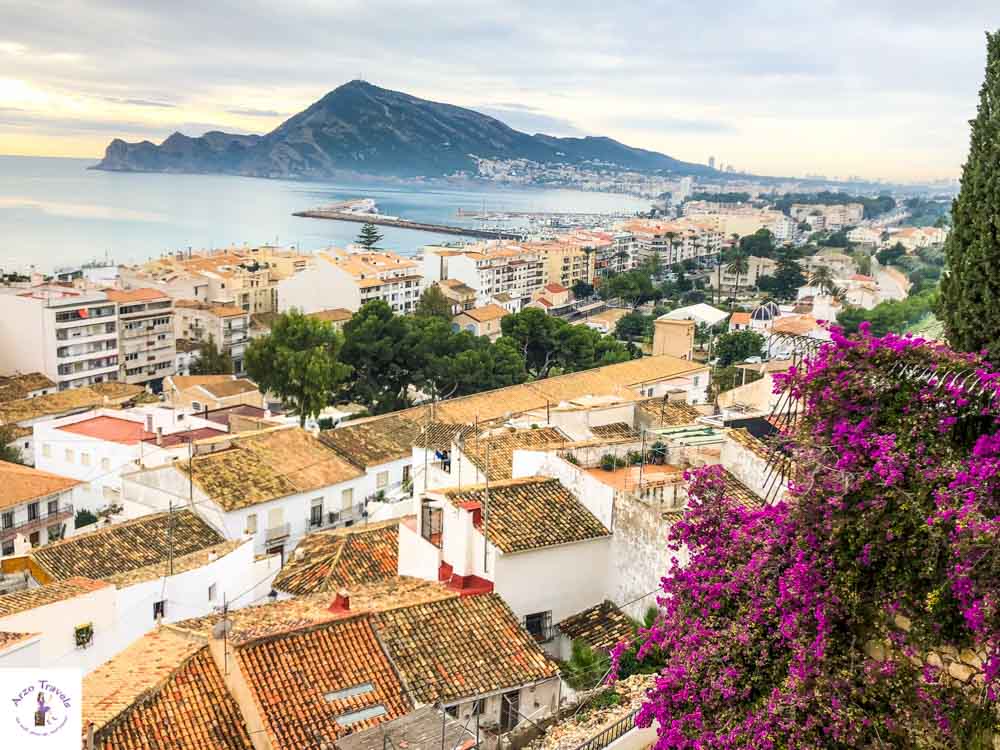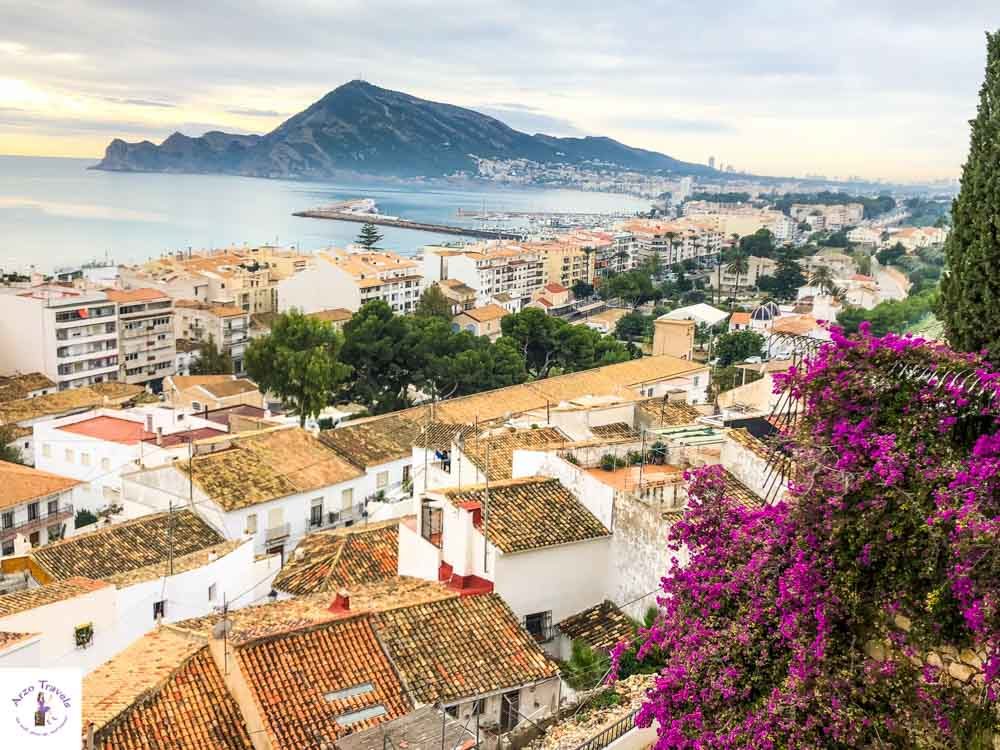 Hopefully, this quick guide will help you pick the best activities for one day and here are a few travel tips for your visit.
TRAVEL TIPS FOR YOUR ALICANTE ITINERARY
Here are a few things to know before visiting Spain.
How to Get to Alicante
Arrive by plane: Alicante has an airport that is also used by a budget airline, making it a popular place to visit. From the airport, it takes about 10-15 minutes by taxi to get to the city center.
Taxi costs: between 20 and 28€ (after 10 pm, there is an extra fee).
By bus: There is one bus going to the city center directly, which costs only around 4€. But there is no service in the late evening.
Arrive by train: Alicante has a train station from which you can just walk to the city center. It takes about two hours to get to Alicante from Valencia. From places like Benidorm or Altea, it takes less than one hour (by tram).
How to Get Around
Alicante is quite walkable. We walked many kilometers on foot – along the beach, in the city center, to the tram station, and at Santa Barbara Castle.  There is a tram line (also great to take to other places, like Benidorm) and buses.
Where to Stay
If you stay in Alicante overnight, I highly recommend staying very close to the Esplanade (beach area) or the city center. Accommodation prices in Alicante are not that high, so I would pay a few extra euros to have the comfort of getting around easily.
There is one 5-star luxury hotel in Alicante, but there are a few nice 4-star hotels.
We got a super great deal for Maya Hotel – near the castle and close to the beach. It is a 3-star hotel which was renovated just a while ago, so everything was neat and clean. Click here to find out more about the rates and the hotel.
As most of the time, I booked via favorite booking site – because of their great cancellation policy (luckily, there was no need to cancel, but I like that option as it causes less stress – just in case).
Click here to find more hotels in Alicante – for each budget.
Best Time to Visit Alicante
Alicante is a great summer destination – which the big and sandy beach, it is perfect for some lazy days at the beach. However, we visited in winter (late November) and enjoyed our trip. It was less crowded, less expensive, and still sunny (though it got a windy once in a while). Btw, here is a winter packing list for your trip.
Personally, coming from Northern Germany, Costa Blanca seems to be a perfect getaway in the winter. Escaping the cold season for a few days it great. So, my recommendation is to visit Alicante at any time of the year and probably only avoid the busy summer months June-August.
_____________
Alicante is a beautiful city. If you are a beach person, you could have some nice beach vacations here. But even if you aren't – like me – or you visit in winter, there is are fun activities to do. 
But of course, whenever you visit, I hope, this post has inspired you and you now know about the best things to do in Alicante in 1 day (or longer). Safe travels!