HOW TO SEE ICELAND IN 5 DAYS (ANY TIME OF THE YEAR)
Are you planning your 5-day in Iceland itinerary and wondering about what to do and see in Iceland in 5 days? Then this post is for you. Here I share my tips for Iceland in 5 days.
Iceland – the land of ice and fire. Yes, that intro might sound cliché, but it is actually true. Visiting this country will allow you to experience why the country was given this moniker.
Iceland is an amazing country to visit. It is probably one of the most unique countries in the world and so it does not surprise it has become incredibly popular.
Whether you visit in spring, summer, fall, or winter – this 5-day in Iceland itinerary can be used at any time of the year. You will also find many travel tips for your 5-day trip.
Disclaimer: This post contains affiliate links which means I might earn a small commission when you buy a product (at no extra cost for you) after clicking on my link. More about it here.
TRAVEL TIPS FOR YOUR 5-DAY ICELAND ITINERARY
Iceland might have less than 400,000 inhabitants, but it is a – geographically – big county. While it would be great to spend more than 5 days in Iceland, most of us do not have unlimited time to spend in Iceland. So this itinerary will help you to find out about the main sights and attractions. And 5 days in Iceland is better than nothing, right?
The good news is that this post not only offers you the best sights and how to spend your days in the country, but you will also find out about the best ways to get around. This Iceland itinerary is great whether you do guided tours or plan a road trip, but you will also find out where to stay and more Iceland travel tips.
I have visited Iceland twice: once in the winter (December/January) and once in summer (July). So, I was lucky enough to have different experiences over the course of 21 days. So, I created this 5-day in Iceland itinerary for any time of the year with the travel highlights of my Iceland trips.
Here are some quick travel tips for your trip to Iceland before talking about the best things to do.
Best Time to Visit Iceland in 5 Days
Whether you visit Iceland in winter or summer – or even fall and spring – each season has its charms.
I loved visiting Iceland in the summer. It might be busy, and the prices for accommodations are high (and attractions are very crowded), but the many hours of daylight helped me see more. I saw about three or four times as much as I did in winter.
In winter you will have much less time to visit the sights. Honestly, you will just have a few hours each day as it really gets dark very quickly. Keep in mind that winter in Iceland can be very extreme – and you might not be able to road trip. Check out my Iceland in Winter guide to see if that is the perfect time for your trip or not.
This is also why I will share some of my winter and summer pictures in this post – so you can imagine yourself better for when to use this Iceland itinerary for. I have a detailed post on the "best time to visit Iceland," where I compare the winter and summer seasons.
To check out why winter can be tricky check out my guide on what I really think about visiting in Iceland in December.
Costs of Visiting Iceland in 5 Days
Iceland can be expensive but does not have to be. Surely it will never be a budget-friendly destination, but if money worries you, it does not have to in Iceland. Check out my post on how expensive Iceland is to find out more.
You can pay everywhere – even if you want to use a toilet to pee – with your credit card. If you camp, you need cash because you might need coins for using the shower (though not necessarily).
Language in Iceland
People speak English everywhere in Iceland. If you speak English, you are good to go. Given that Icelandic does not seem like an easy language to learn, this is one of the best news.
How to Get to Iceland For Your 5-Day Trip
Iceland has several airports. Most likely, you will fly into the Keflavík International Airport. A smaller domestic airport in Reykjavik (Reykjavik Airport) is close to the city center, but that is not the one you will fly into.
Keflavík International Airport is about 50km from the city center.
One of the best ways is to get a rental car from the airport and then get to the city center. In summer, I road-tripped Iceland and picked my little camper van from the airport. The process was very smooth and I assume the same goes for all rental cars.
I read somewhere that a taxi for that distance will cost you more than 200€ – and given how expensive Iceland is, this sounds believable.
You can either buy a ticket for the shuttle bus once you are at the airport or book your shuttle bus ticket in advance. The buses normally drop you off in the city center. Then you can get to your hotel by bus/taxi or walk. I used the shuttle bus in winter and really enjoyed the smooth transfer. On my way back to the airport, I stopped at the Blue Lagoon close to the airport. So, if you plan to visit the Blue Lagoon, either on the day of your arrival or your departure, keep that in mind. Then you can combine that.
How to Get Around Iceland For 5 Days
So this 5-day itinerary for Iceland is perfect for anyone. You can do a road trip or do day trips from Reykjavik.
Day trips tours will not allow you to see all places mentioned here, but the main places are included, so it really is up to you what you prefer.
Road tripping Iceland is pretty fun and easy (with good streets and quite a few cars except at the hotspots), but I did not dare to road trip in winter.
Both options have advantages/disadvantages, so it is about personal preferences.
Renting a Car/ Campervan: Driving in Iceland is pretty easy. At least, if you visit in summer (or as long as there is no snow and ice, and the streets are open).
F-roads and highland roads are probably a bit trickier, but I haven't driven them myself. You need to have 4-wheel vehicles if you want to drive them. So, it really makes sense to plan your Iceland itinerary and then rent an appropriate car.
On my second trip, I rented a caravan – for the first time in my life – and I loved it. Iceland is perfect for getting around via camper van (streets are big enough, not too much traffic once you leave the main hot spots), and finding a camping site is quite easy.
If you have ever though about traveling via camper – then let Iceland it should be.
Camping
Wild camping is illegal in Iceland, and though there are very few exceptions (like written permission if you stay on private land), it is highly advised to accept Icelandic law and just stay at campsites.
Campsites are pretty affordable and are around 9-12€ for most campsites (per person, no extra charge for your vehicle).
Where to Stay For Your 5-Day Iceland Itinerary
This 5-day Iceland itinerary is perfect for any time of the year and whether you road trip or do day tours from Reykjavik. Check out my guide with the best places to stay in Iceland and if you road trip, it really depends on how much you get to see in one day.
In winter, you will not be able to see all places mentioned on this Iceland itinerary because hiking routes are closes and days are short.
With a camper/motorhome, it is easy. You can spontaneously decide where to park (campsites do normally not get fully booked, and there are plenty in Iceland, so you just arrive and pay – even late at night / after midnight).
5-DAY ICELAND ITINERARY (SPRING, SUMMER, FALL, WINTER)
So, enough talking. Here is how to spend your 5 days in Iceland:
DAY 1 OF 5 DAYS IN ICELAND
Let us start with an Iceland classic.
GOLDEN CIRCLE + HRUNALAUG + BRUARFOSS WATERFALL – 1 DAYS
While you could start with the Blue Lagoon and Reykjavik, I actually suggest saving these destinations for your last day.
Reserve one day of your 5-day itinerary for the most famous and popular area – namely, the Golden Circle, which has several attractions. The name "Golden Circle" was derived from Gullfoss, which means "golden waterfall" in Icelandic and is one main attraction for day 1 in Iceland.
The Golden Circle covers about 300 kilometers, looping from Reykjavik into the southern uplands of Iceland and back. There are three main stops on the route – the Þingvellir National Park, the Gulfoss Waterfall, and the geothermal area in Haukadalur.
PINGVELLIR NATIONAL PARK
Pingvellir National Park is often the first stop. It is a historic site and national park known for the Alþing, Iceland's parliament from the 10th to 18th century.
You'll also find the Þingvellir Church and the ruins of old stone shelters, but most people are probably fascinated by the fact that the park sits in a rift valley caused by the separation of 2 tectonic plates, with rocky cliffs and fissures.
Personally, I only visited in winter, and it had lovely scenery. If you want to take a stroll (or an easy hike), you can spend a few hours here. Otherwise, 30-60 minutes is probably all you need before continuing your journey.
There is no entrance fee, but there is a parking fee.
GULFOSS
Gullfoss might be the next stop on your Iceland itinerary. The waterfall is located in the canyon of the Hvítá river in southwest Iceland.
It is easy to drive here, and you can visit at any time of the day – there is not much walking required to get here from the (free) parking slots.
And there it is – the impressive Gullfoss ("foss" in Icelandic means waterfall). The water cascades down in two stages, one 11 meter high and the other 21 meters, into the 2.5 km-long crevasse below.
I visited in winter and summer, and liked it in winter better. However, in summer, you can take walks and stroll the area (which in winter is mostly forbidden).
Since there is no entrance fee or anything, I do highly recommend it is a must-see (though it isn't my favorite waterfall in Iceland), and I would suggest spending 20-90 minutes in that area.
It is free to visit, with no parking fees.
Tip: If you want to take a snowmobile tour, then you can start here. I booked my tour in December and was picked up from Reykjavik and brought to the waterfall before continuing our trip to the Highlands. However, due to extreme snowfalls, once we arrived at the camp, the tour was canceled. I am sure it is an amazing experience, and if you are up for it, you can check out tours starting from here.
Strokkur / Haukadalur
It is then time to see the geyser, which is periodically spouting hot springs. The Strokkur is an active, fountain-type geyser, which typically erupts every few minutes.
Its usual height is 15–20 meters, but it can sometimes erupt up to 40 meters high. So, even if you have just a few minutes, you will see it erupt – it is quite loud and I was startled by it every time.
This again is a popular sight, and since it is on the way to the other attractions, it is definitely a must-visit place. I probably spent around 45 minutes here because I wanted to see the eruptions more than 2-3 times
It is free to visit, no parking fees.
TIP: All of the above-mentioned places have at least one restaurant/cafe.
However, most tours do offer one or two additional stops. You just have to decide which one is the most attractive to you. If you road trip during the long summer days, I suggest adding at least two more places to your itinerary for day 2.
Kerio Volcanic Crater
Kerio Volcanic Crater is a volcanic crater lake that is a popular stop off the Golden Circle.
You can get up and even walk around the volcano. It is supposed to be a popular sight, yet it is not known as the most beautiful crater in the country.
I visited another in the north of the country and I can't say much about that one, but the reviews are good and it is different from the rest of the country (here you have the fire – though not literally anymore).
There is a small entrance fee, so have some cash with you (if you booked a guided tour, it might be included in the price).
Another popular spot off the typical Golden Circle is the Secret Lagoon.
Secret Lagoon
It is a man-made pool fed by naturally-occurring hot springs located at Hverahólmi, which is the geothermal area next to the village of Flúðir.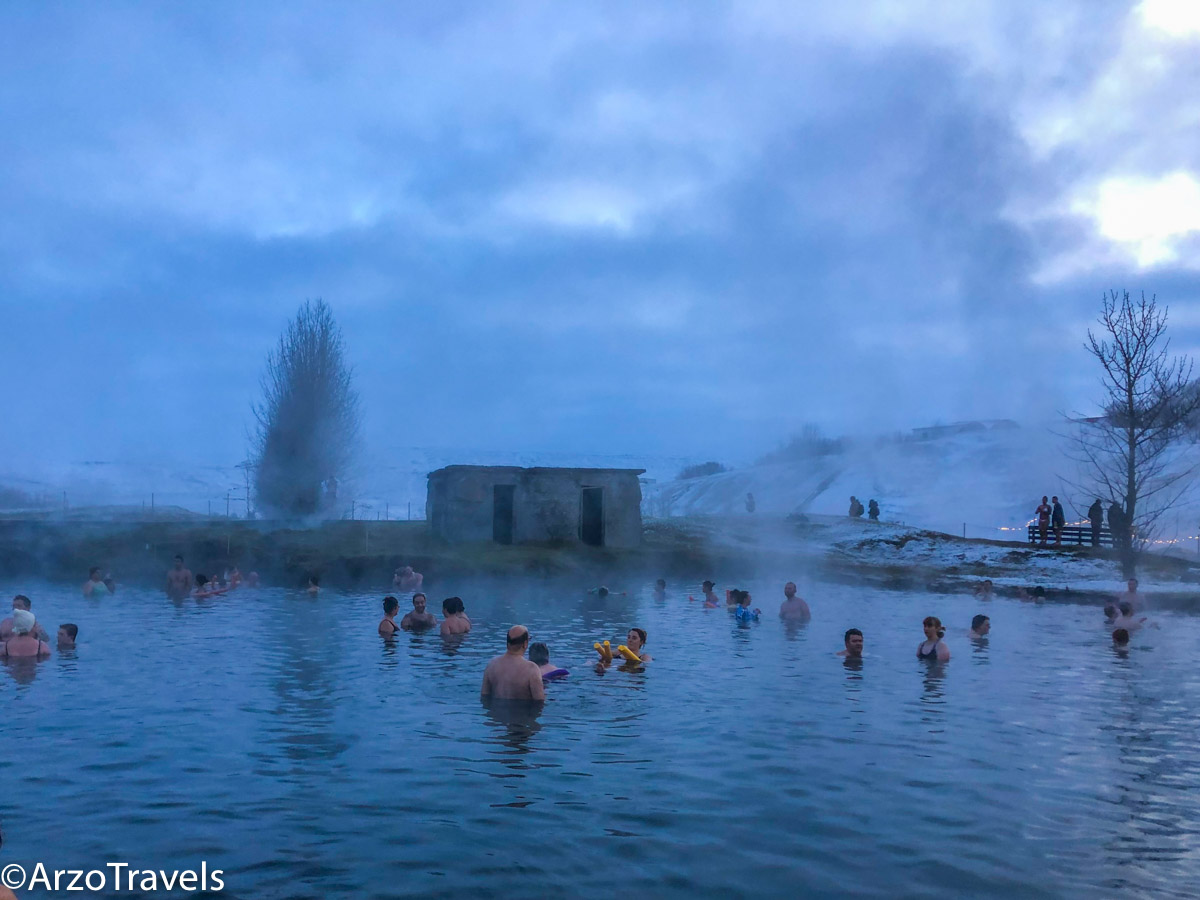 It is the oldest pool in the country – but nothing is secret here anymore and it is surely not a hidden gem. However, it is great after a day out to hop into the hot spring.
I visited in winter with a guided tour, and it had the entrance fee already included. Tickets for adults are around 20€ ($23). I would plan in around 60-120 minutes.
There is no parking fee.
Hrunalaug
Another place you could visit – also instead of the Secret Lagoon – is Hrunalaug. This hot spring is privately owned and is quite small, but the views are amazing.
The drive was possible with my 2-wheel car, though it takes some time to get there as you can't drive fast.
I read complaints that the water was low, so ask the owner before you pay whether it is busy or if it has water.
The owner normally sits in front of the pool and you have to pay an entrance fee (either 1,000 ISK, 10€ or $10) in cash only, parking is free. Before paying the entrance fee, I would ask how many people are in already. If there are already more than 5-10 people, then I honestly would not enter. Depending on how much time you have, this stop should take about 1-2 hours.
Bruarfoss Waterfall
If you road trip Iceland and are flexible, I suggest paying Bruarfoss Waterfall a visit. Since its location is a bit off the Golden Route, it is not often offered when doing guided tours.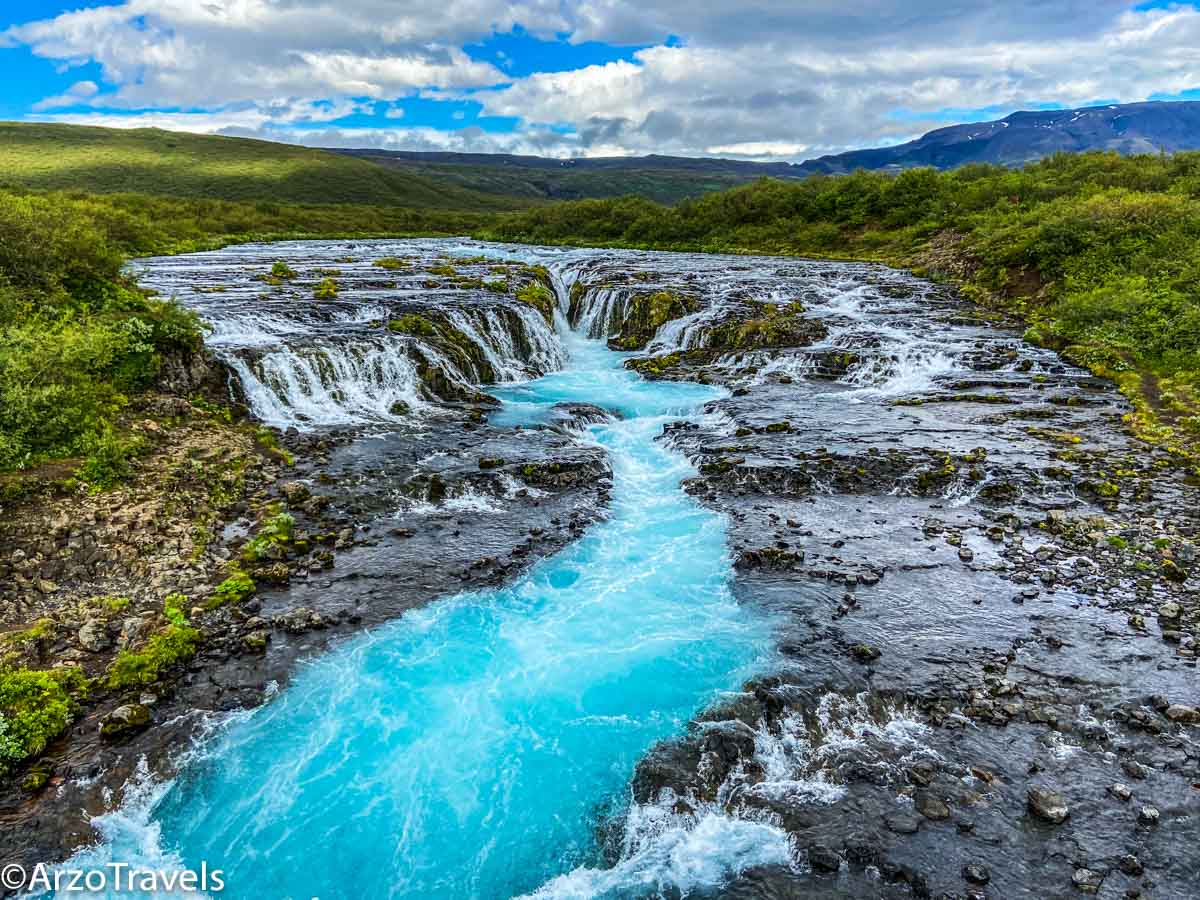 However, it was one of my favorite places in Iceland, and if you can visit, then go for it. After taking your car, you can do a 7 km "hike"(in total) and will see several waterfalls along the way.
The waterfalls come in an incredible color of blue – the color is insane, which makes it worth a visit. It is not a real hike, but more like a beautiful stroll with some steps in between (and probably some mud puddles, so wear appropriate shoes).
This stop should take around 1-2 hours.
No entrance fee, free parking (Google sent me to the wrong parking lot – which is no parking lot any longer and I had to drive back to find the right spot). Check out my detailed Bruarfoss guide.
DAY 2 OF 5 DAYS IN ICELAND
One day of your Iceland itinerary should be reserved for exploring the south coast of Iceland – together with the Golden Circle and the Blue Lagoon, one of the most popular places to visit.
SOUTH OF ICELAND – 1 DAY
One day for the South of Iceland is not a lot – if you visit in the winter, you will only see some places because daylight is not your friend then. You can easily visit all of them in the summer months, though it will be a busy day.
Seljalandsfoss
Seljalandsfoss is one of the stops you can't miss – actually, it is literally impossible to miss this high waterfall.
The waterfall drops 60 meters and is part of the Seljalands River, which has its origin in the volcano glacier Eyjafjallajökull. This waterfall is special as you can walk behind it and have a unique view. In the winter months, the walking path is most likely closed.
There is not much other hiking to do, so 15-60 minutes is enough.
There is no entrance fee, but if you have some change, you can donate something, and there is a parking fee.
If you do a guided tour, you will most likely continue your journey. However, if you road trip, make sure to add two more waterfalls close to this one to your 5-day Iceland itinerary.
Gljúfrabúi Waterfall
Gljúfrabúi Waterfall is just a ten-minutes-walk away. You have to leave Seljalandsfoss and get on the "main road" and then head towards the camping site and then follow the directions – it isn't even a hike, just a stroll.
There you will see the other waterfall and you can reach it by climbing some steps. It is definitely worth the few extra minutes you have to spend to reach it.
Your feet might get wet so proper footwear is great (also to avoid slipping).
If you have more time, I highly suggest taking your car and driving about 7 km to the other, hidden, waterfall.
This stop should take between 15-45 minutes.
No entrance fee, but still parking fee.
Nauthúsagil Waterfall
From these to waterfalls, continue your journey and drive to this secret waterfall. You can drive with your 2-wheel car, though you should drive slowly. It is a dirt road but nothing spectacular – however, I have not heard from guided tours visiting this waterfall.
There are some parking lots and then you continue to the ravine (don't hike up that hill – I did by accident – just walk towards the ravine). For this part, you definitely need sturdy shoes, and there is some climbing required. However, it is a short (maybe a 10-minute hike) and easy hike and you will be rewarded with this pretty waterfall.
This stop should take about 30-60 minutes.
No entrance fee and free parking. Check out my quick guide on how to see the secret waterfall.
Skogafoss
This second day in Iceland is a lot about waterfalls – before visiting other attractions, you will most likely then pass Skogafoss, one of the most famous landmarks in Iceland.
It is one of the biggest waterfalls – with a heigh of more than 60 meters and a width of 25 meters. It will be one of the very crowded places – but you should still stop here and either walk right up to the waterfall (in winter it will be very slippery though) or when the stairs are open, you can walk up and the see the waterfall from above.
This stop can take between 10-60 minutes.
No entrance fee and free parking.
Sólheimajökull
Then, continue your trip to this glacier – especially with guided tours, this is very popular. If you are short on time, I suggest skipping this one and visiting another glacier (more on that later).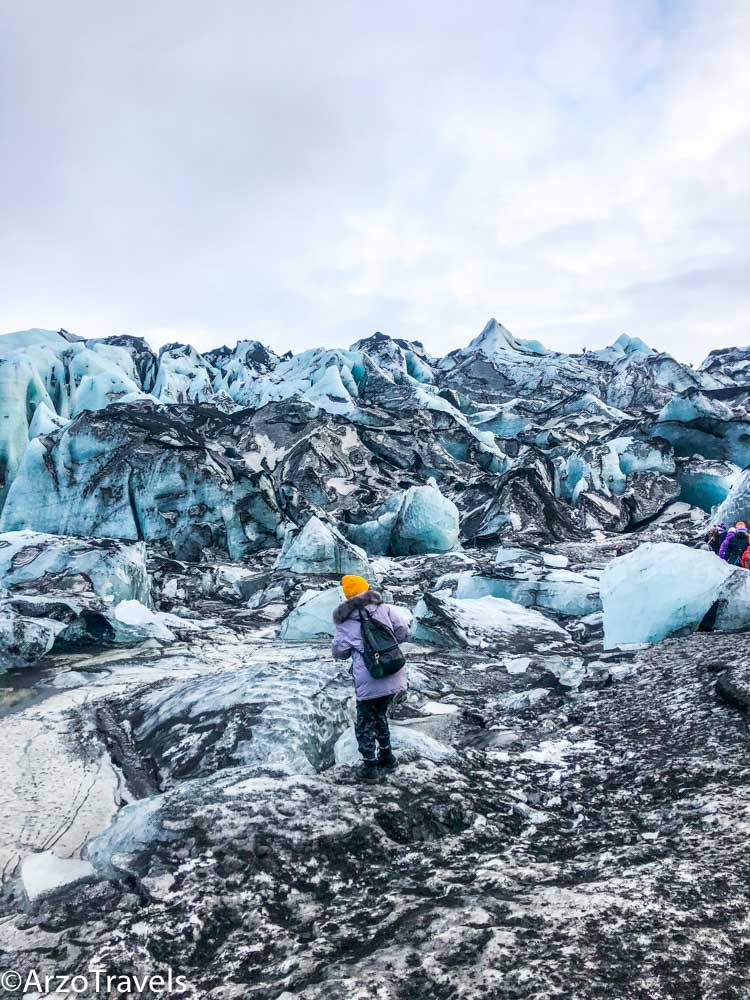 Sólheimajökull is about eight kilometers long and two kilometers wide, and is one of the most accessible glaciers from Reykjavík, which makes it a popular place to visit.
You can also book glacier walks (also with guided day tours). If you do not do a glacier walk, I think spending about 30-90 minutes here is fine.
There is no entrance fee and no parking fee.
Solheimasandur Plane Wreck
This is another popular spot that I, however, skipped both times. In 1973, a United States Navy DC plane ran out of fuel and crashed on the black beach at Sólheimasandur near the town of Vik.
You can still visit the place, but have to park your car and walk around 4 kilometers to get there (one way – though there are also buses you can take there).
You aren't allowed to climb on the plane anymore and this, in combination with the time to get there, was why I decided to skip this attraction. But I felt that I should at least tell you about it.
No entrance fee, no parking fee but taking the bus to get there does cost some money.
Dyrhólaey
Then, head to Dyrhólaey, which is the southernmost point of mainland Iceland and offers some beautiful views of the surroundings – you can even see the black beaches in Vik.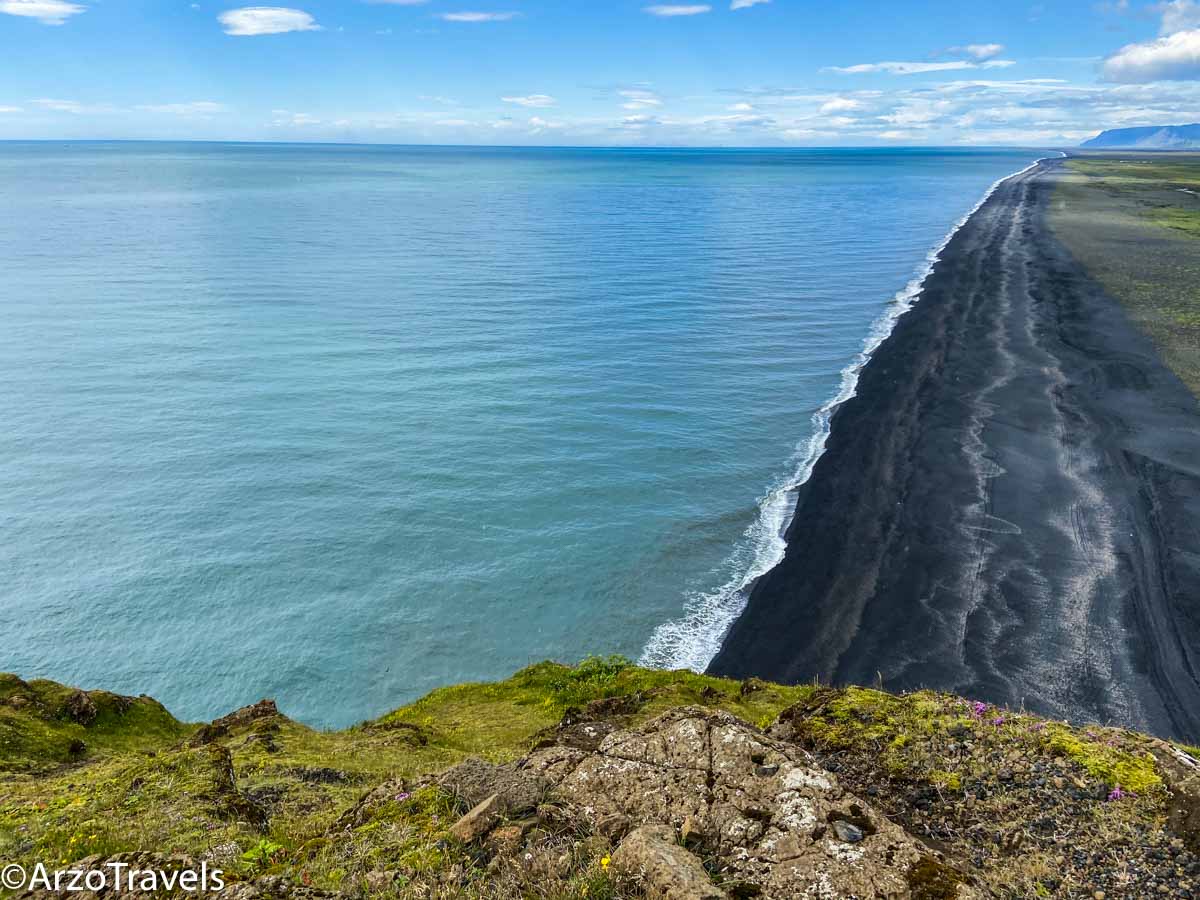 I – personally – do not consider it a must-see, but decide for yourself. They recommend driving only with a 4-wheel vehicle. I, and many others, drove with our regular cars and it was fine. However, there were some moments that got tricky, so be super careful and go slowly when driving up.
This stop should take about 30-90 minutes of your time
No entrance fee, no parking fee.
Vik
From Dyrhólaey you are fast to arrive in Vik which is a small village known mostly for its church and the black sand beach, Reynisfjara.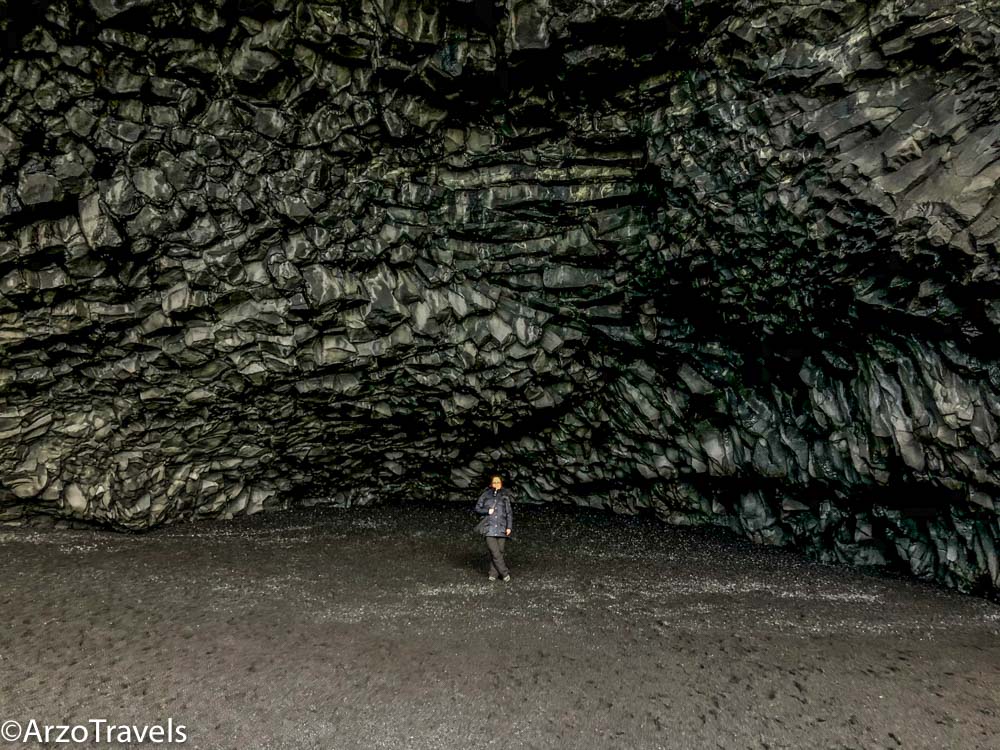 While walking on the beach, the color a result of volcanic explosions, you will find basalt stacks on one side and have views of the Atlantic Ocean on the other – Reynisfjara is one of the top places to visit in 5 days in Iceland.
You could walk there for quite a while, but this is a busy place, so you should take a look and get on the basalt stacks before continuing your journey.
The water – even in the summer – is too cold to swim in here, and the waves can be quite strong as well, so it is better just to look.
In Vik, you will also find the famous church up on a hill which is a popular photo motif but other than that I did not really like Vik that much.
Uhhh, this stop can be from 15 minutes to several hours.
There is no parking or entrance fee
Fjaðrárgljúfur Canyon
I highly recommend visiting Fjaðrárgljúfur Canyon though it is not open all year-round. The canyon is about 100 meters deep and about two kilometers long.
Due to its popularity and its sensitive flora, they close it once in a while, so it might not be open year round.
It is near the main road and though it's mostly a gravel road, you can easily drive there with all kinds of cars (in summer only).
From the parking area, it is a short and easy walk up a hill. And from there, you have some of the best views in all of Iceland. There are several vantage points, and if you like mountains, this is the place to visit.
Walking in the canyon is not allowed any longer, but the views from above made this stop one of the highlights of my Iceland trip (plus, the weather was in my favor, which probably played a role, too).
This stop should take around 30-90 minutes.
No entrance fee, no parking fee.
Jökulsárlón
If you drive yourself, you will find many more waterfalls along the way. It would be almost impossible to name all. However, there is one particular highlight waiting for you: Jökulsárlón.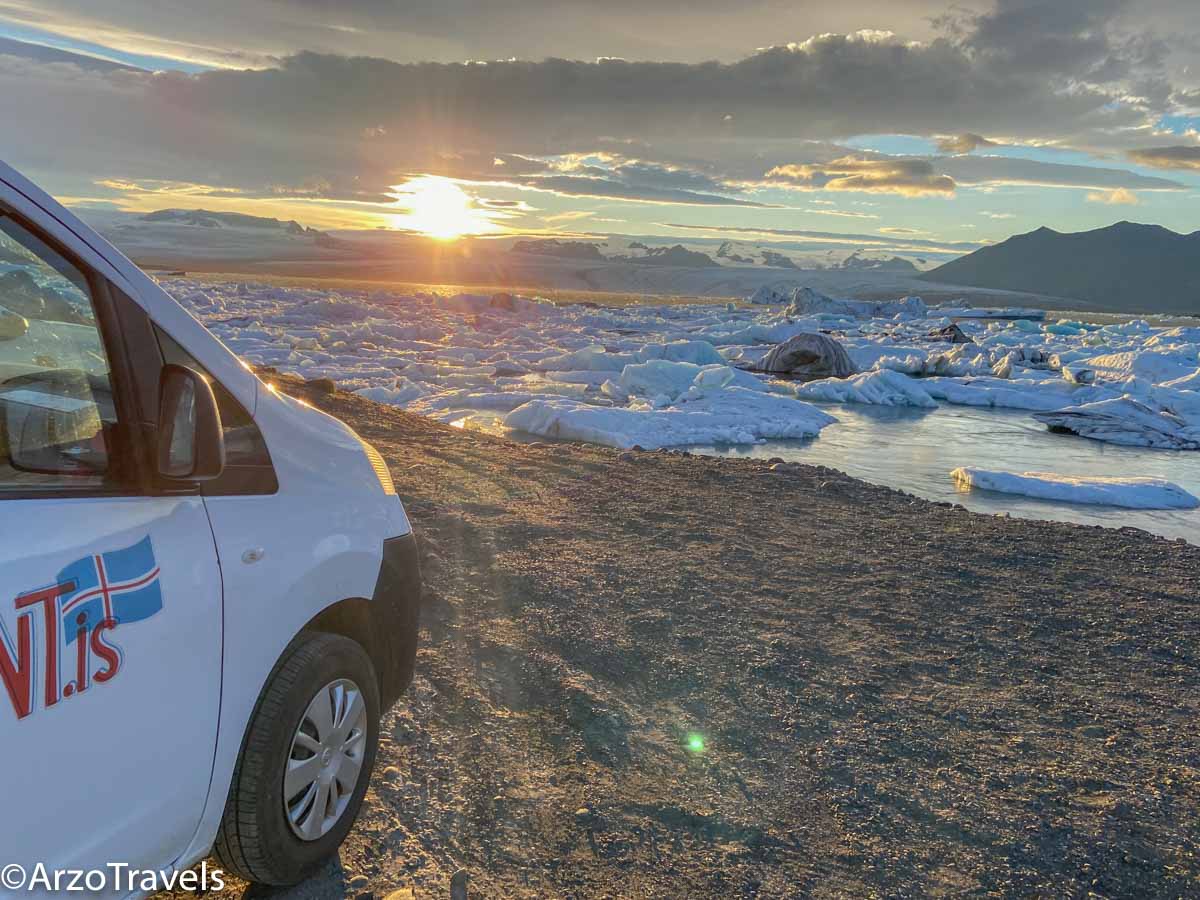 If you do guided tours, try to book a tour that brings you all the way here as well. It is a stunning glacial lagoon dotted with icebergs from the surrounding Breiðamerkurjökull Glacier, part of the larger Vatnajökull Glacier.
The black beach sand nearby is also known as Diamond Beach because the ice chunks – even in summer – look like diamonds (well, kind of).
It is an absolutely magical place – though in normal times, extremely busy. My tip: try to visit at sunset – it gets even more magical at that time of the day.
This stop takes a minimum of 30 minutes, but I could have spent hours (and probably did so) just looking at the ice.
Free to visit, no parking fees.
Vatnajökull Glacier
Tip: If you have time, you can do a boat tour (in summer) and go ice caving from within Vatnajökull Glacier.
Climbing on top of any of the icebergs without a guide is not advised and neither is swimming. This place is full of icebergs, so it is it is neither warm nor safe to do so.
I did not do the tour – and I really regret it. Check out tours here.
And with these places, you have already filled 3 days of your Iceland itinerary.
Actually, you will not be able to visit all of the above-mentioned places – unless you take advantage of the 24 hours of daylight in June and don't sleep. With these activities, you could actually fill all 5 days, but I do have some more suggestions for day 4 and 5 and recommend doing some of the places mentioned above in 3 or 3.5 days before heading back – not to Reykjavik directly, but past it, heading to the west coast of Iceland.
DAY 3 OF 5 DAYS IN ICELAND
The west coast is a beautiful and popular place in Iceland, though much less crowded and less visited than the Golden Circle or the South Coast.
SNAEFELLNESS PENINSULA – 1 DAY
So, after some hours of driving from Vatnajökull Glacier to the Snæfellsnes Peninsula, you will have less than a full day in this area. Snæfellsnes Peninsula is also very popular but less busy than the south of Iceland or the Golden Circle and one full day or two would be better but even this half-day is great to see the main places.
Ytri Tunga
Start with Ytri Tunga – a small, beautiful beach area where you will find seals resting and chilling at the beach.
It is perfect for leisurely walks and spending time outdoors before continuing your journey.
Free entrance, no parking fees.
Arnarstap
Stop at the cute fishing village Arnarstapi and go on easy hikes along the coast – the views are impressive (just watch out for the evil birds that do attack people if they feel like it).
Free parking and several cafes/restaurants.
Kirkjufell Mountain
Then, it is time to visit one of the most famous sights in the country: Kirkjufell Mountain, which is a 463-meter-high mountain on the north coast of Iceland's Snæfellsnes Peninsula.
You can either hike up the mountain or do what is definitely more popular – go to the waterfalls and see the waterfalls with the beautiful mountain as a backdrop.
There is not much more hiking to do, but you can walk around the waterfall and enjoy the scenery (even in winter, but take some crampers with you so you can walk all the way to the waterfall).
Free entrance, no parking fees.
With all the driving from South Iceland, I would call it a day. For the last two days, I recommend visiting some places close by and preparing for heading back to Reykjavik/airport.
DAY 4 OF 5 DAYS IN ICELAND
This day is a bit of off-the-beaten path (not really but kind of) and it can be visited in winter as well as in summer. I visited in both seasons and I am not sure which one I liked more.
WEST ICELAND – 1 DAY
These attractions are not from the Snæfellsnes Peninsula so. You will not be spending too much time in the car. Also, if you do day trips from Reykjavik, you can visit these places as day trips.
Barnafossar and Hraunfossar Waterfalls
Barnafossar and Hraunfosssar waterfalls are actually a series of waterfalls formed by rivulets streaming over a distance of almost 1 kilometer out of the Hallmundarhraun (which is a lava field that flowed from an eruption of one of the volcanoes lying under the glacier Langjökull) – and it is one of my favorite waterfalls in Iceland.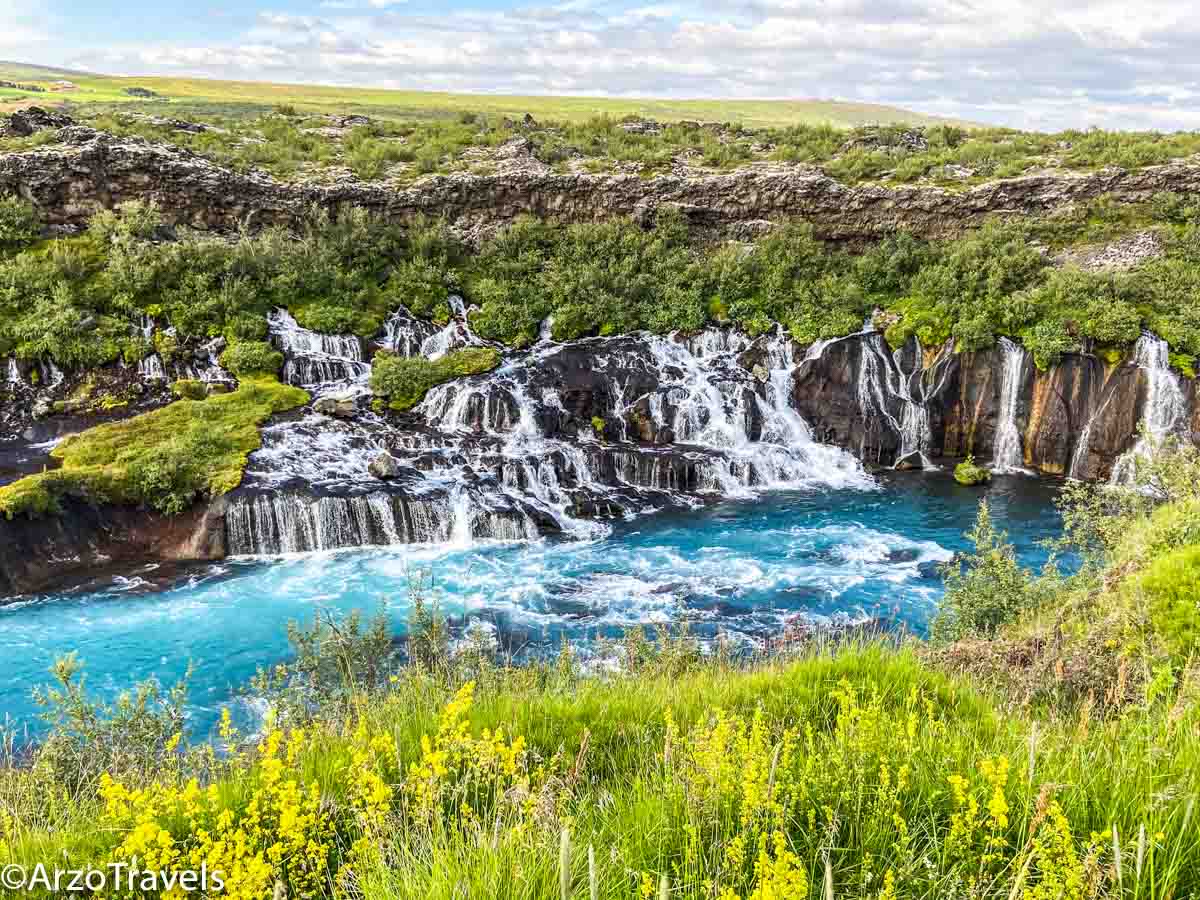 You can do a bit of walking and visit several waterfalls – which come in an intense color – but there is not that many other activities to do around here.
Thus, I recommend combining it with another activity in the area.
No entrance fee, no parking fee.
Raufarhólshellir
Another activity you could do is to visit Raufarhólshellir, which is the fourth-longest lava tube in Iceland. This lava cave is just 15 minutes away from Husafell Hotel.
You can witness the inner working of a volcanic eruption and walk the path where an eruption flowed more than 5,000 years ago. A guided tour will allow you to learn about the volcanic eruptions and their effect on the environment before heading back to the capital.
Hot pools at Húsafell Hotel
If you have time (getting to Reykjavik does take time and plan to arrive too early rather than too late), add Húsafell Hotel – with its hot pools – or a lava tour to your itinerary.
The pools at Husafell Hotel are beautiful – visiting in winter, I was the only one there, though it probably is much busier in summer. It is a great place to visit if you are into hot pools with beautiful views.
There is an entrance fee, parking is for free.
DAY 5 OF 5 IN ICELAND
So, for your last day, take it easy and so some sightseeing in the capital before resting at the Blue Lagoon.
REYKJAVIK + BLUE LAGOON – 1 DAY
This last day would also make a great first day of your 5-day Iceland itinerary – plan your trip according to the time of your arrival and departure. In general, I like to be close to the city/airport on the day of my departure, so this is why I suggest it for your last day in Iceland.
Reykjavik
Reykjavik is a town rather than a city, but it is small and interesting. However, with only 5 days in Iceland, I would not spend too much time on the city and not plan in more than half a day for Reykjavik.
In Reykjavik, you can visit FlyOverIceland (my favorite), head to the top of the church, stroll the town center, or head to Perlan.
Reykjavik is also known for its food scene. Even I, as a 95% vegan eater, had some pretty amazing dishes. I am afraid the food scene in the rest of the country is not that great, so Reykjavik is the place to eat your weight in delicious meals.
THINGS TO DO IN REYKJAVIK
Visit FlyOverIceland (believe it or not, it was my favorite activity in Reykjavik)
Hallgrimskirkja Church
Check out Harpa Concert Hall
Perlan Museum & Viewpoint
Blue Lagoon
The Blue Lagoon is a popular first spot for many Iceland visitors but I suggest visiting at the end, so you can relax before you get on the plane again.
It is a geothermal spa located in a lava field and actually it is not a natural pool – it is supplied by water used in the nearby Svartsengi geothermal power station and it has become one of the most popular, but also busiest, places in the country.
Due to its proximity to Kevlavik Airport, you can make it your first or last stop during your 5 days in Iceland.
If you book a guided tour to the Blue Lagoon, they normally will pick you up from the airport and then drop you off at your hotel, which is very handy.
I visited the Blue Lagoon on my last day in December – but do I wholeheartedly recommend visiting the Blue Lagoon?
Yes and no. I am not a big pool fan, so I did not spend much time here. However, I am well aware that this place is unique. If you are not on a very tight budget, and especially if you love pools or won't be visiting any other pools/hot springs, then I say go for it.
Tip: Book in advance as slots fill up quickly.
I probably spent 2 hours max. here – I heard people spent a full day at the Blue Lagoon. Parking is free, tickets can either be bought directly via the website or book a guided tour.
CONCLUSION: A PERFECT 5-DAY ICELAND ITINERARY
5 days in Iceland will give you a good glimpse of the country and you can see what all the fuss is about. I recommend staying longer, but know it is not always possible.
However, I hope that this itinerary will allow you to make the most of your trip at any time of the year. So, whether you visit in winter or summer – this Iceland 5-day itinerary will hopefully be very helpful to you!