HOW TO HAVE AMAZING 7 DAYS IN CROATIA
If you are planning your Croatia trip and are wondering about the most beautiful places to visit in one week in Croatia then this 7-day Croatia itinerary is perfect for you. And if you stay longer than 7 days – even better. I will share tips with you on how to spend 7-14 days in Croatia.
Croatia had been on my radar for a while – even though I have never watched one episode of Games of Thrones, nor am I a beach person.
But guess what? Croatia is just a stunningly beautiful country and well worth a visit – whether you are a Games of Throne fan or not. Whether you are a beach fan or not. The country has so much for everyone, and there is so much to do and see. 
So, whether you visit the country for 7 days, 10 days, or 14 days, this Croatia itinerary will help you find the most beautiful spots and have many fun experiences along the way.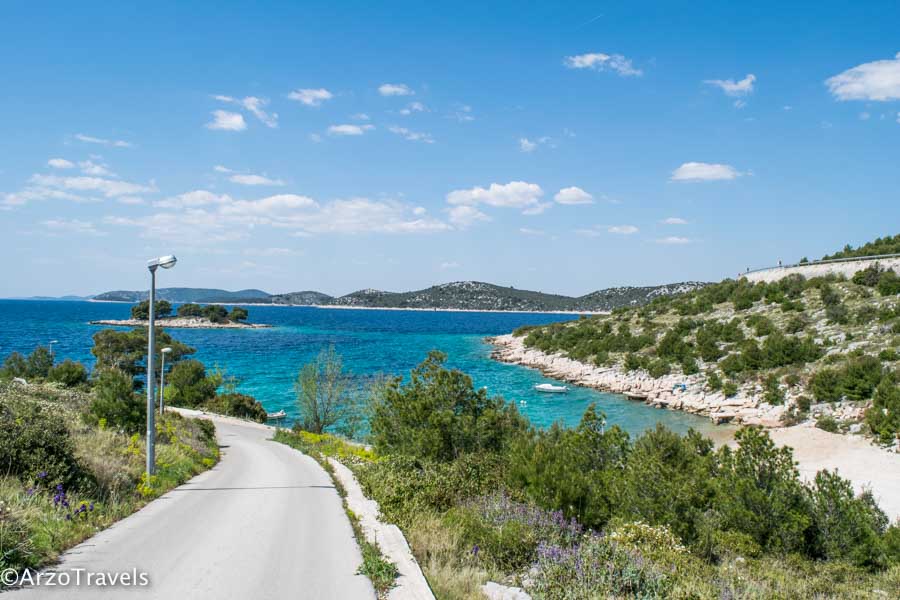 Disclaimer: This post contains affiliate links which means I might earn a small commission when you buy a product (at no extra cost to you) after clicking on my link. More about it here.
TRAVEL TIPS FOR YOUR CROATIA ITINERARY
In this post, you will find out:
Best time to visit Croatia
Best way to get around in Croatia for a week
Language in Croatia
Food in Croatia
Currency / Money
Internet in Croatia
Where to stay in Croatia for 7 days
Solo female travel tips for Croatia
Places to visit in 7 days in Croatia
Split (1 – 1,5 Days)
Trogir and Šibenik (1 – 1,5 Day)
Krka National Park (1 Day)
Omis (1 Day)
Dubrovnik (2 Days)
More places to add to your Croatia itinerary
Zagreb (1-2 Days)
Plitvice Lakes (1 Day)
Rovinj (1 Day)
Punta Rata & Baska Voda (1-2 Days)
Hvar (1-2 Days)
Day trips outside of Croatia
Kotor
Mostar / Blagaj / Kravice Falls and Pocitelj
Before talking about the Croatia itinerary, here are some travel tips.
Best Time to Visit Croatia For 7 Days
The best time to road trip Croatia (or just visit) is during the shoulder season.
I visited in April and had a good time. Still, I think that May, early June, September, or October would have been a better choice, as the scenery gets even more beautiful, more tours and activities are offered (quite a few bell towers, etc. were closed for renovations in April), and it gets a bit warmer.
With the heat in late June, July, and August, the tourists come, and prices for accommodations are significantly higher.
7 Days in Croatia – Road Tripping or Using Public Transportation?
I kept mentioning it in my Instastories and am still convinced: Croatia is the best country in Europe to road trip. Most of all it is very easy to drive here. I was a bit worried about driving in Croatia (especially as I was driving in my own car), but my worries were unfounded. 
Driving in Croatia is amazing. Even in the mountains, the streets are not as narrow as in many other countries and are mostly in good to great condition. They are also not busy, and drivers are quite friendly. 
Plus, you'll have the freedom to stop whenever you want. If you drive along the D8 – along the coast – you can avoid the tolls (which are expensive as heck in Croatia – for 45 km, I paid around 5.50€!) and have amazing scenic views. 
Croatia has done a great job, and there are many great spots if you want to take a break and enjoy the views. If you need to rent a car, make sure to rent a car in advance (especially if you visit during the busier months).
Gas and diesel prices are quite high, though.
Also, it is pretty easy to find parking in most cities and towns (at least compared to Italy and if you do not visit in July or August) – an exception is Dubrovnik. Check out my guide on road-tripping Croatia.
However, public transportation also works for this one-week Croatia itinerary. Though I did not use public transportation a lot, it is known that Croatia has a great network of buses that frequently travel between popular attractions and destinations.
When you plan to visit any of the islands, like Hvar, you will need to use the ferry or a boat. 
Languages in Croatia
Croatian is the official language, but I never had any issues with not speaking it. Many people speak English, and German is quite widely spoken. So, with English, you are good to go and don't have to worry about language barriers.
One Week in Croatia – What to Eat
Croatia is known for its good food. However, if you do not eat animals, it might be a bit problematic. There are pizza and pasta, but the options are quite limited. The food I had was great, but I mostly booked apartments where I cooked my own food. 
While it is possible to survive as a vegetarian, it might be quite hard as a vegan – at least in the smaller places. Bigger cities tend to have more veggie and vegan-friendly dishes.
Currency / Money
Though Croatia is part of the EU, it does not have the €. The official currency in Croatia is the Kuna. 1 Kuna is about 1.3€ ($1.60) – rates can change quickly, though, so this is only an estimation of when this post was written.
You can find foreign currency exchange centers throughout all cities and towns. 
Many restaurants and smaller shops do not accept credit cards, so always have some cash on you. Euros are widely accepted, but the rates are often terrible, so change money as early as possible, and no later than on your arrival.
Accommodations in For 7 Days in Croatia
In Croatia, you will find anything from cheap hostels and apartment rentals to luxury hotels. Most of the time, I stayed in small apartments (so I could cook for myself) that I found on booking.com. In spring, there was no issue booking a day in advance or on the same day.
I am a very spontaneous person though – if you are picky with your accommodation and want to have many options, booking a few weeks in advance is probably a better idea (especially in the busy months).
However, in Dubrovnik, accommodations were quickly booked even in spring. For the summer months, definitely book in advance.
I will offer some tips on where to stay at each destination.
If you prefer staying in one, two, or three places and take day trips, I suggest staying in/near Dubrovnik (though it is expensive) or Split and take trips from there.
One Week in Croatia: Solo Female Travel
I traveled to Croatia as a solo female traveler – well, kind of. My little doggy was with me. However, I can say that traveling alone in Croatia felt safe and great with or without him.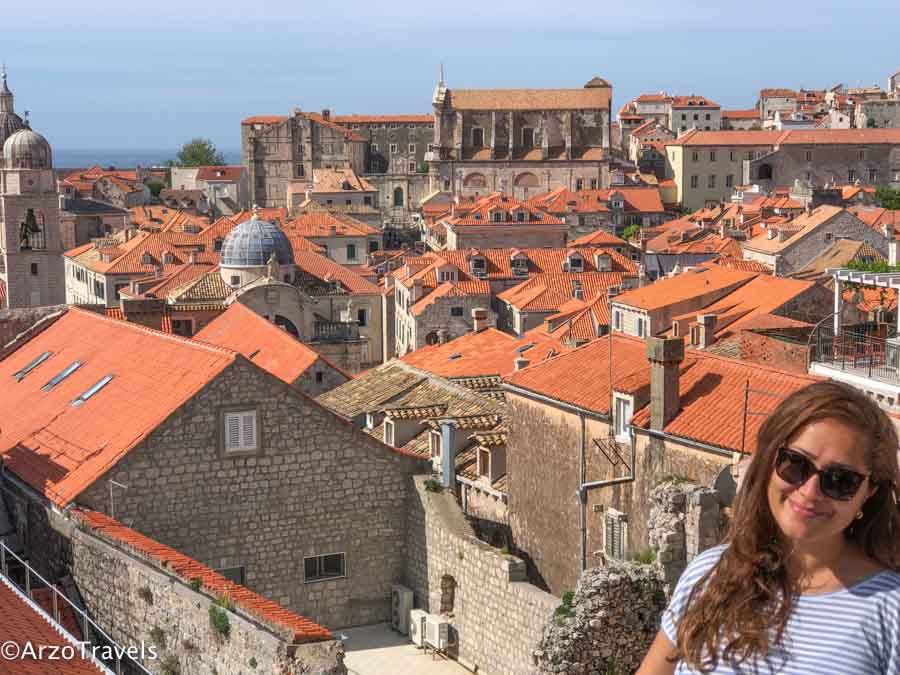 I never felt insecure or unsafe, and I totally recommend visiting Croatia either with friends, family, your partner, or alone.
People are friendly, though not as open and friendly as the Italians, for instance. I hate to say it, but there is a big discrepancy between men, older women, and younger women. The younger women are less friendly, but overall, it is a country with many friendly people. 
But people do speak English very well, so it is easy to communicate with others. And with so many people from all around the world, it is easy to make new friends if you actually prefer doing a few activities with others rather than alone.
It is a safe country in Europe and safer than many others worldwide or areas in the US.
Beware of pickpocketing in busy areas, keep valuables close to you, and do not leave valuables on display in your car – basically, a bit of common sense, but nothing to be overly wary of. 
Pin me For Later – 7-Day Croatia Itinerary
The post isn't finished yet – below, you will find out about the best places to add to your Croatia itinerary. But do not forget to PIN ME for later.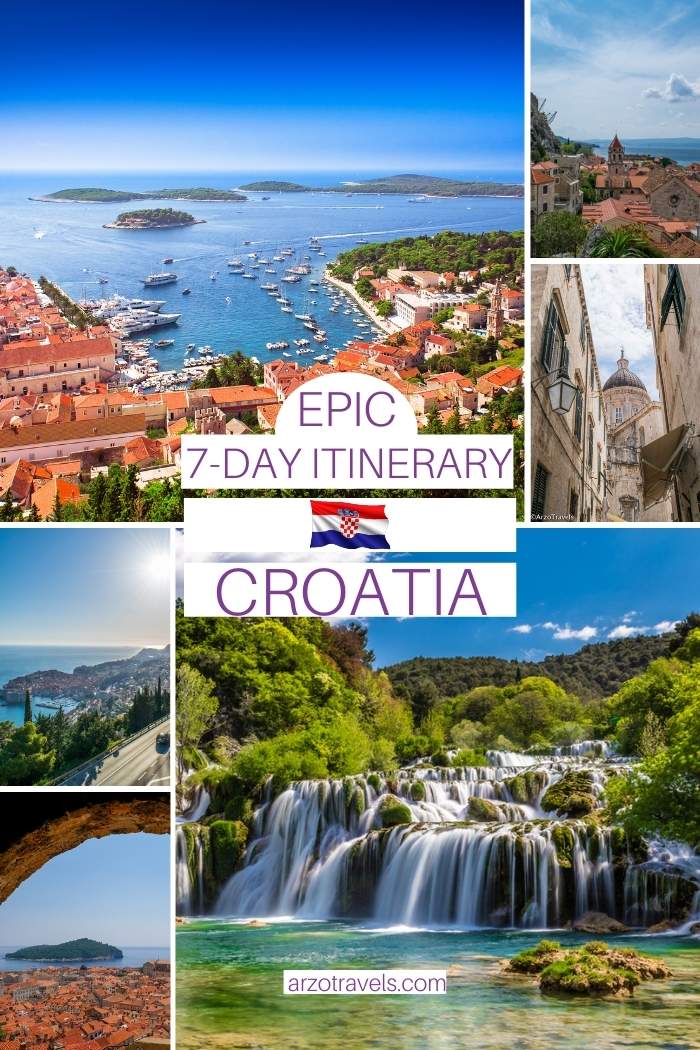 PLACES TO VISIT IN CROATIA IN ONE WEEK – ITINERARY
This Croatia itinerary starts either in Dubrovnik or Split. However, feel free to tweak the Croatia itinerary so that it fits you. I would not recommend visiting Croatia for less than one week, as you would miss out on too much of its beauty.
Split (1 – 1,5 Days)
Split should not be missed on any Croatia itinerary – it is one of the most famous and popular cities, and this is for a reason. Yes, it gets crowded (even in the shoulder seasons because of the cruise ship tourists), but it is still worth visiting.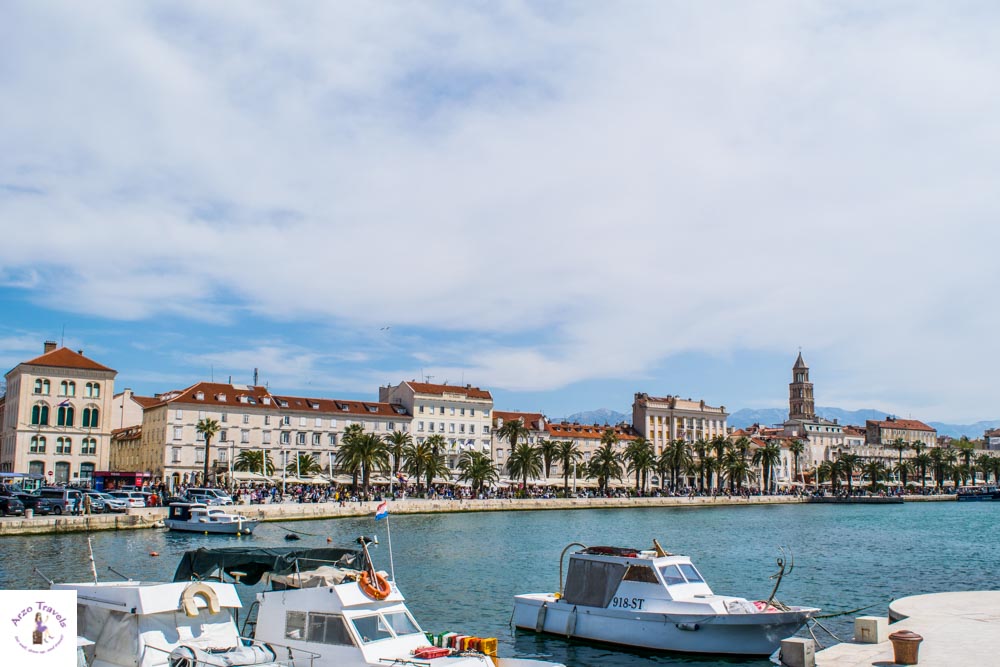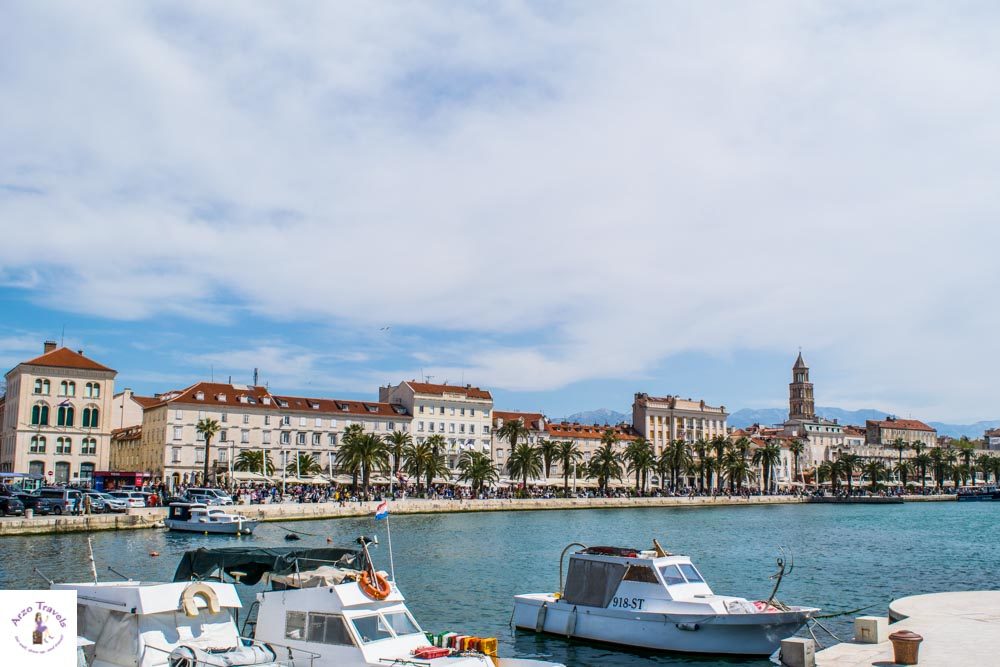 I personally think 1 or 1.5 days is wonderful and enough if you don't have endless time in Croatia). One of the reasons for Split´s popularity is because it was one of the filming locations for Game of Thrones and hence has become of the best places to visit in Croatia.
Things to do in Split:
So, definitely make sure to explore Diocletian's Palace (free) with the Cathedral and Bell Tower of Saint Domnius (small entrance fee), the Peristyle (Peristil), Vestibule, and the City Gates.
For great views (other than the bell tower that was closed during my visit), hike up Marjan Hill (about 20-30 minutes of uphill walking) and soak in the scenery. Stroll the promenade and have dinner at the River promenade.
If you are a GoT fan, you might want to enjoy Klis Fortress's views (entrance about 9€), which is located outside the old town. Even if you are not a GoT fan, the views are well worth a visit!
Where to Stay in Split:
Trogir and Šibenik (1 – 1,5 Day)
You can base yourself in Split or near Split and start with a fun day trip. From Spilt, plan in one day to visit these two pretty towns on your way.
Actually, pretty is a bit understated. Trogir and Šibenik are two extremely beautiful places in Croatia and should be on any Croatia itinerary. Trogir and Šibenik are small towns (Trogir is a bit bigger, though) and absolutely charming.
If you come from Split, then drive to Šibenik first, and on your way back, visit Trogir. I initially headed to Sibenik for the castle but skipped it and went back and forth through the few old but very picturesque streets of the town instead.And what I had not known before my visit: Šibenik is actually a filming location for Games of Thrones. So, this is a must-see for all GoT fans. But despite its tiny size, I am sure it can charm anyone!
Visit the two UNESCO World Heritage sites – Sibenik Cathedral and St. Nicholas Fortress – but also have coffee in one of the cute cafes or restaurants around and just let the flow take you.
You can probably have your lunch here and then head to the next place:
Pretty, pretty Trogir! It felt like little Split, but actually more charming with its very picturesque cafes and cute, colorful streets and lovely people.
Stroll the old streets, enjoy the views from the bell tower, visit the Trogir Cathedral (small entrance fee), see the clock tower at the market square, go to Kamerlengo Castle for the views (small entrance fee), and relax at the seaside promenade. This is also a good place to end the day.
So, whether you are traveling fast or not, you can stay here (or in Sibenik, depending on where you are coming from) or continue your journey to Split to start your day early there.
Where to Stay in Trogir:
Hotel Brown Beach House & Spa looks like a lovely hotel with a pool, lovely views, and proximity to the city center. You can check out rates here.
Hotel Concordia is located in the old town – I think, location-wise, it cannot get much better, and it seems to offer great value for money! Find out more about the hotel here.
Krka National Park (1 Day)
Another day trip from Split could be Krka National Park.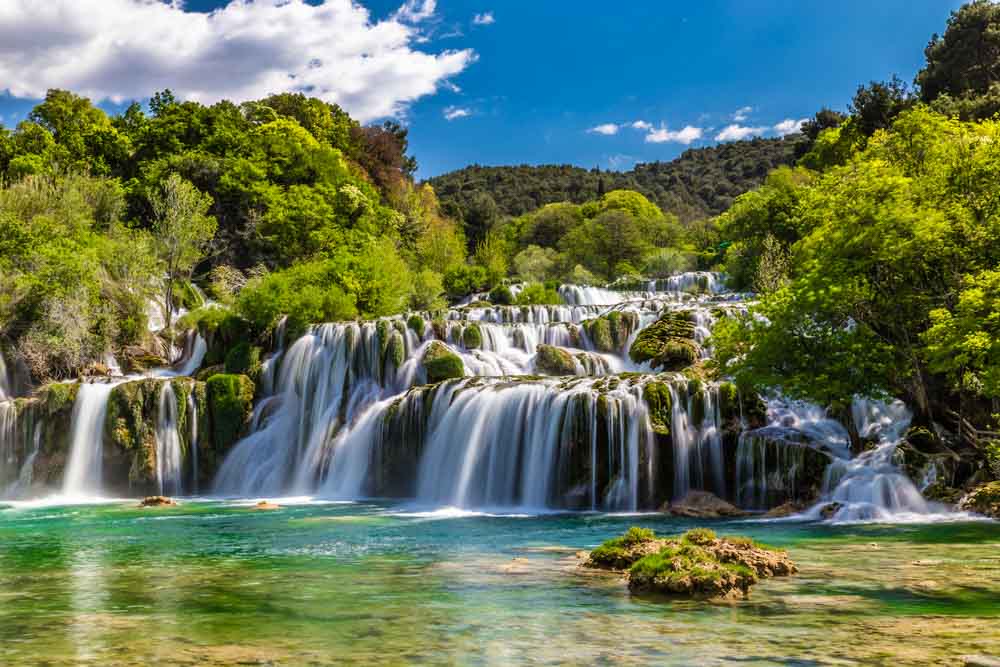 The weather was not always on my side, and I decided whether I wanted to spend the sunny days in a town/city or at Krka National Park. I ended up in towns/cities, as they had priority for me (and as I had already visited Plitvice National Park).
However, the Krka National Park is a must-visit place – according to many who visited. The national park is known for its beautiful waterfalls and nature trails – similar to the Plitvice Lakes.
After reading reviews, it seems the Krka National Park is a little less spectacular. If you stay in Croatia for only 7-10 days, one national park is probably all you can fit in, and this one is closer to the coast and thus easier to reach and less time-consuming.
At Krka, you can swim though, it is closer to cities like Split or Zadar, and it does not take that much time to get there. But the waterfalls are not as impressive as those at Plitvice Lakes.
Omis (1 Day)
Another one of Croatia's prettiest, unique places is the small town of Omis, located among stunning scenery.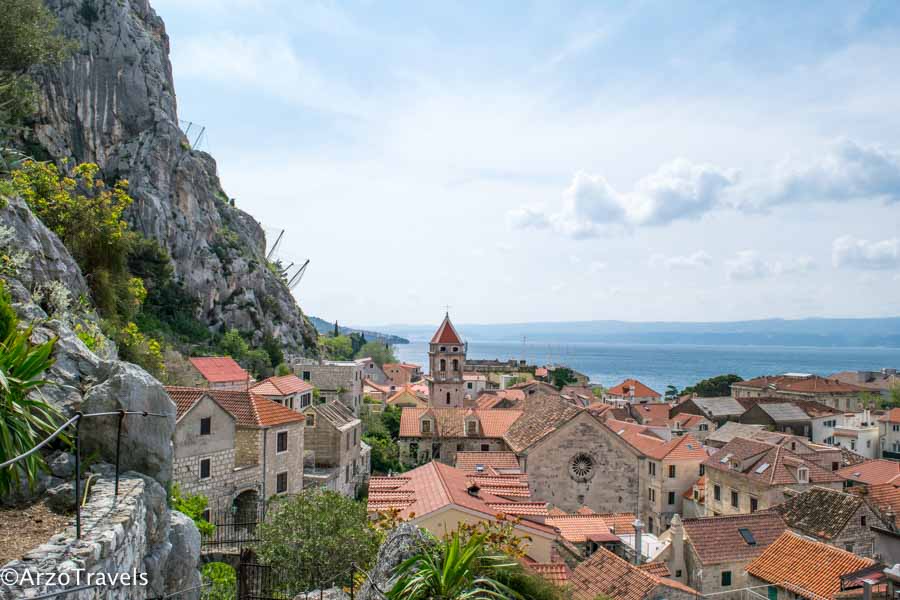 Known as a former pirate town in the 12-14th centuries, it is a small central Dalmatian town located between Split and Makarska, situated in the Cetina River's mouth and surrounded by massive gorges that remind me of fjords in certain parts.
There is no place like Omis – and it is the perfect place for adventure lovers. Ziplining, rock climbing, biking, rafting, and canyoning are big in Omis!
But there is more to it than adventurous activities – I took the time to go up to Castle Mirabella.  Okay, it is not very time-consuming, so I did not do anything spectacular (it took maybe 10 minutes of uphill walking), but it was so worth it.
The walk up is already great. If you don't want to pay a few euros for the entrance fee, you will have nice views before you even reach the ticket counter.
However, I recommend paying the fee (I think it was about 3€) and taking a few more steps for a better view of the old town. You will also have amazing views of the mountains and the river on the other side.
I wish that I had stayed longer, so I could have hiked the Starigrdad Fortica to enjoy the views from there, which takes a few hours to get to.
Well, there will hopefully be the next time, but here is my tip for you: Stay in Omis for at least one full day if you like to be a bit more active.
Italy or Croatia? Check out my comparison to find out which country is the perfect travel destination for you.
Dubrovnik (2 Days)
Dubrovnik is out of this world. While I still think Venice is probably the most unique city in the world, Dubrovnik is up there.
Yes, there are many old towns and well-preserved medieval towns in Europe and Croatia. However, Dubrovnik is seriously different.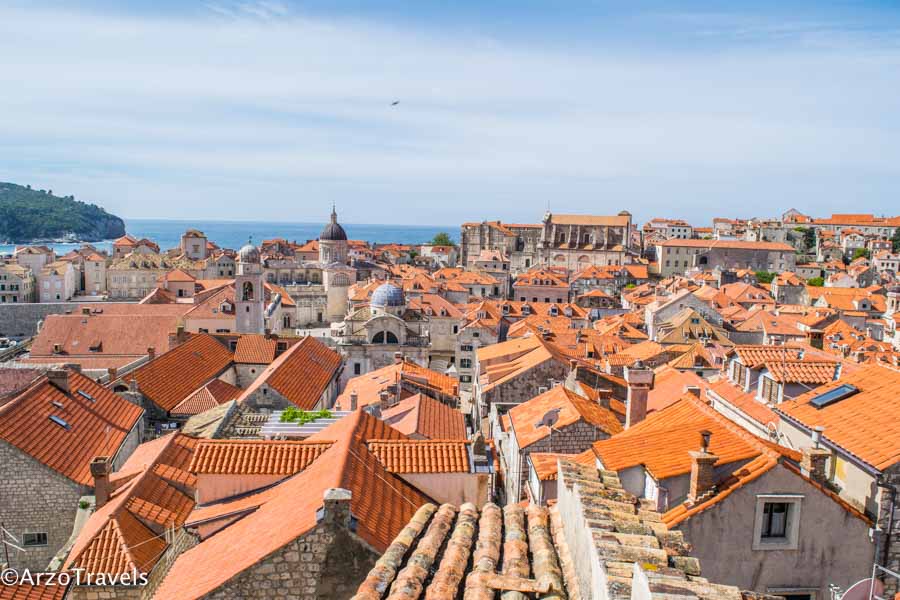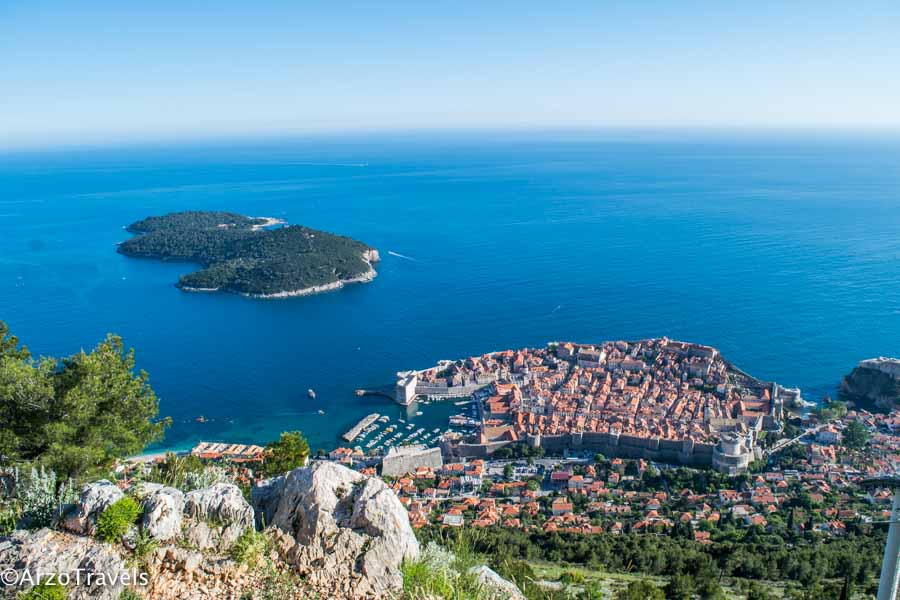 Expensive as heck and crazy busy, it is not everyone´s favorite – but I totally loved it!
You should plan at least 2 days in Dubrovnik (because driving there from Split will take a few hours), and then you will have about 1,5 days in Dubrovnik. 
The best activity – by far – was walking the city walls. You can stroll the complete walls, which are about 2 km long, and you have the best views from there. This activity costs around 30€ and is probably the most expensive "entry fee" in the area (Tip: you can buy a Dubrovnik Card and see if it helps you save money). But the views are so worth it.
Also, take the time to stroll the old town and streets, check out all the filming locations of GoT (including the King´s Landing), and go on a boat cruise to see the old town from another angle.
If you have time, head to Srd Mountain for amazing views – the cable car is closed now, but you can hike (it should take about one hour) or drive. I drove even though the reviews on TripAdvisor made it look like a horror trip. It is probably not for the inexperienced mountain driver, but it was not too bad. If you are still scared, you could get up there by taxi or Uber or just hike up there (there is also a cable car, but it does not always run).
I have a more detailed Dubrovnik itinerary that you can read here.
Where to Stay in Dubrovnik
MORE PLACES TO SEE IN CROATIA IN 7 – 14 DAYS
So, if you have more than 7 days in Croatia and don't mind driving around, then here are a few places to visit.
Zagreb (1-2 Days)
You can start your Croatia trip in the country's capital if you stay longer than one week.
Zagreb is often overlooked for the more popular city of Dubrovnik. And while Zagreb does not lie on the coast (unlike many other cities, towns, and villages on this itinerary), it is well worth spending a day or two.
Zagreb is totally different from other cities in the country – it feels more like Vienna with its Austrian-Hungarian architecture that is different from most other Croatian cities' architectural style.
The only problem I see with Zagreb is the fact that it is not centrally located. It is quite far to the north (near the Slovenian border), making it difficult to get to. But other than that, there is no reason not to go.
In one day, you can visit the Cathedral, shop for food at Dollar Market, visit the Museum of Broken Relationships, admire the unique St.Mark´s Church, have lunch at Tkalciceva Street, and if you have any time left, visit the stunning cemetery of Mirogoj (which is located a bit outside the city center).
If you are in Croatia for 14 days, then plan in at least 1.5 days in Zagreb and then consider the travel time to the next destination (which probably will be the Plitvice Lakes, Zadar, or Rovinj). With only 1 week, I would probably skip it – just because it is quite far from other main tourist attractions. Check out my 2-day Zagreb itinerary.
Where to stay in Zagreb: I stayed at an Airbnb but here is one of the best-rated hotels in Zagreb that you can check out.
Plitvice Lakes (1 Day)
One of the most famous and popular tourist destinations in Croatia is the Plitvice Lakes. And if you have already seen images, you know why. This place is stunning and unique.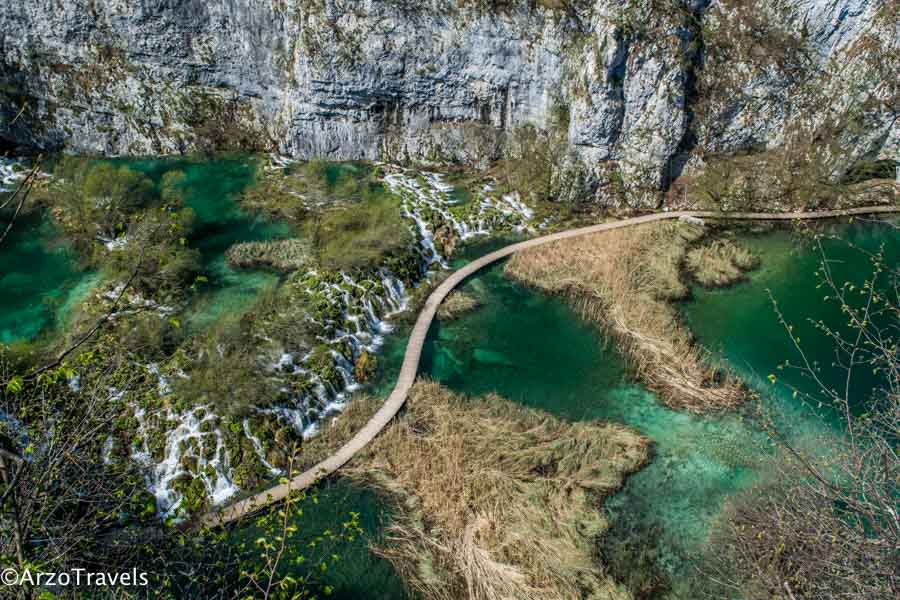 The Plitvice Lakes National Park is the oldest and largest national park in Croatia. Famous for its many waterfalls and stunning watercolors, it offers some lovely hikes and stunning views – about 80% of the park is covered with forest.
It is also one of the most biodiverse regions in the country (including many threatened species).
It has UNESCO World Heritage Status since 1979, and with 16 bigger lakes (and many smaller ones), the facts alone impress. The highest waterfall in all of Croatia is the Veliki Slap, at 78 meters.
You can choose from one of the eight circular routes (if all are open) to walk the lakes – four from Entrance 1 and four from Entrance 2 (depending on the hiking trails you pick, you can spend about 2-8 hours in the park.
I read some reviews and posts that recommend staying two days, but I was actually good to leave after half a day. But like Zagreb, the location is a bit unfortunate. It is located inland and far away from other popular travel destinations.
Entrance fees (depending on the time of your visit): Winter months are around 8€; April, May, September, and October are around 14€; summer months are around 34€
Parking: Many parking spots are available at Entrances 1 and 2, about 1€ an hour.
Where to Stay at Plitvice Lakes National Park: I stayed at a clean, tidy, and nice (though simple) pension a few kilometers near the lakes – the owners were really nice, too. So definitely a place I recommend staying at. Check out the rates for the Pansion House Prijeboj.
Rovinj (1 Day)
A bit of Italy in Croatia – Rovinj is one of Croatia's most northern cities and is close to the Italian border. If you travel around Croatia for a bit, you will notice it is different from many other Croatian cities. Actually, it looks a bit like an Italian coastal town.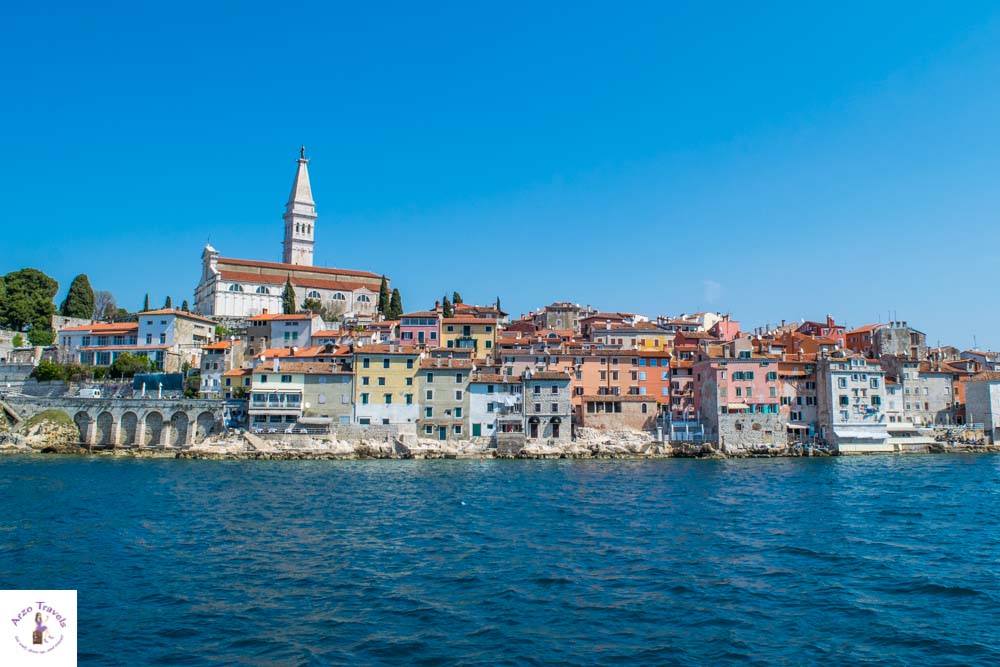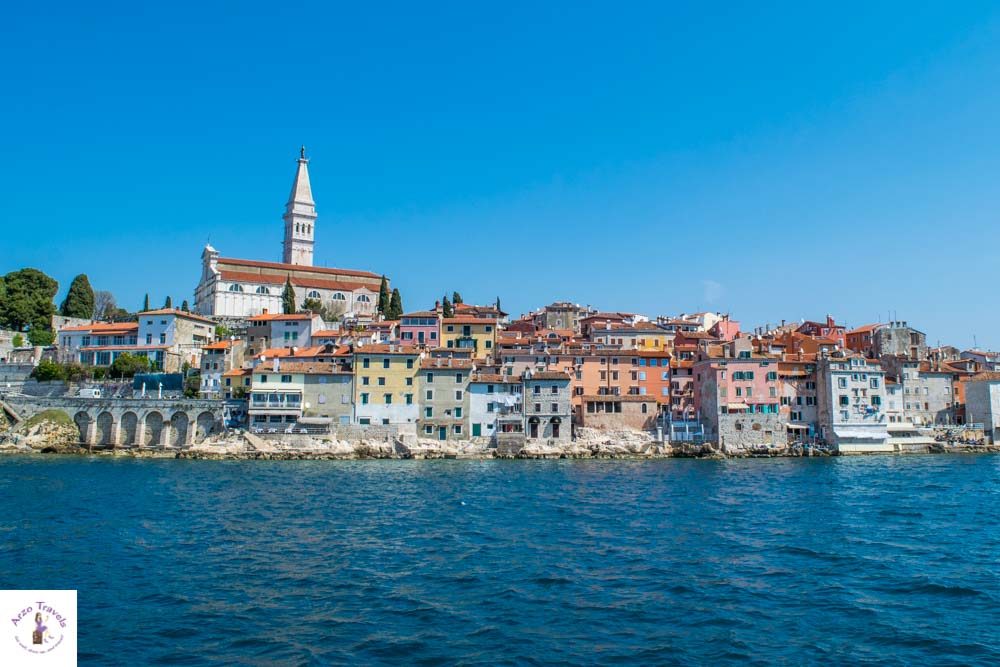 Venetian architecture and cute cobblestone streets make it one the most beautiful places in Croatia.
Located in the northwest of Croatia, on the Istrian coast below the Lim Fjord, it is a perfect place to visit towards the end or beginning of your Croatia trip.
Rovinj has some charming, narrow streets, so make sure to take your time strolling the old town, exploring the artistic street of Ulica, climbing the bell tower, enjoying some time at the promenade, and going on a boat cruise. You can also go to one of the beaches and swim. If you are not much of a beach person, you can see all of the top sights within one day in Rovinj.
Where to Stay in Rovinj
I recommend staying in or near the old town of Rovinj. I picked a little B&B near the old town. The prices were good. They allowed dogs (which isn't always the case here in Croatia) and offered free parking. Within a few minutes, I was in the old town. However, there are not many rooms, so book early if you want to stay here. Find out more about the little B&B I stayed at – Rooms Barbieri.
For a more luxurious stay – just a 10-minute walk from the old town  – check out Grand Park Hotel Rovinj rates.
Check out my 1-day itinerary for Rovinj for more travel tips.
Zadar (1 Day)
If you stay 10-14 days in Croatia, you might want to add Zadar to your itinerary. Zadar is another coastal city – actually, it is the oldest continuously inhabited city in Croatia (founded in the 4th century).
Unlike many of the other famous places in Croatia, Zadar did not feel busy and crowded. It was actually way more laid-back. Probably a bit too laid-back for me. Two days was a bit too much for me, but a one-day stop in Zadar is definitely a great idea.
In one day, you can experience the highlights of Zadar easily. And here are some tips for what to do in Zadar. The ancient square, the Forum, is a must and the church of St. Donatus and strolling Kalelarga Street.
I loved the views from the bell tower, but one of the most unique places in Croatia is probably the promenade, where you can listen to the Sea Organ that plays music from the ocean waves. It sounds weird and is weird, but a nice weird. You can end your evening watching the sunset at the promenade and greeting the moon.
Where to Stay in Zadar: 
I stayed at Apartments Aria – I love to cook my own food and had my dog with me, and I needed free parking, so it was great for me (plus super clean and a nice but basic little apartment). It was a bit too far from the main tourist attractions (about 14-minutes), but this was a good place other than this. Here is one of the best-rated hotels in Zagreb
Punta Rata & Baska Voda (1-2 Days)
It is time for the beach. I know, the reviews of the beaches in Croatia are mixed.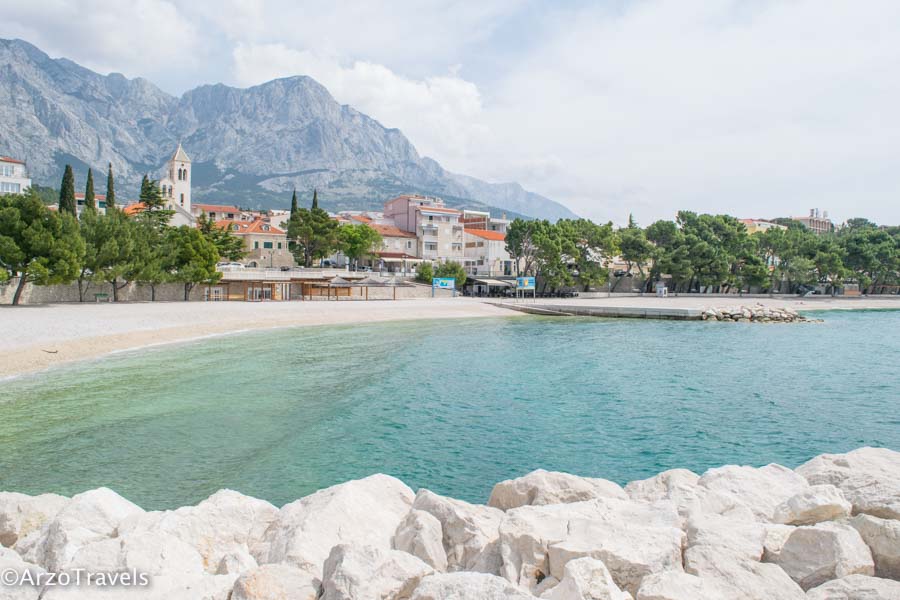 The watercolor is stunning, towns near the beaches are beautiful, but the beaches are mostly pebble beaches. But if you visit in the summer, you surely want to take a day off and relax after all those busy days (or in preparation for all the busy days to come).
If you road trip Croatia and drive along the D8, then the Makarska Riviera will be your friend! This stunning coastline is perfect for spending a few days (or just a few hours) relaxing, taking a swim, and escaping the crazy crowds of Split or Dubrovnik.
Punta Rata was rated one of the prettiest beaches, and so I headed there. Not to swim or to chill at the beach (it was quite windy actually and too cold for swimming), but to see if it is really nice and if I should recommend it to you!
Yes, this beach looks quite lovely. But in this area, there are several beautiful places – so whether you choose this one or go to Baska Voda with its busier promenade is up to you.
If you want to take a break and chill, this is the place and time.
Hvar (1-2 Days)
I had to, very unhappily, skip Hvar. Hvar is known as a very sunny island and is one of the most popular islands in Croatia. However, I had a few days in mind when I wanted to visit, and there were rain and storms on all of those days. 
I decided that I do not want to spend the money on a visit to Hvar when the weather is bad. So, eventually, I have to go back to Croatia to visit Hvar.
Hvar is Croatia's premier party town! The town is also known for its beautiful old town, perfect for getting lost in and whether you get there for a day only for stay overnight (it takes a few hours to get to Hvar from Split) – I think, it would make a good stop on your Croatia 10-day itinerary.
Where to stay in Hvar: While I did not stay in Hvar myself, this hotel seems like a great place to stay when visiting Hvar (keep in mind that Hvar is quite expensive).
DAY TRIPS OUTSIDE OF CROATIA
I recommend doing a few day trips (or at least one day trip to another country). With one week in Croatia, you might not be able to see them – but tweak the itinerary and prioritize the places most appealing to you.
Kotor
Beautiful Montenegro! Montenegro is one of the most beautiful countries in the world and one day is surely not enough (despite its small size). However, many people drive to Kotor from Dubrovnik for a day.
This is definitely doable (the drive is scenic, but plan in some time for border control). One day in Kotor is not a lot of time, but you can get a good glimpse of this pretty country on that day!
Parking in Kotor's center might be a bit difficult in the busy season, so I recommend snapping up a parking slot outside the center (driving in the old town is not allowed at all) and walking to the old town from there.
Most people walk to the fortress and head to the Castle of San Giovanni, and climb the many stairs. Like seriously, many stairs (I read different numbers, but it is definitely more than 1,200 stairs). The views are amazing. You can also climb the Ladder of Kotor (which is free) and then climb through a window and get onto the fortress – nothing illegal at all, and not only good for saving money, but for avoiding stairs as this path takes longer, but has fewer stairs (I did this because of my dog). Check out my Kotor travel tips.
Mostar / Blagaj / Kravice Falls and Pocitelj
Even though one week in Croatia might not be enough to visit places outside of the country, Mostar is one of the most popular day trips from Dubrovnik, and the reason is simple.
It is extremely pretty, and many take the opportunity to visit another country (Bosnia-Herzegovina). 
The region of Dubrovnik is separated from the rest of Croatia by Bosnia-Herzegovina, which owns about 20 km of coastline. If people drive from Split to Dubrovnik, they have to pass Bosnia-Herzegovina (or take a detour and cross Serbia, etc. – which would be insane).
Croatia plans to build a bridge that connects Dubrovnik to the rest of the country, but at the moment, crossing Bosnia is the only and easiest way.
So, Mostar is gorgeous, but if you have some time, I actually suggest visiting Pocitelj, Kravice Falls, and Blajag Monastery; book a hotel in Mostar for the night and explore Mostar on day 2 before heading back to Croatia.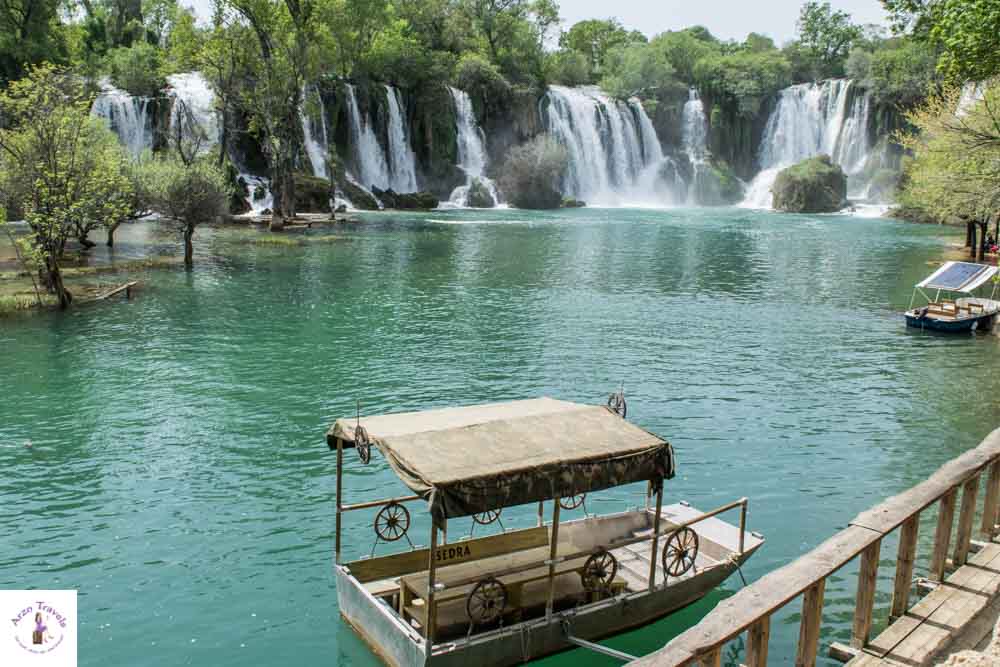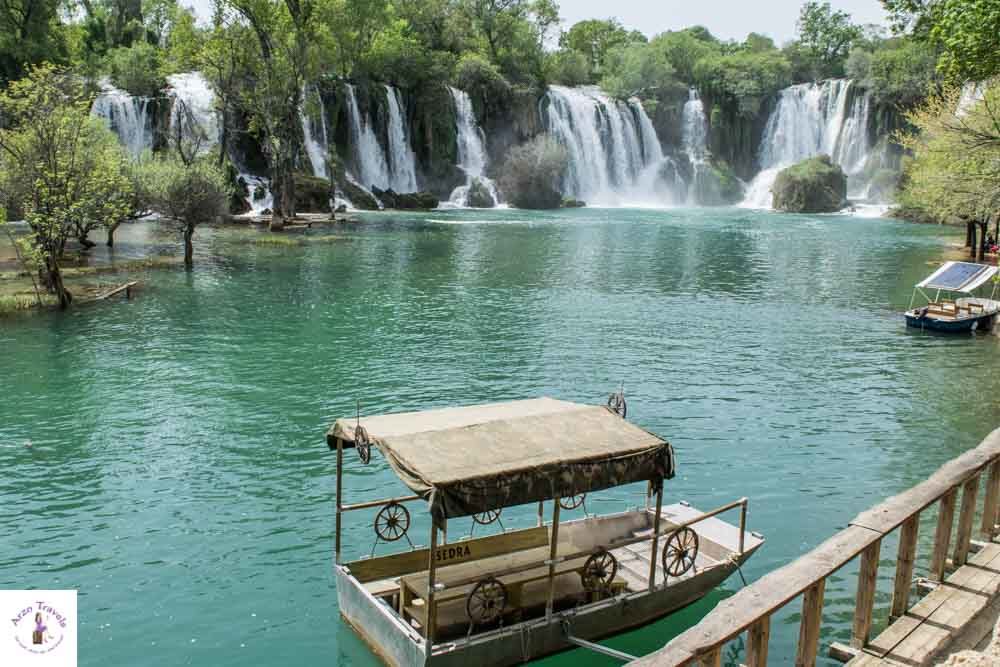 Personally, I would stay even longer in beautiful Montenegro/Bosnia. Still, since this is a Croatia itinerary, I stuck with two days in Bosnia and one day in Montenegro for now.
P.S. Make sure to bring your ID/passport along as you will most definitely be checked at the borders and if you drive, make sure you have the "green insurance paper" with you.
You might have to spend some time at the border control – normally, it takes me about 10-15 minutes to get through, but once it took me about an hour and it was during the shoulder season, so my tip is to be at the border control very early to avoid the lines.  Read my Mostar travel guide for more information.
FINAL THOUGHTS ON VISITING CROATIA FOR ONE WEEK
So, whether you stay one week in Croatia (or longer), your trip will surely be anything but boring! The country is rich in beautiful places and generally nice locals, so I hope you enjoy the time as much as I did, and the post has helped you plan your trip and find out about the best places to visit.
More: Best places to stay in Croatia