10 Things to Do in Vietnam as a Solo Traveler
Heading to Vietnam by yourself? Then find out about the best things to do in Vietnam as a solo traveler in this post.
With so many awesome destinations in South-East Asia, it might be tough to decide where to travel to – especially as a solo (female) traveler it might be worth to think twice where to head to and what to do.
Vietnam might be the answer and here are ten great suggestions on what to do and see in Vietnam – also perfect for female solo travelers.
About the Author
Melissa has traveled to Vietnam both as a young solo female backpacker and as well as more recently with her family. However, in this post, she will cover off her favorite 10 things to do in Vietnam as a solo traveler.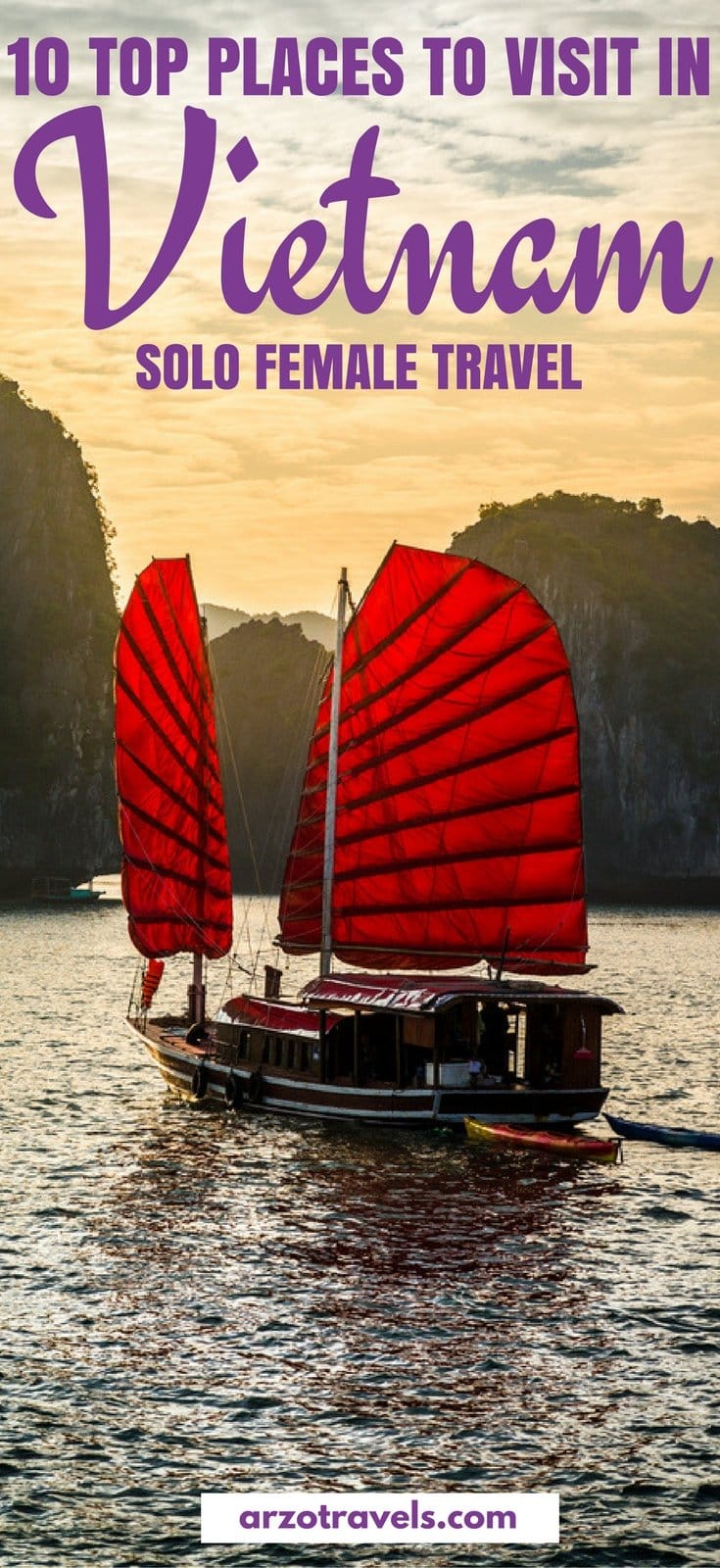 Best Things to do in Vietnam
Vietnam is a great destination for a South East Asian adventure. From its chaotic cities, stunning countryside and paradise-like beaches, it is the perfect mix of culture, history, and relaxation – not to mention the delicious Vietnamese food and it is a relatively cheap country to visit.
Usually, you will fly into either Hanoi in the North or Ho Chi Minh City in the South and travel in one direction either down or up. You can easily get between all the major cities either by bus, train or plane.
P.S. You are actually considering not to visit for short but for longer? If you are thinking about moving to this beautiful country, you can find out more about more information (e.g. how to become an English teacher in Vietnam) if you click here and if you are looking for general travel tips on things to know for Vietnam click here.
# 1 Spend the Night on a Vietnamese Junk Boat in Halong Bay
Halong Bay is one of the most scenic regions in Vietnam and is a must do for anyone visiting the country. The bay is filled with thousands of giant limestone cliffs which jut from the water and are covered with lush rainforests.
Halong Bay is best visited by a 1 or 2-night cruise. There is a stack of different tours to book, from party boats to more relaxing luxurious boats and everything in between.
Most cruises follow a similar itinerary and include activities such as swimming, kayaking, squid fishing, tai chi, hiking, and cave exploring.
# 2 Take a Cyclo Ride Around the Old Quarter in Hanoi
I just loved exploring the streets in the Old Quarter. The area is full of life, with the fabulously bright colors of the French-influenced buildings, as well as the colorful fruits and vegetables that fill the little stalls that spill onto the pavements. So whether you stay for longer, a few days or two weeks in Vietnam– this is a place to add to your Vietnam itinerary.
A great way to explore the area, other than by foot is by cyclo. You can either join a pre-organized tour or just flag down one of the many cyclos in the city and have your own private tour. Price varies depending on how good your negotiating skills are but expect to pay around $5 to $10 USD for 1 hour. Here are more beautiful places to visit in Vietnam.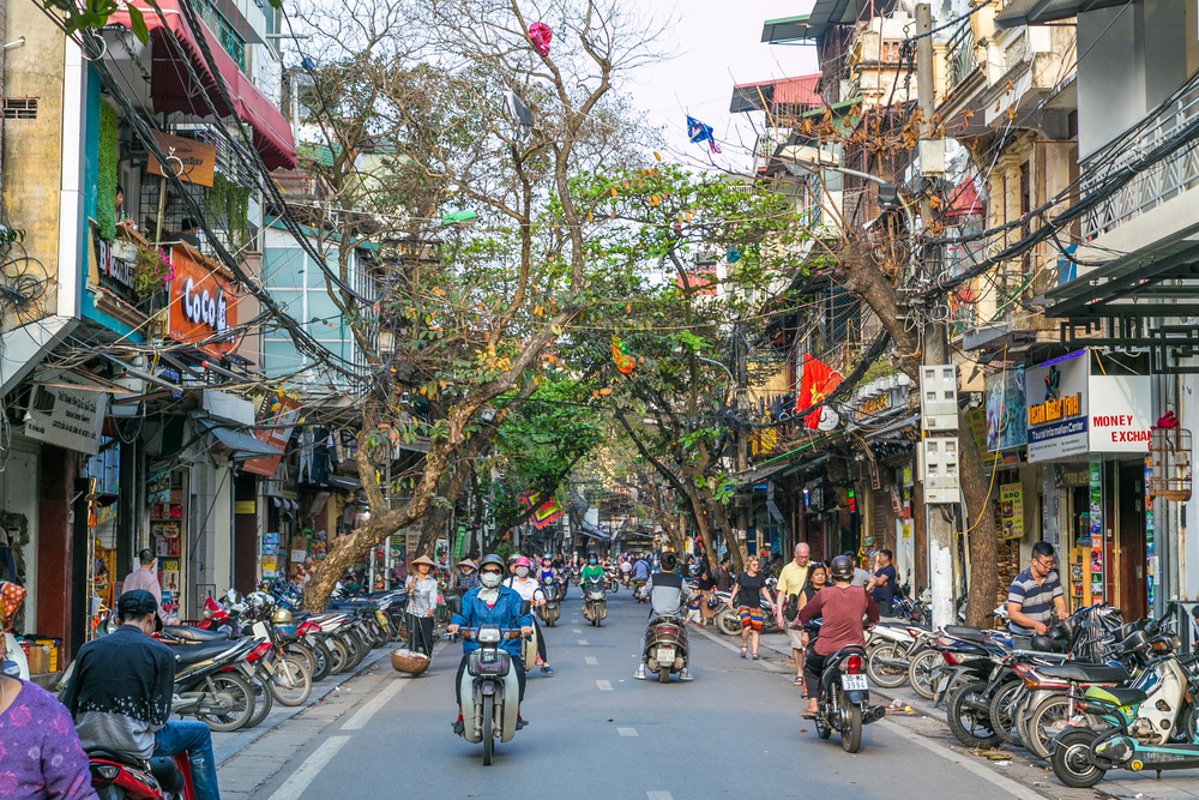 #3 Spend a Few Days Relaxing on the Beaches on Phu Quoc Island
The beaches on Phu Quoc Island are some of the best in the world. With the soft fine white sand and beaches fringed by coconut trees, they are right out of a postcard. Some beaches have warm, crystal clear and calm waters, whilst others have soft waves.
Some are so isolated that there is no one else there but you!
For solo travelers, I recommend checking out Long Beach and Ong Lang Beach where most of the islands' accommodation is. Both beaches are very similar in that the ocean is calm here, resembling a warm swimming pool which is my kind of beach.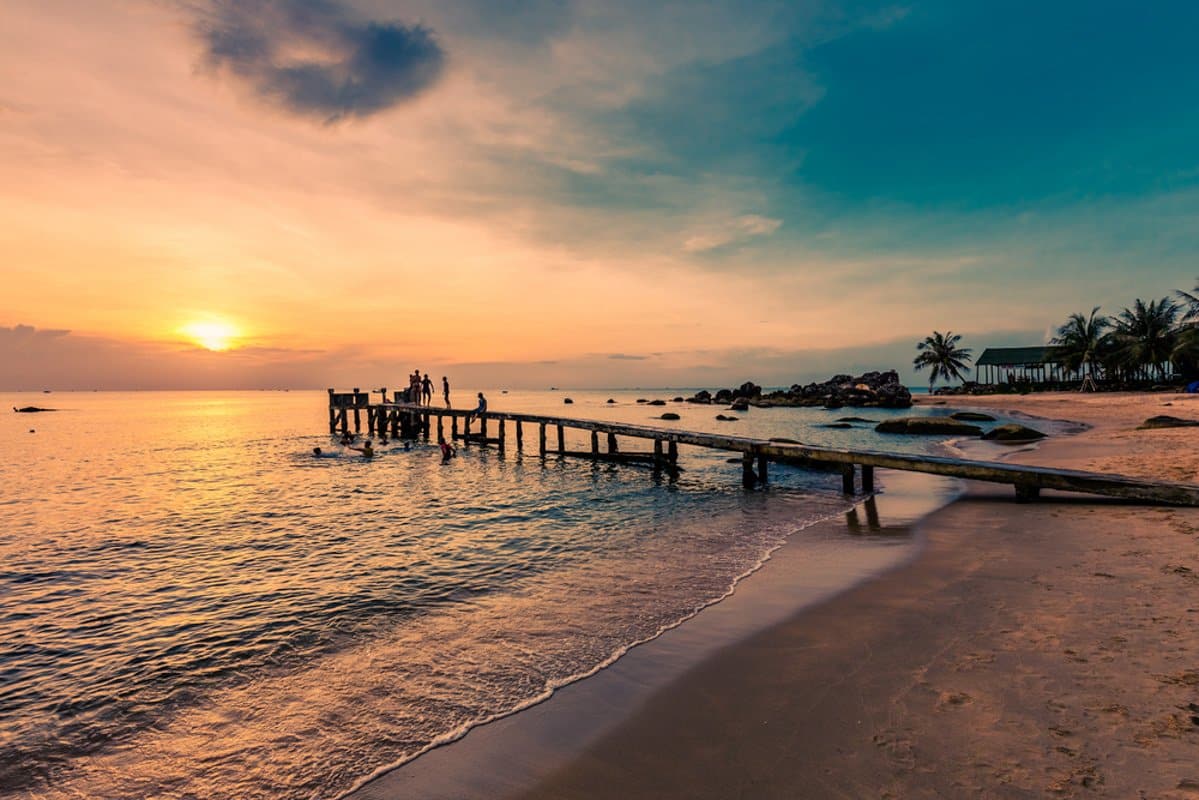 # 4 Explore the Hoa Lo Prison (Hanoi Hilton)
For the history buffs, a visit to the Hoa Lo Prison is a must. Nicknamed the Hanoi Hilton by American POWs, the museum has life-size dummies to demonstrate what life was like in the prison. There are many displays with texts going into great detail about the torturous and barbaric treatment endured.
Most of the original prison has gone and the land it was once on contains a modern office building. Only a small part of the original jail remains and now houses a museum so visitors can walk through some of the old jail cells.
The prison is located a short taxi ride from the Old Quarter and entrance is about $2 per adult.
# 5 Take a Boat Ride Down the Stunning Water Ways of Trang An
Trang An is known as the inland Halong Bay with its spectacular limestone cliffs coming out of the land surrounded by gorgeous waterways. To explore the area, take the boat ride down the various waterways where you will be blown away by the spectacular scenery.
You will pass beautiful limestone cliffs and even through them via a fantastic system of caves.
The journey takes you past several temples isolated on tiny little islands which you have the option of getting off the boat to explore closer.
The entire trip takes roughly around 3 hours, depending on whether you visit all the temples or not. Tickets cost 150,000 VD (less than $10).
You can choose to visit Trang An either via a day trip from Hanoi or by staying overnight in the town of Ninh Binh.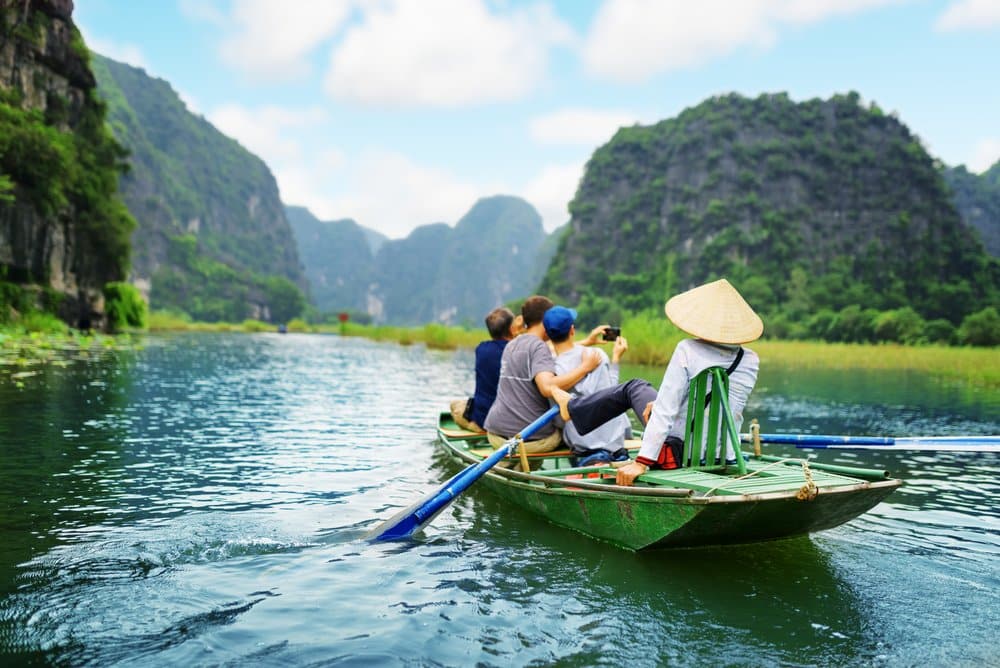 # 6 Explore the old Buildings in the Old Town of Hoi An
Hoi An is famous for its beautiful old buildings in its well preserved ancient town. With its rows of bright yellow stained buildings and colorful lanterns strung across the narrow alleyways, Hoi An is certainly a city full of color.
There is no shortage of old buildings to visit in Hoi An. Your ticket to the ancient city gets you entrance into 5 out of the 22 various old buildings such as assembly halls, old houses, communal houses, museums, pagodas, temples as well as a river cruise and water puppet show.
The most popular building to visit is the Japanese bridge which is now a famous symbol for the ancient city of Hoi An.
# 7 Take a Day Trip to My Son
A great day trip from Hoi An is to UNESCO listed temples of My Son.
The My Son complex is in the lush Vietnam jungle and is a site with cultural and religious significance to the Vietnamese people.
Originally there were 68 individual structures, whereas now there are only 20 left standing. Whilst some structures are almost toppling over, others are in almost perfect original condition. The level of detail in some of these building is mind-blowing!
Unfortunately, My Son was also a battle ground during the Vietnam War, so there are numerous massive holes in the ground from bombings. It is quite devastating to think that countries like Australia (where I am from) are responsible for some of these magnificent structures being destroyed.
You can combine your trip to My Son with a river cruise back to Hoi An in the afternoon.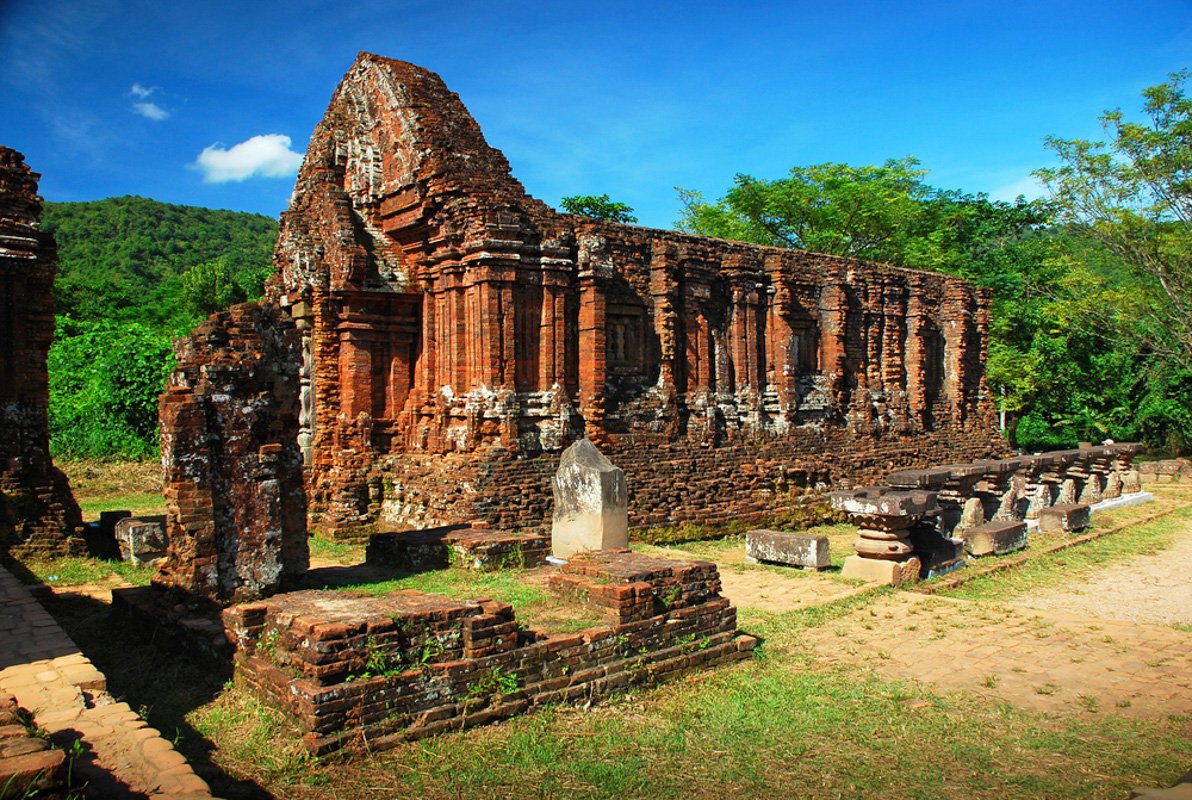 # 8 Take a Day Trip to the Cui Chi Tunnels
The Cui Chi Tunnels is a fascinating place to visit. This system of tunnels was built by the Viet Cong in the 1940s as protection from French air raids during the Indochina conflict.
The tunnels were later used during the Vietnam War where the tunnels were used as living quarters, hospitals, booby traps and storage facilities for the Viet Cong.
The tunnels extend for more than 250 kilometers and visitors can explore two sections. It is a tight fit to gain access to the tunnels and in some parts, you are required to crawl on all fours.
Whilst it is possible to reach the Cui Chi Tunnels by public bus, it is best to join a day trip as the tunnels are some distance from Ho Chi Minh City.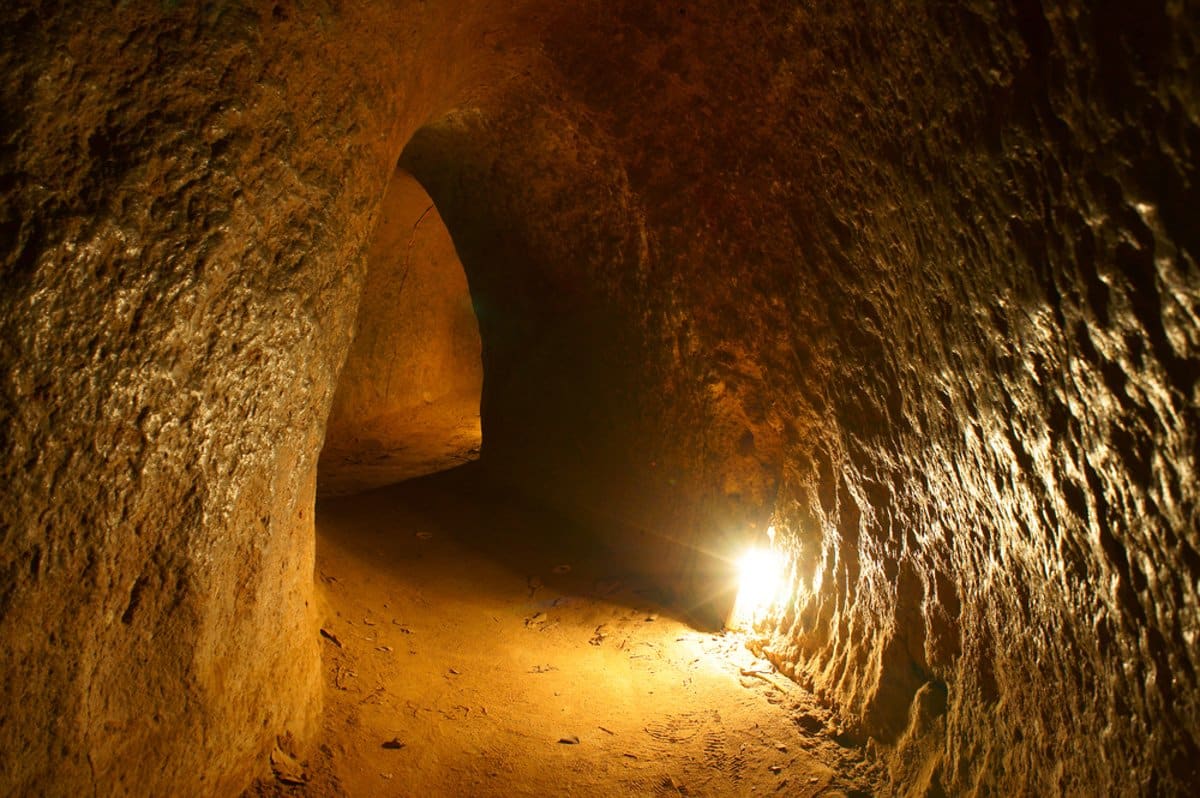 # 9 Spend a Few Days at a Homestay in the Mekong Delta
Explore the exotic Mekong Delta by basing yourself at one of the homestays in a local village. For solo travelers, I highly recommend a few days at the Nguyen Shack just outside of Can Tho. The guys at the Nguyen Shack will take you on various tours around the Mekong Delta.
If you stay here I recommend the following:
Get up before sunrise and explore the Cai Rang floating markets;
Explore the Cai Rang land markets;
Ride bicycles around the local Mekong Delta villages;
Take a log boat ride down the water ways of the Mekong Delta and catch a glimpse of life on the water; and
Take a food tour in Can Tho and try local delicacies like rat, crocodile, snake, and frog.
# 10 Explore the Local Markets in Ho Chi Minh City
Visiting the markets, particularly the local markets as opposed to the tourist markets is a great way to get a glimpse into the lives of the local people. For photographers, the local markets also provide plenty of fantastic photo opportunities with all the bright and interesting products on display.
Ben Thanh Markets are the most famous tourist markets in Ho Chi Minh City. These markets are packed, super-hot and buzzing with activity. There are over 3000 stalls selling numerous souvenirs as well as fresh produce, drinks, and meals.
I personally prefer checking out the local markets away from the tourist areas. Here you won't find any tourist souvenirs– just fresh produce and products for the local people. It's fantastic walking through and seeing all the displays of food such as fresh herbs, dried spices, colorful fruit and vegetable and fresh meat as well as the local people going about their daily life.
Another great local market is the Binh Tay Markets. These markets are in district 6 which is also the Ho Chi Minh City's largest China town. The markets are packed with both vendors and customers and items on display include both fresh produce as well as trinket type goods.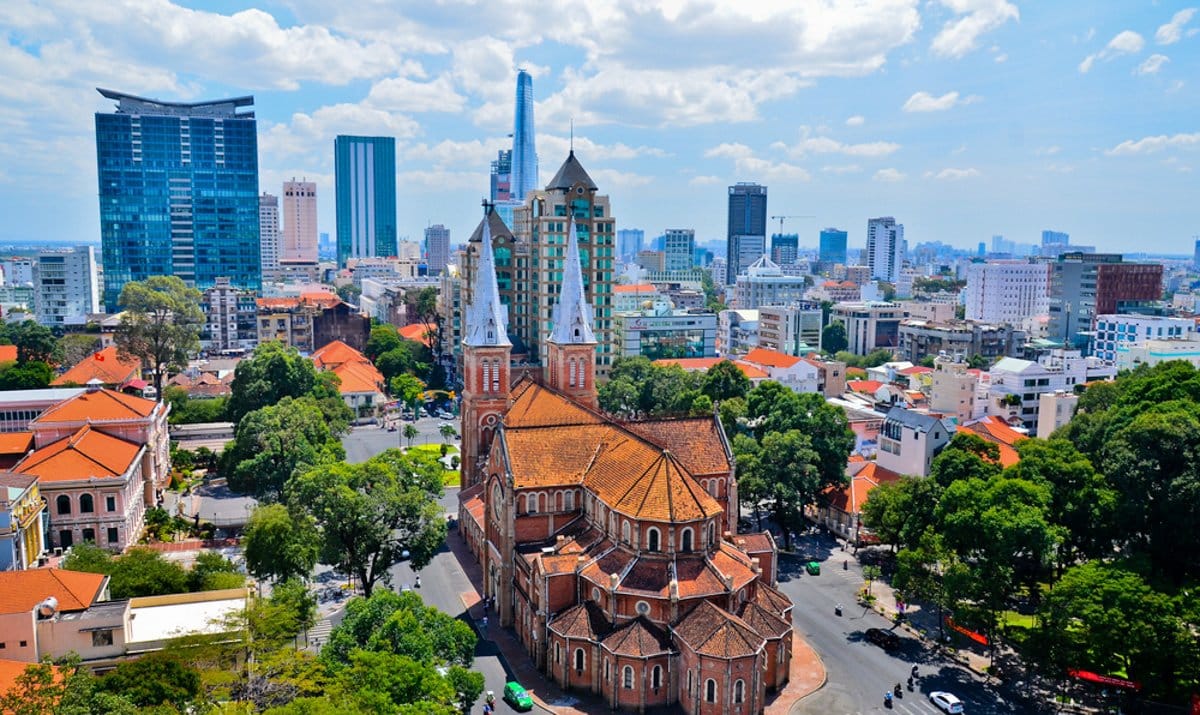 –
ABOUT THE AUTHOR
Melissa is the creator and writer for the Thrifty Family Travels website; which details her family's travels both locally and across the globe. Together they travel the world, experience new cultures, indulge in local delicacies, and explore every corner of our beautiful earth, navigating their way around the world. Thrifty Family Travels hope to inspire other families to travel and to show them all the fantastic places the world has to explore.
FOLLOW HER STORIES ON