WHAT TO DO IN THAILAND
This post was written by Denise from Chronicles in Wonderland
Thailand – the land of smiles, temples, night markets, and wonderful adventures. If you're planning a trip on your own, Thailand is the place to be! It is the perfect travel destination for solo travelers, and here are the best things to do in Thailand as a solo female traveler!
What makes Thailand a great destination for solo travelers? It is not only popular for short trips but also popular for nomads who love the low living costs – but of course, there are many more reasons why to visit Thailand.
People are not only friendly but also extremely helpful and welcoming. You will meet a lot of travelers on your way, with whom you are about to share amazing adventures!
Don't want to miss out on some epic experiences?
Disclaimer: This post might contain affiliate links which means I might earn a small commission when you buy a product/service via my link (at no extra cost to you). More about it here.
Here you go! The Top 10 picture-worthy life experiences
Explore the Capital – Visit Bangkok
The one and only place to start out with! Bangkok is loud, dirty, messy, and just as colorful and happy as you would imagine it to be. The streets reflect the beauty and the misery of Thailand's most important city – there is a lot to do in Bangkok.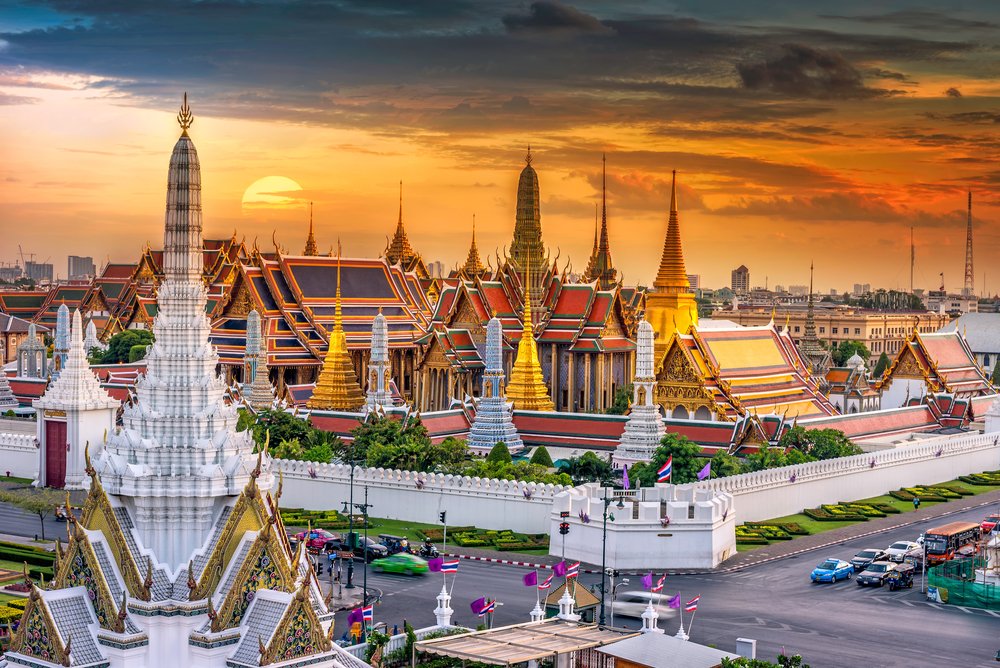 If you want to get some souvenirs or fake passports KAO SAN ROAD is the place to be. The passports look pretty decent and with your newly found international driving license you can get anywhere you want now!
Or you laugh at my suggestion and head on to buy souvenirs. Both are worth it – I can guarantee! Just make sure not to stock up your bags with too many things to shop in Bangkok, as you can always come back for a day right before you head home.
Kao San Road is also packed with other travelers, just go get in a bar or the nearest hostel and you will meet a lot of new friends.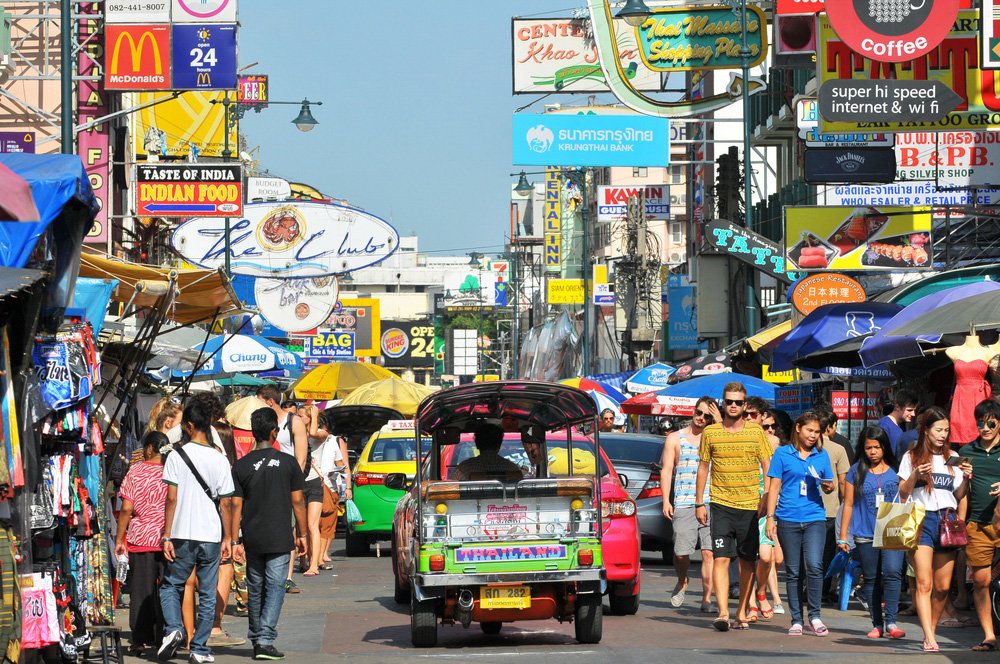 VISIT SOME HILL TRIBE VILLAGES
The north of Thailand is less touristic and the landscape is breathtaking. If you're around, make sure to visit LONG NECK VILLAGE, a small hill-tribe that consists of Burmese refugees that have settled in Thailand.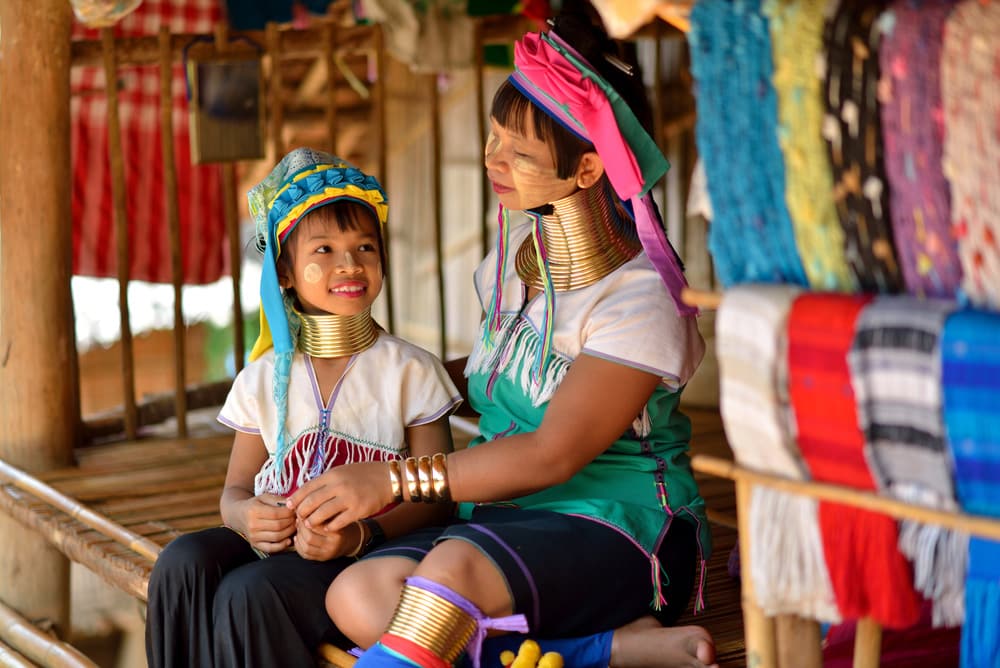 On rainy days the village is a bit hard to reach as you have to cross a river on a scooter. But who said this is going to be a boring bus ride?
I definitely did not! So get on your grip on the scooter and off you go towards Long Neck Wonderland.
You might have seen them in pictures as they are wearing large golden rings around their necks, which makes them appear to be long. They are actually not – it is only their shoulders being pushed down.
Do you want to look the same? Try some on, too – don't miss out on that one!
If you come early in the morning you can have a chat with them and walk around the village without being amongst too many tourists.
I would also recommend to sit down and chat with them. Let them talk about their life experiences and what has brought them here. If you get along with them you might as well be a little bit more critical and ask them why they are still here. Watch out for the answers, they might surprise you …
HANG OUT IN PAI
Pai! Oh yeah, how much I loved this small hippy lane! Everything is made out of wood and colored beautifully. You are about to enter Hipster Wonderland with good coffee and smiling men in beards. Nice looking smiling men in beards.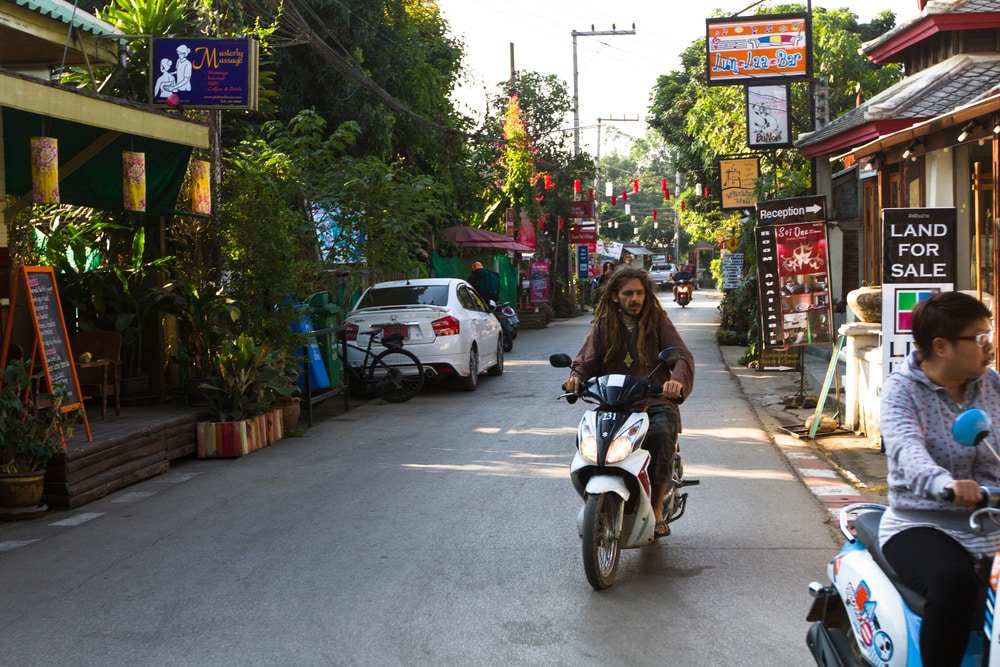 The village lies in between the mountains and makes you feel as if you had entered a new world. Everything is calm and everyone seems to be happy in their hammock.
If you're looking for some relaxing time in a breathtaking atmosphere, Pai is the place to stay.
EXPERIENCE RESPONSIBLE ELEPHANT TOURISM
You have probably seen people riding on elephants. Don't be fooled – those elephants are not as happy as they look like.
But there is another great way to encounter those amazing animals: You can visit Elephant Nature Park in Chiang Mai. It is an elephant conservation project in the north of Thailand, where mistreated elephants have been rescued to live happily ever after.
You can walk along with the elephants, see them bathe, touch them and get some great close-up pictures.
It is a great experience you should not miss out on.
P.S. Another fun thing to do in Chiang Mai is to visit the Bo Sang Umbrella Village.
SEE DIVING MONKEY IN KOH LIPE
Yes, you've heard right! There is indeed a diving monkey in Koh Lipe.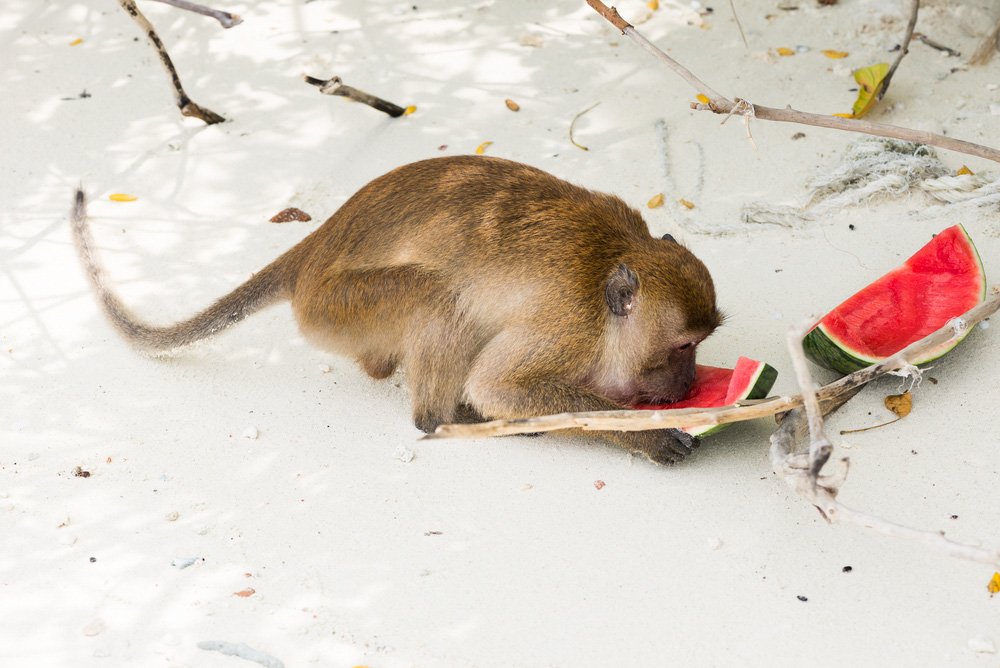 The island is located in the south of Thailand, close to the Malaysian border. It takes some time and a small boat to get there. Once you arrive, make sure to pack your backpack in a plastic bag as you will have to carry it on shore. And here you go: you are about to enter a small remote paradise, you do not want to leave anytime soon.
Go and find the first Italian Restaurant on your way and talk to the owner. He is Italian and has a small monkey living with him, who just loves to jump into the water and dive. A must-see for every Thailand traveler- and where else can you dive with monkeys? I haven't heard of any other place yet!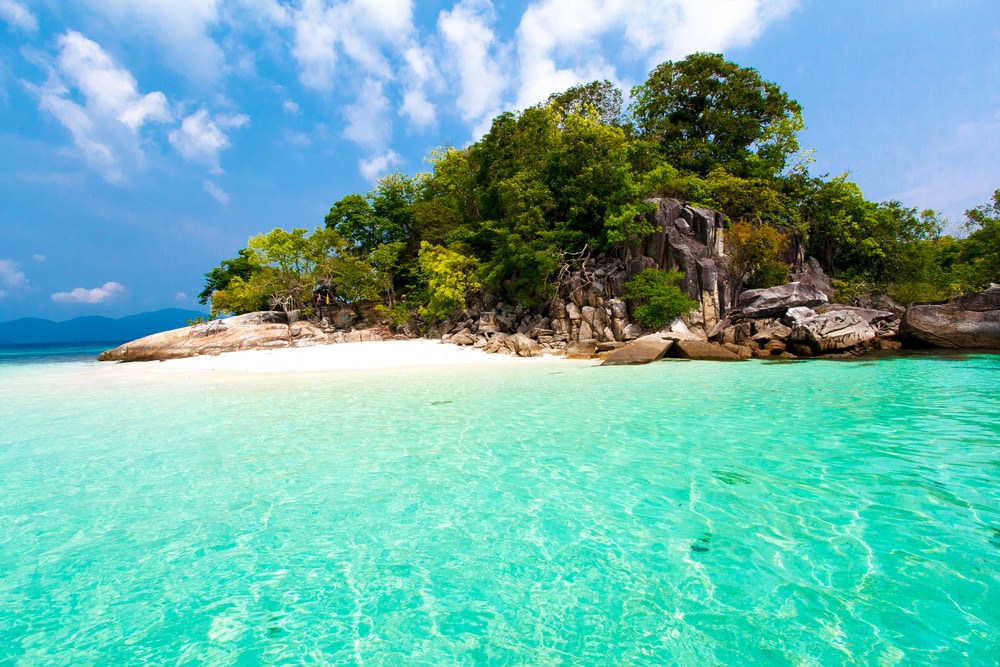 ENJOY FESTIVALS IN THAILAND
Festivals in Thailand are crazy!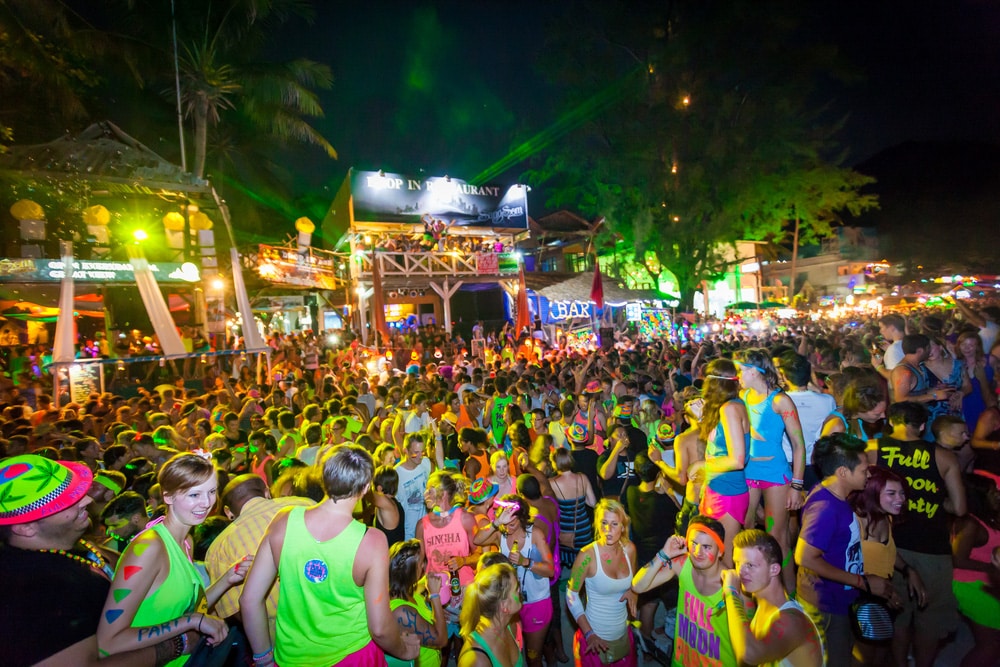 Have you ever been to a proper full moon party? No? Alright – now is the time to go. Just head to Koh Phangan and get yourself painted in various neon colors, so you can party with thousands of people at the beach below the moon.
Another great festival is Songkran, the Thai New Year's Festival. It starts April the 13th and will get you wet!
Just try and stay dry on that day – I can guarantee you it won't work as the whole country will be out on the streets with water pistols and buckets to make each other wet.
Get your bikini on, prepare your water pistol and fight your way through the water until no dry person remains to be seen.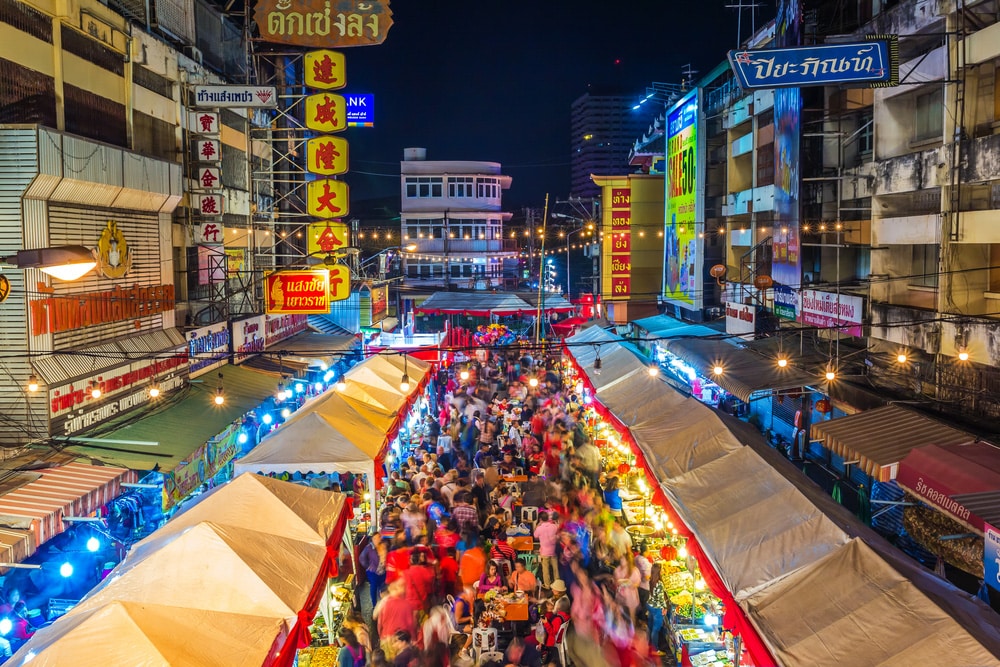 DIVE BETWEEN NEON CORALS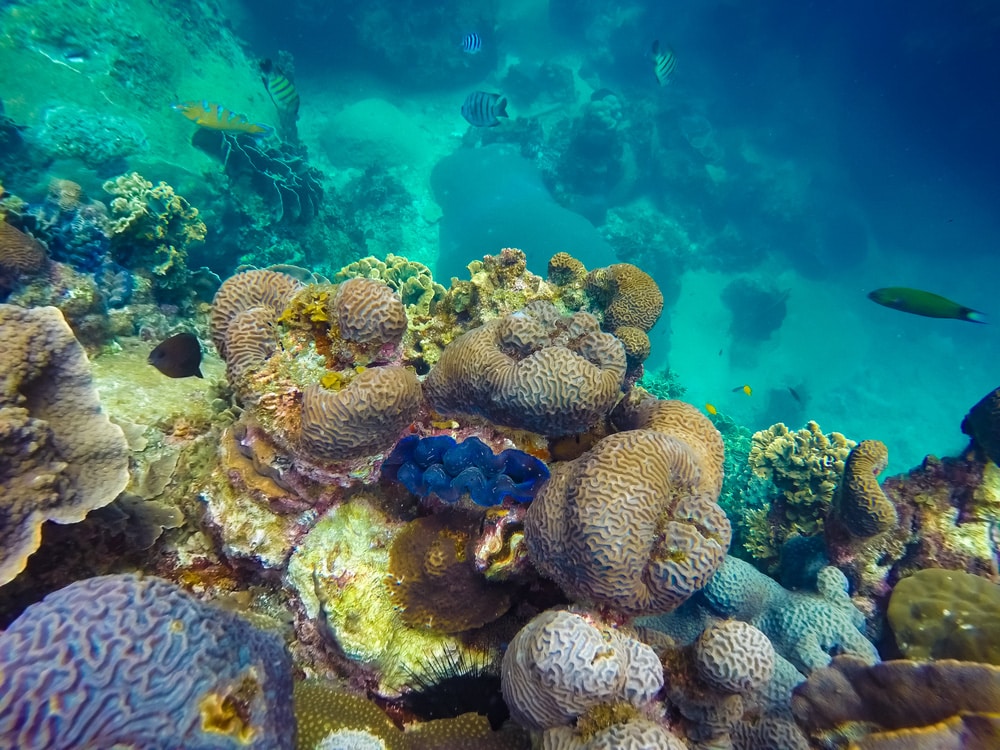 You heard right!
There are actually neon corals in Thailand, that glow underwater. On Koh Tao, you can dive down and experience this amazing spectacle at night.
You don't have a diving license? No problem! As you are already in Thailand, you can get one here. Koh Tao is said to be the cheapest place on earth to get your diving license and why not start with glow in the dark corals?
VISIT MARKETS
Markets in Thailand are a must-see. Whether it is one of the floating markets around Bangkok or a night market in Chiang Mai, both will blow your mind.
The floating markets consist of small boats that are selling food on the water. This loud and colorful spectacle will stay in your mind for a long time. Head down towards the water and snack on some fresh fruit whilst smelling various spices. Welcome to Thailand.
The Night Market in Chiang Man is also an experience you should not miss out on. Night stands pile up next to each other and offer everything from bags to clothes and food.
There are also various stands with roasted insects. I dare you to try a grasshopper, but make sure to remove the feet before you eat it. It tastes a little bit like peanuts and will make you want to snack on more after.
PARTY AT KOH PHI PHI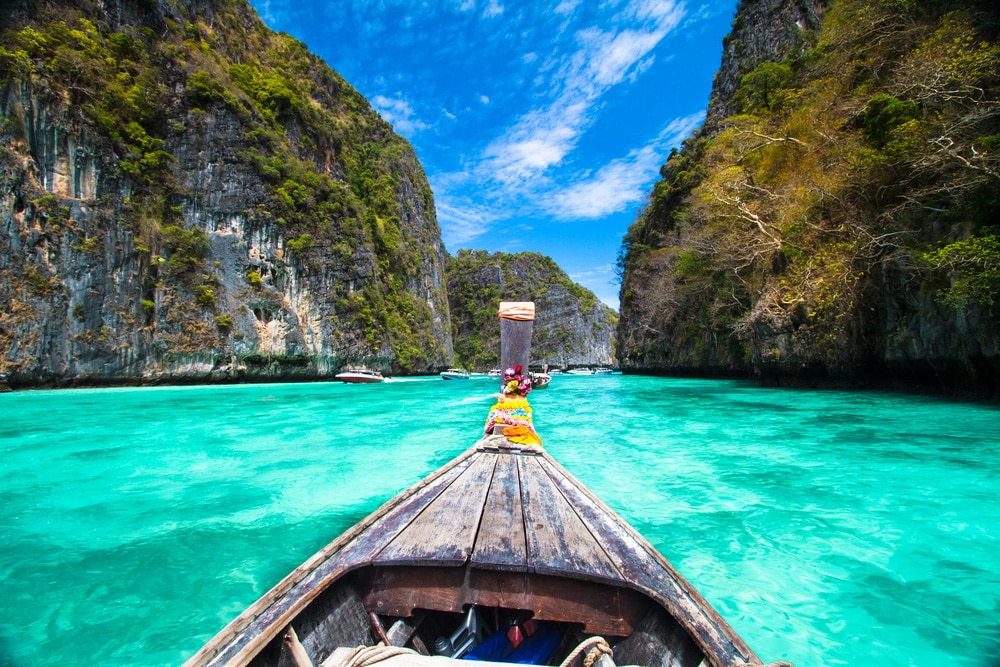 The one party hotspot to meet new people. Crystal clear water and a lot of travelers. Koh Phi Phi is the place to be.
Once you arrive on the island you will find yourself in the middle of a postcard panorama: White sand that blinds your eyes, light-blue water, and palm trees waving in the slight breeze of air.
There are no cars on Koh Phi Phi, but you can use taxi boats to explore the island.
The party scene at night is also to be recommended. Various fire shows and Hula dancers will make your stay unforgettable.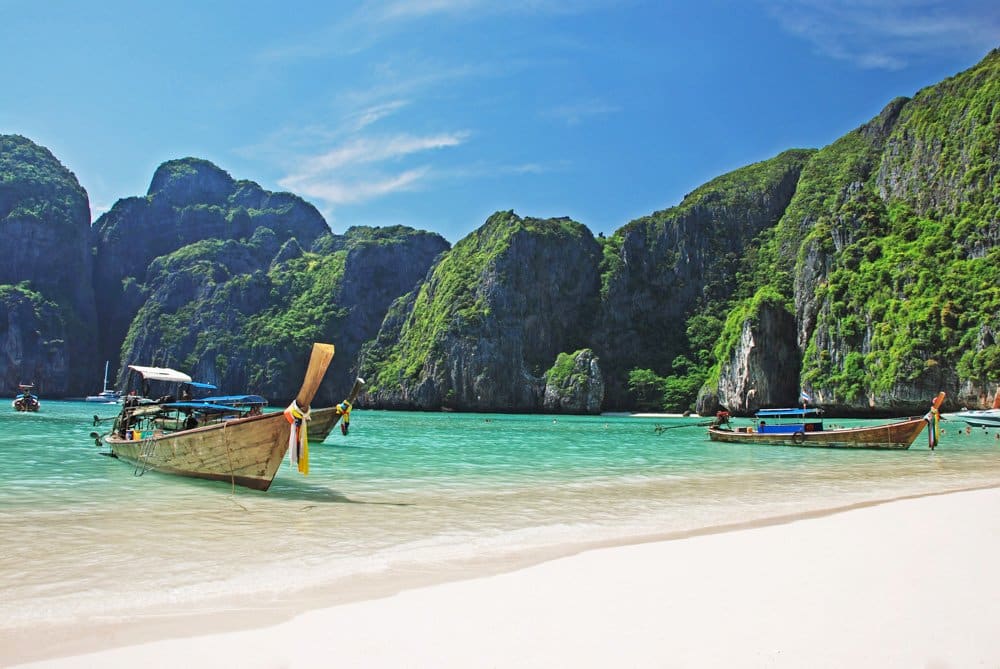 RELAX AT "THE BEACH"
Last but not least my absolute favorite: THE Beach (AKA Maya Bay, the main beach of Phi Phi Leh Island).
You've all watched this epic movie of Leonardo Di Caprio swimming towards this remote paradise. And guess what!
This is what you will do! You'll get on a boat where you are dropped off right in the middle of the ocean to swim towards the island.
You can book a tour on Koh Phi Phi and it guarantees you not to be more than 25 people on there. The tour includes some snorkeling on the way, the drop-off in the water, and a night at the beach.
Don't worry – the boat will come to the island and the island also has fixed bathrooms on it – but nonetheless, it is an adventure. I went there on my own and got to know so many people within that day. The remote location, the guitars, and whiskey buckets brought by the tour guides will make you feel happy within minutes.
As you spend a whole day plus a night over there, this experience will bring you closer together as a group.
At night you can sleep at the beach or just float in the bay watching shooting stars whilst glowing plankton moves around your fingers and lights up the water.
There was no more wish left after the stars started falling off the sky.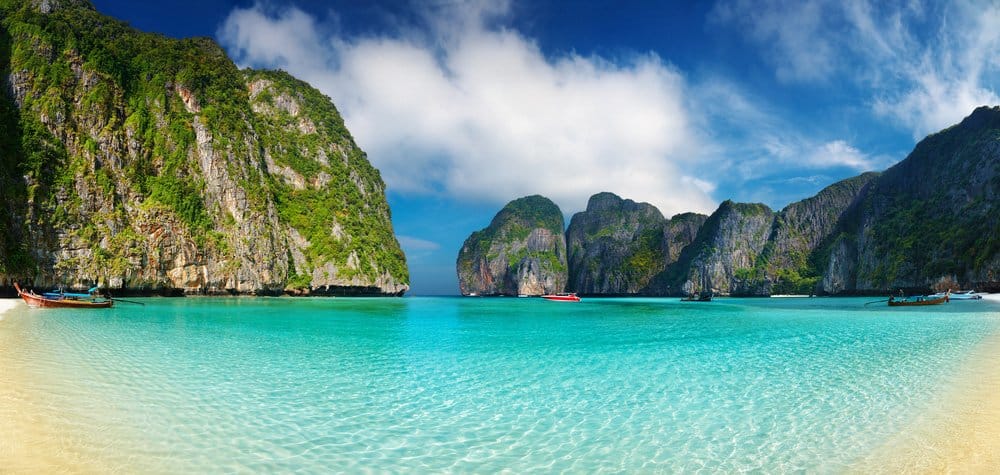 ABOUT THE AUTHOR
Denise from Chronicles in Wonderland: A recent long-term student who has been traveling the world for the past 7 years after losing her memory in a downhill accident.